The Top 8 Pillows For People With Pierced Ears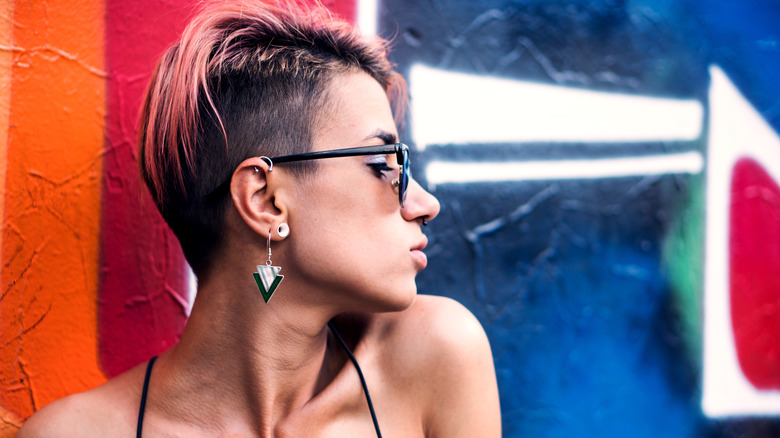 Gideon Ikigai/Shutterstock
We may receive a commission on purchases made from links.
If you have freshly pierced ears and can't take them out for bedtime because they'll close up, then you know the struggles and uncomfortable feeling of having your ears hit the pillow at night, especially if you're a side sleeper. This pain can often make it much harder to fall asleep and leave your ears sore and red the next morning. 
However, you don't need to worry, because there are options out there if this is something you frequently experience. In fact, did you know there are pillows and sleep accessories specifically designed for those with earrings? They often come with cutouts where your ears are supposed to be in order to resist against unpleasant tugging and pulling for an optimal healing experience. With all the options out there, varying by brand, price, and material, where do you even start? Luckily for you, The List has assembled the top eight pillows for those with pierced ears for you to check out now. 
Top pillows with two cutouts for pierced ears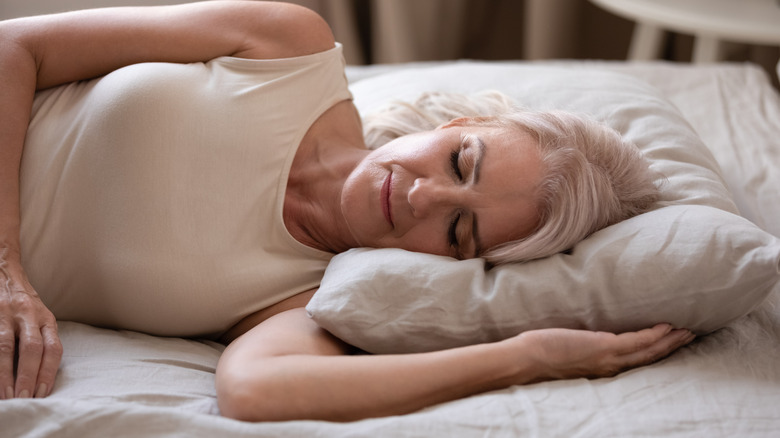 fizkes/Shutterstock
The Millard Adjustable Memory Foam Pillow ($29.99) is ideal for side sleepers because it has two conveniently placed ear-shaped cutouts, which are optimal for relieving pressure that leads to ear pain. Its thick memory foam material is highly comfortable, and the product comes with removable layers to adjust to height preferences. Better yet, it can also benefit those who suffer from TMJ and sleep apnea (via A Fashion Blog).
A pricier yet worthwhile option for side sleepers is the PureComfort Side Sleeping Pillow ($79.90), which is machine washable for easy maintenance and comes with a soft bamboo covering. Its design also reduces pressure on the neck and reportedly has wrinkle-reducing material. It can also be used by those who suffer from Chondrodermatitis Nodularis Helicis, a painful condition that is characterized by raised bumps on the ear's cartilage (via Healthline).
Another option with two cutouts that protect the ears is the Blissbury Ear Pillow ($46.88). Its gel infused memory foam is cooling for a relaxing night's sleep, especially if you sleep with earbuds or headphones. One thing to note about this product, however, is that it's better suited for people with small ears.
Top pillows with one cutout for pierced ears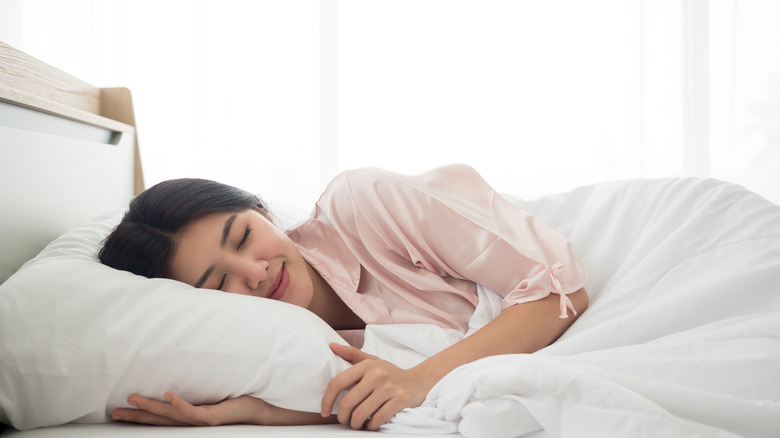 M.Taeng/Shutterstock
For a full body option, the DMI Side Sleeper Body Pillow ($32.99) comes with an ear cutout that not only reduces pressure in that area, but its J-shaped design helps with muscle straining for a painless body in the morning (via Sleep Authorities). Plus, its supportive material is reliable, as it stays sturdy even after multiple uses.
The SleepEasy Cotton Comfort Pillow ($69.99) is smaller than most pillows and comes with a lifetime satisfaction guarantee, according to BedromZZ. It is great for support and can alleviate pain not only with piercings, but with tinnitus as well.
The Impressa Firm Memory Pillow with Ear Hole ($48.99) has a firm texture that is ideal for chronic pain. Its conveniently placed hole in the center is optimal for your piercing's healing and even comes with matching pillow cases.
Finally, for the product that started it all, The Original Pillow with a Hole ($74.99) calls itself "Your Ear's Best Friend," and rightfully so. Made with 100% cotton, this pillows allows for increased airflow to the ear. It also comes with adjustable firmness when you remove and add stuffing. If you're on the go, The Original Pillow with a Hole comes with a travel option as well. At 69.99, this portable pillow is the ideal companion for catching a snooze so you don't have to sacrifice your piercing's health while in a train, plane, or in the car.