How Anderson Cooper Reacted To His Mother's Offer To Be An 85-Year-Old Surrogate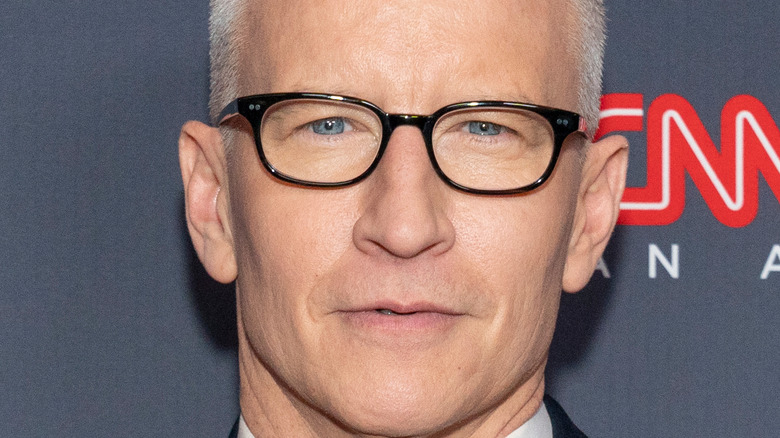 lev radin/Shutterstock
Anderson Cooper is one of the biggest names in television news anchoring, and yet, there remains things that people often don't know about him. What we do know is that Cooper has a massive net worth from his television journalism career, including from his long-running series "Anderson Cooper 360." The anchor also became a father for the first time in 2020 to son Wyatt Morgan Cooper.
Most recently, Cooper appeared on "The Late Show with Stephen Colbert," where he revealed a surprising fact about his late mother, Gloria Vanderbilt. According to People, Vanderbilt, who died at the age of 95 in 2019, had offered a decade earlier at the age of 85 to be a surrogate for Cooper so he could have a baby. In the interview, Cooper described Vanderbilt as "kind of nutty," but he always knew that she just wanted him to be happy and have a child if he so wanted. She even told him that she visited a gynecologist who told her "that she would still be able to carry a child."
Vanderbilt's unfiltered love for her soon is sweet, but just how did Cooper react to this?
This is how Cooper's mom tried to convince him to let her be a surrogate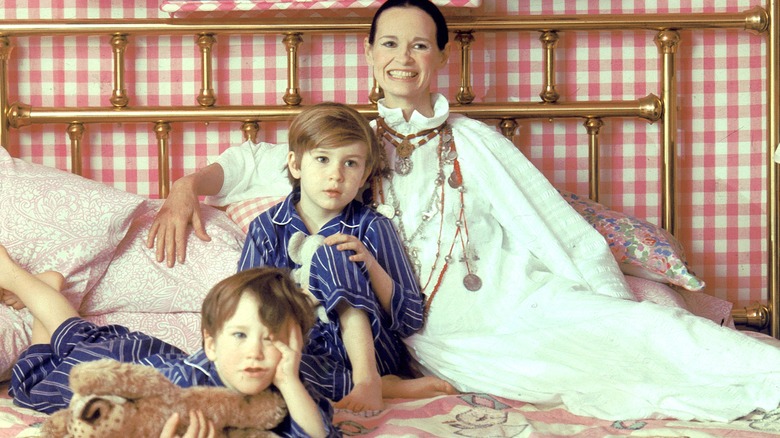 Jack Robinson/Getty Images
How does one react when their 85-year-old mother offers to be a surrogate so they can have a child? If you're Anderson Cooper, you compare the situation to Oedipus, the Greek figure. According to Page Six, the television news anchor told Stephen Colbert, "I finally said to her, I was like, 'Mom, I love you, but even for you, that is just bats**t crazy. That is just nuts. That is so weirdly oedipal on a whole new level.'"
However, Gloria Vanderbilt never let this go. She continued to offer her body to him even after Cooper had graciously denied her offer. He even told Colbert that his baby would be "on the cover of the New York Post for the rest of its life" if he took his mother up on her offer — and he was probably correct. She still didn't let it go, though.
Cooper continued, "Fast forward two years later, I get a thing in the mail that my mom has sent me ... and it's a newspaper clipping and it's a photograph, the headline is, 'Grandmother Bears Child for Son,' and it's some woman, I think in Italy who was like 65 or something, or 70" (via People). The photographed woman was reportedly in labor and Vanderbilt was using this as proof that she could do it too.
Cooper did not ultimately take up his mother's offer, but he did eventually have his son in 2020.