Our Favorite Brands Of Mineral And Chemical Sunscreens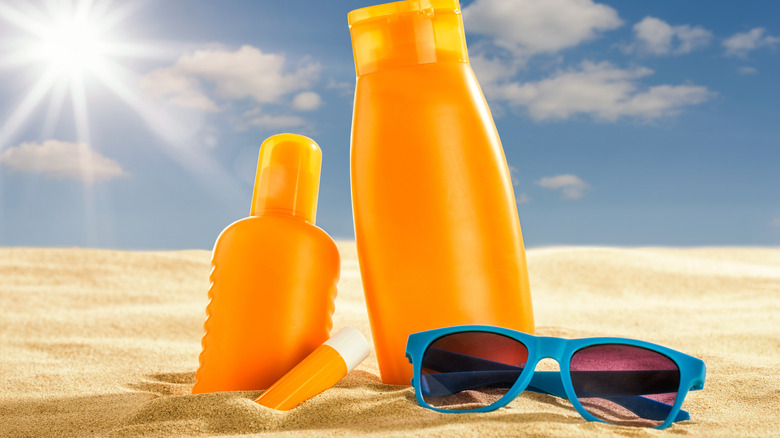 Zerbor/Shutterstock
In 2021, you don't need to be a dermatologist to know that sunscreen is a key product that you should be incorporating in your skincare routine every day, especially if you're concerned about slowing down aging and preventing cancer. While many people think that all sunscreens are created equal, there are actually two different types of sunscreens that protect your skin from the sun's harmful UV rays. They are categorized into either mineral (often called physical) and chemical. The differences between the two may seem confusing, but it's all in whether or not they prevent UV rays from hitting your skin by either blocking or absorbing them.
"[Mineral sunscreens] form a physical barrier that reflects the light rays away from the skin," esthetician Candice Marino told Byrdie. "Chemical sunscreen is a category of SPF that uses active ingredients to absorb the sun rays, turn them into heat, and then release the heat through the skin," she added.
While mineral sunscreens are not inherently superior to chemical sunscreens and vice versa, you may be wondering where to start when it comes to purchasing both. Luckily, we're here to help. Here are our favorite brands of both mineral and chemical sunscreens.
Our favorite brands of mineral sunscreens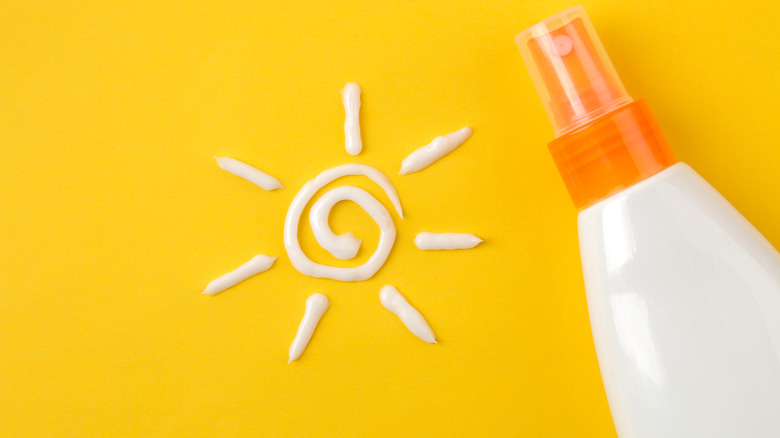 MK studio/Shutterstock
Ingredients only found in mineral sunscreens, titanium dioxide and zinc oxide, are the only FDA-approved ingredients found in sunscreens. However, zinc oxide tends to leave a pesky white cast, although recent developments in mineral sunscreens have been starting to overcome this.
For example, the Physical Fusion UV Defense SPF 50 ($35) by the trusty SkinCeuticals is an effective tinted mineral sunscreen that comes in a lightweight, odorless, and translucent formula that can also work with dark tones (via InStyle).
Supergoop! has been a holy grail for SPF products since 2007 (via Vanity Fair). When it comes to the brand's mineral sunscreens, you can never go wrong with the 100% Mineral Smooth & Poreless Matte Screen in SPF 40 ($38), which is ideal for those who struggle with oily skin, excess shine, or enlarged pores. It leaves a natural, flattering tint, and it even protects against blue light caused by electronics (via Teen Vogue).
Drunk Elephant is a critically acclaimed luxury skincare brand with worthwhile SPF products as well. Despite being a whopping 20% zinc oxide, their Umbra Sheer Physical Daily Defense SPF 30 ($34) manages to be a sheer texture that melts onto the skin seamlessly without leaving a trace. "It's a great option for the face, as it's also rich in antioxidants like raspberry seed oil, astaxanthin-rich algae extract, and sunflower seed extract to help protect against free radical damage," dermatologist Marisa Garshick told Byrdie.
Our favorite brands of chemical sunscreens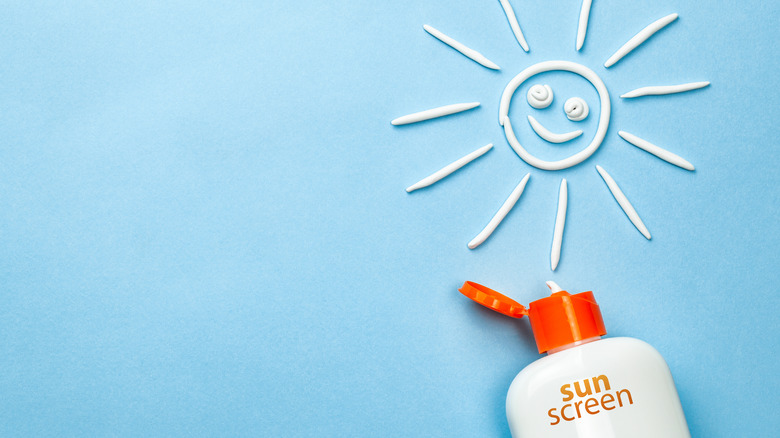 ADragan/Shutterstock
Chemical sunscreens are more optimal for everyday use as they tend to be sheerer and go on the skin easier, which is why they tend to be preferred by consumers. However, you need to wait at least 15 minutes after applying before they begin to work (via Allure).
Supergoop's Unseen Sunscreen Broad Spectrum 40 ($20), which works on a vast array of skin tones while giving your complexion a subtle glow. It is mattifying, and ideal to be worn under makeup as it does not have a greasy effect (via Allure).
The Peter Thomas Roth brand has been delivering breakthrough formulas and results with its effective ingredients in its cutting-edge skincare line. The brand addresses many skin concerns, with over 100 products sold worldwide. The Water Drench in SPF 45 ($52) is packed with hyaluronic acid, making it ideal for those with dry skin. The best part? Its innovative formula starts as a cream but transforms into a water finish upon application (via Travel and Leisure).
Kiehl's, a multi-billion dollar cosmetics brand (via CNBC) has a Dermatologist Solutions Super Fluid Uv Defense SPF 50+ ($40). And although it delivers high protection, it leaves a lightweight finish in a creamy texture (via Allure).