Did Rudy Giuliani Really Get Banned From Fox News?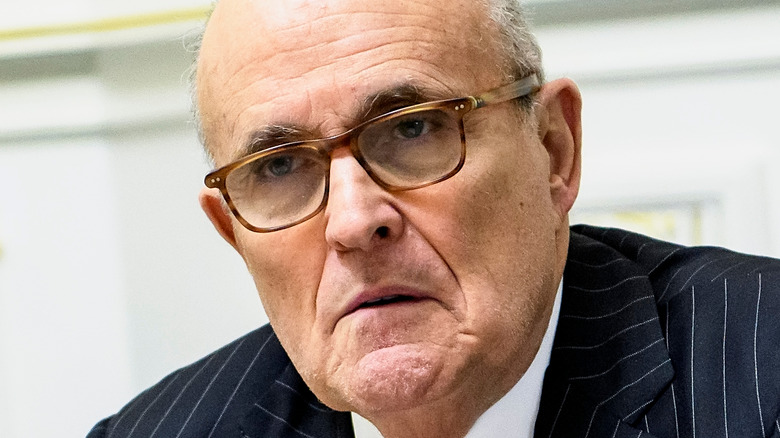 paparazzza/Shutterstock
It doesn't look like Rudy Giuliani, once known as "America's mayor" and Donald Trump's lawyer, is having a good year. In June and July 2021, Giuliani's license to practice law was temporarily suspended in both the state of New York and in Washington DC. The ruling noted that his "false and misleading statements" about the result of the November 2020 election and Donald Trump's loss were to blame (via CNBC).
Now it seems Giuliani's got more problems, because it appears Fox News isn't too keen on getting him to come on to air his views anymore. A network source told Deadline that "The mayor has a long and distinguished career, but in terms of recent coverage, he simply isn't relevant." As proof, the source cited Giuliani's absence from Fox's 9/11 memorial coverage, which focused on the 20th anniversary commemoration of the tragedy itself, as well as the families of those who had died. Deadline also pointed out that other than ABC, none of the networks had thought to have Giuliani on at all.
Rudy Giuliani has not appeared on Fox News for some time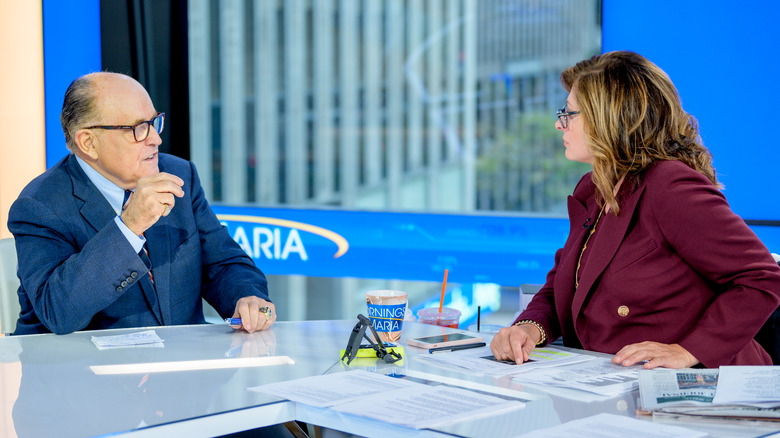 Roy Rochlin/Getty Images
Rudy Giuliani has been conspicuously absent from Fox News, and it was reported by Politico that both the former New York mayor and his son, Andrew, who has announced his campaign to run for governor of New York, have been banned from appearing on the network. The internet publication says Giuliani Sr. had not been seen on Fox for nearly three months and that he was not told about the supposed ban until the eve of September 11 — when a guest appearance was canceled.
Politico also says Giuliani's absence was likely dictated from "the top," which has upset the former mayor because as one unnamed source put it, Giuliani was instrumental in getting Time Warner to carry Fox News in New York, back in 1996. Rolling Stone reported that Giuliani appeared on Steve Bannon's "War Room" podcast, calling the reported ban "outrageous" and saying he was "really hurt" by it.
Giuliani's credibility as a guest could have been called into question because he has been caught admitting to the FBI that it was okay to lie during a political campaign, which he called "throw[ing] a fake" (via The Washington Post).
Both Rudy Giuliani and Fox News are being sued for defamation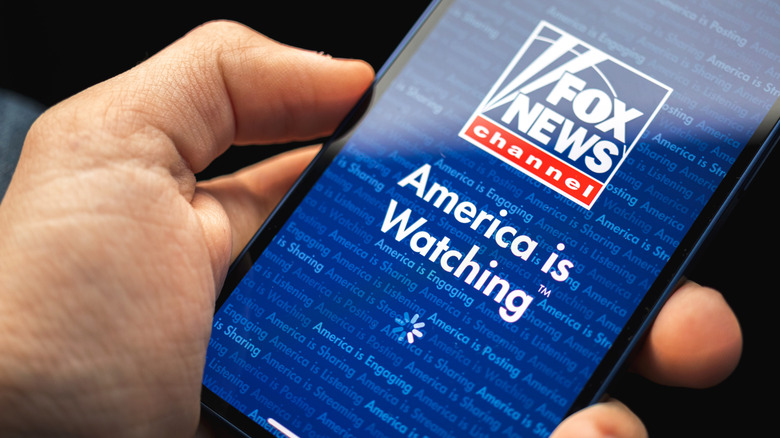 FellowNeko/Shutterstock
There is another likely reason why Rudy Giuliani may have fallen out of favor at Fox, and it has to do with the lawsuits that Dominion Voting Systems have filed individually against both Trump's former lawyer and the TV company. Dominion is suing Giuliani for $1.3 billion in damages for making false claims about the November 2020 election, which the company says damaged its reputation (via Axios). Dominion is also suing Fox News separately for $1.6 billion over the same thing, because it says that Fox should have known that the allegations it was reporting were false. Both Fox and Fox Business dropped its claims that Dominion was working with outside interests to switch votes back in December 2020, after Dominion said it would sue (via Colorado Politics).
Fox has asked for the lawsuit to be thrown out, citing the First Amendment, but the company has said that while it supports free speech, "defamation for commercial gain is clearly not protected, and we intend to hold Fox accountable for its reckless disregard for the truth."