What Blake Shelton Did Before He Was Famous
DFree/Shutterstock
Born and raised in Ada, Oklahoma (via Biography), Blake Shelton's life prior to fame consisted of being around his mom Dorothy's beauty salon and his dad Dick's car dealership (via The Boot). He also has an older sister, Endy, who went on to become a jewelry designer. When the country star was 14, he sadly lost his older brother Richie in a car accident. "He's still my hero going strong," Shelton tweeted in 2015. "Wish everyone could've known him."
Shelton's music career technically start at around the age of 8, all thanks to his mom. She entered him into pageants as a kid to sing, with Entertainment Tonight digging up an old video of him performing at a pageant to a tune by Bob Seger. "There was a talent portion of the pageant," Shelton explained. "In order for me to sing in the pageant, like my mom wanted me to, I had to do the evening wear and all that crap," he concluded. 
Fast forward to his teens, and Shelton's love of music continued into high school (via Britannica). Inspired by his older brother (via Today), Shelton continued Richie's passion for country music by continuing to sing and learning to play guitar. At one point, he caught the attention of the late Mae Boren Axton (via the Independent) who encouraged him to pursue his dreams.
Blake Shelton roofed and painted houses before becoming a musician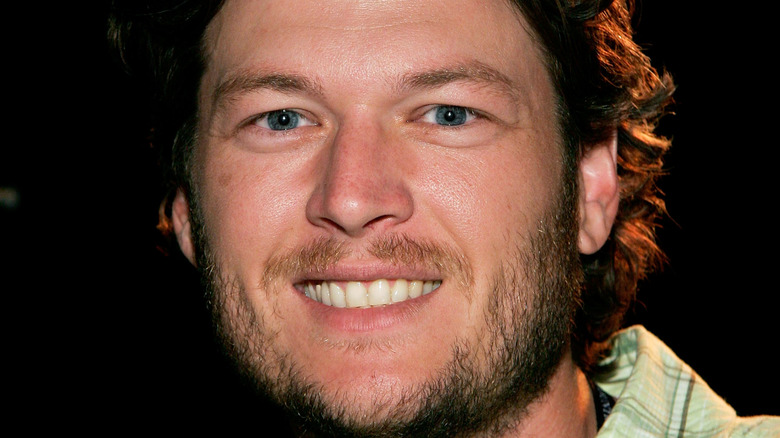 Marsaili Mcgrath/Getty Images
Before he could do that, though, Blake Shelton took on a roofing job over two summers in his hometown. "It made me want to be a country singer," he recalled to People. By the time Shelton was 16, he was already touring the bar circuit and caught statewide attention in Oklahoma after winning the Denbo Diamond Award, as noted by Biography. Two weeks after he graduated high school, he made the move to Nashville to pursue a career in songwriting.
Mae Boren Axton became a mentor of sorts in the Tennessee capital and introduced him to all sorts of big names in the industry. This was after she got him a job painting houses, including her own (via Today). He also had another job making tape copies for a publishing company in the city but was fired for talking to songwriters rather than actually doing what he was paid for. He much preferred the painting job, according to Taste of Country.
Eventually, he formed a connection with songwriter and producer Bobby Braddock (via Britannica), which led to a recording contract with Giant Records in 1997. Four years later, Shelton debuted his first single "Austin" in 2001, which rose to Number 1 on the Billboard country single charts.
Giant Records collapsed that same year, but Shelton was saved by Warner Brothers who released his debut album and the rest is history.