Is This The True Story Behind Melania Trump's Controversial 'I Really Don't Care' Jacket?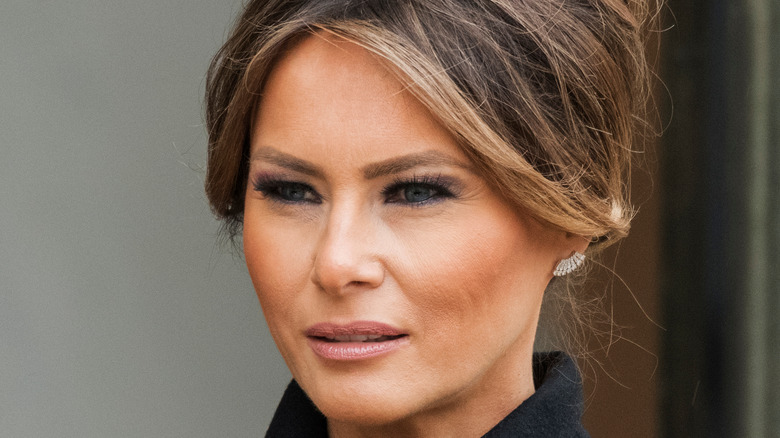 Frederic Legrand - COMEO/Shutterstock
Former First Lady Melania Trump may have been rarely seen during her husband's one term in the White House, but she was even more rarely heard from, which is why her fashion choices almost always came under scrutiny. But of all the different outfits she wore, none drew as much attention as an army-green Zara jacket with "I really don't care, do you?" printed on the back. Melania wore it during her June 2018 trip to see migrant children who had been separated from their parents at the U.S.-Mexico border (via Insider).
Much had been made about that jacket then, with many people putting their own spin on just who the message on the jacket was directed at. Critics saw the jacket as downright insensitive. CNN reporter Kate Bennett felt that the jacket was a jab at first daughter Ivanka. Former President Donald Trump said at the time that the message was meant for the media, which he had by then dubbed the "Fake News Media."
Melania Trump didn't give a specific reason why she ordered the jacket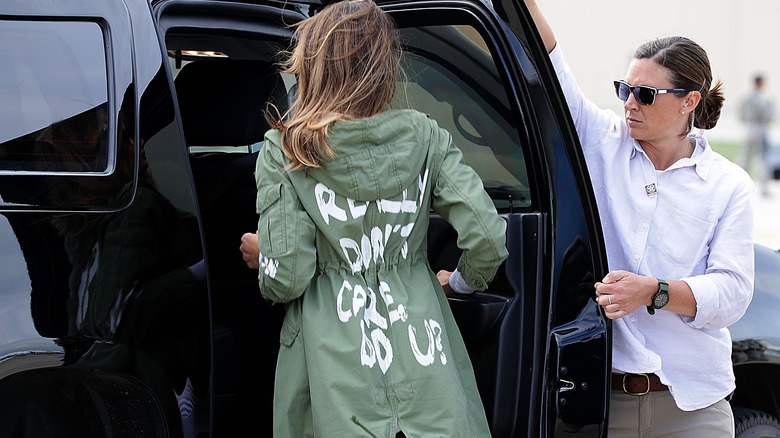 Chip Somodevilla/Getty Images
But in her book "I'll Take Your Questions Now," former White House Press Secretary Stephanie Grisham says no one was entirely certain just why Melania Trump had ordered the jacket online, and no one was able to stop her from wearing it. Grisham says as far as Melania was concerned, it was just a jacket (via The Washington Post), and that was the line that Grisham eventually used to respond to questions from the press, along with the insistence that "There was no hidden message" (via CNN). 
That position changed as soon as Donald Trump got involved. In her book, Grisham writes that Trump demanded to see his wife in the Oval Office, yelled at them to ask "what the [expletive] they thought they were doing," and then subsequently said he would say the jacket was a message Melania was sending to the media. It was that line that Trump later tweeted, which the former first lady would use to explain the jacket. She told ABC in an interview, "it's obvious, I didn't wear the jacket for the children. I wore the jacket to go on the plane and off the plane. And it was for the people and for the left-wing media who are criticizing me. And I wanna show them that I don't care" (via Twitter). 
Twitter relived the ire it felt when the jacket was first worn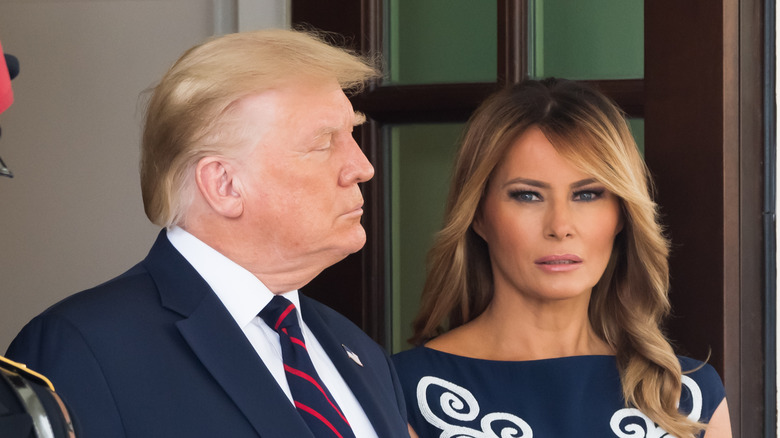 noamgalai/Shutterstock
Stephanie Grisham's revelation of the events that took place in the White House over the jacket gave Twitter a reason to relive that infamous moment and to generate some ire in the former first couple's direction. "Horrible couple, and totally well-matched. This excerpt indicates that Grisham didn't know or understand why Melania wore it. In interviews afterwards, Melania stuck with Trump's attempt to shape the narrative (it was a message to the media 'haters'). What's the truth?" one Twitter user wanted to know.
"This is exactly fitting for them. They don't really care. Melania's jacket said. Trumps flag says F*** Your Feelings. They don't care. Why would they extend to their own family? That's the single biggest difference between us and them. We care about others and they don't," another person tweeted. A third tweeted simply, "Not Camelot" — the nickname given to the administration of John F. Kennedy — perhaps referencing the huge difference between that late president and this former one.