Is This Really How Melania Got Back At Donald Trump Over Stormy Daniels?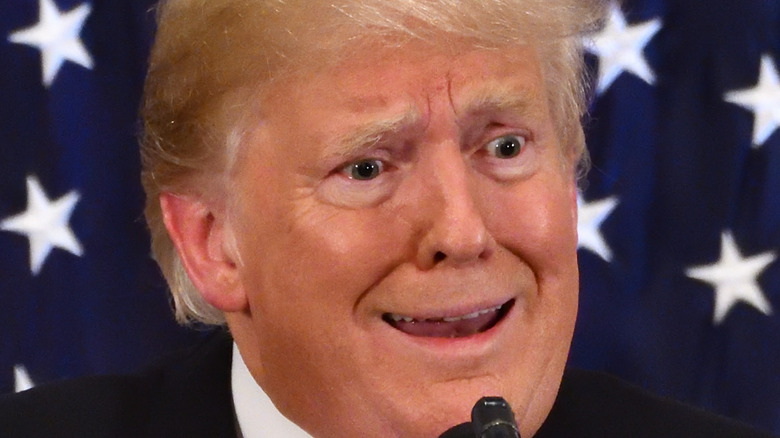 Evan El-Amin/Shutterstock
It's no secret that there were numerous scandals during Donald Trump's one-term presidency, but there's one that's truly hard to forget: his affair with former adult film star, Stormy Daniels (real name Stephanie Clifford) — and the $130,000 hush money he paid her in 2016 — coming to light. In a 2011 interview with InTouch Weekly, Daniels alleged that she met Trump at a golf tournament in 2006 — one year after the former president married his third wife, Melania Trump — and that he invited her to dinner the same night. When Daniels arrived at Donald's hotel room, ready to go out, he was reportedly lounging on the couch in his pajamas and the pair had dinner in his room. Daniels then alleged that after hours of conversation, she and Trump had sex, and he asked her to sign one of her adult film DVDs after.
While Daniels' interview was published years before Donald even considered running for president, The Wall Street Journal published a story about Donald's lawyer, Michael Cohen, paying Daniels $130,000 to stay silent about the affair in October 2016 — just one month before the election. The WSJ alleged that the money was also part of an NDA in which Daniels was unable to speak about the affair publicly.
In 2018, Cohen initially denied reports of the lump sum payment to Daniels; however, he later admitted to The New York Times that he had paid her from his own pocket, and Donald also confirmed the payment months later (via BBC). But how did Melania react to the affair, and did she do anything to retaliate? 
Here's how Melania Trump allegedly got back at Donald Trump for his affair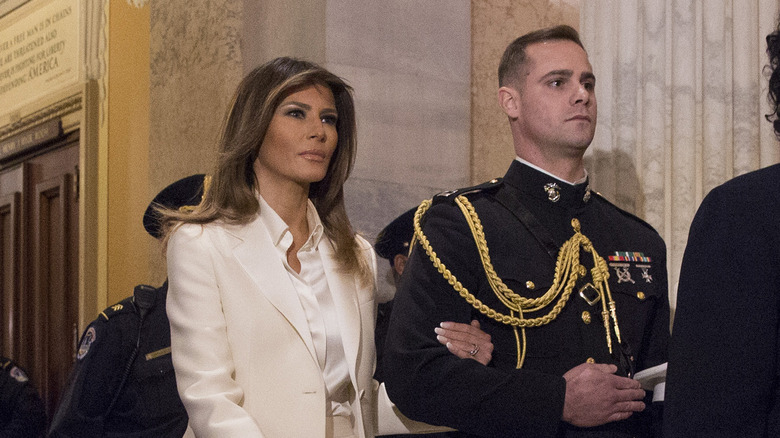 Bloomberg/Getty Images
After the allegations about Donald Trump and Stormy Daniels broke, Melania Trump reportedly took matters into her own hands to get back at the reality star turned politician, as former Trump chief of staff and communications director, Stephanie Grisham, wrote in her upcoming memoir, "I'll Take Your Questions Now: What I Saw in The Trump White House."
In her forthcoming book, Grisham alleges that Donald's denial of his affair with Daniels and other women "basically unleashed" the former first lady and she started taking small digs at her husband in public. Just like that, Melania started excluding her husband from social media posts and photographs, as well as picking extremely handsome military aides to escort her to events, including the 2018 State of the Union address, in an attempt to make the "Apprentice" alum jealous. "I laughed to myself because I'd seen the woman navigate dirt roads in her heels," Grisham wrote, according to The Washington Post who obtained a copy of the book prior to its October 5, 2021 release date (via Insider).