The Best Ways People Have Announced Their Pregnancies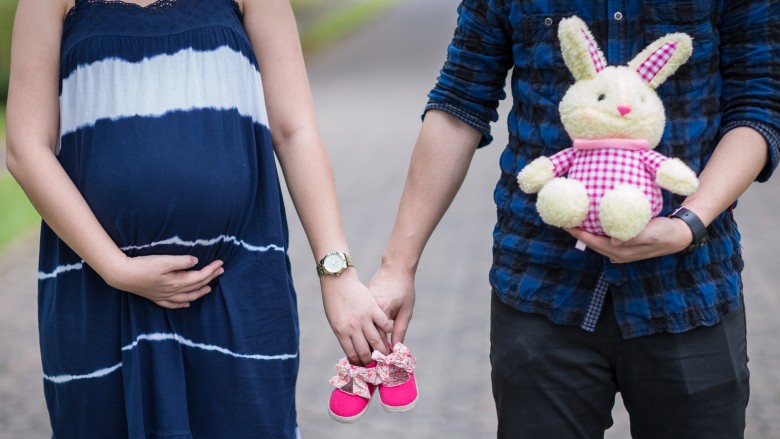 Shutterstock
When most women get pregnant, they share it on Facebook and get a hundred or so likes. Maybe more, if you have a ton of friends. But these 13 couples made such innovative pregnancy announcements that most of them received well over a million likes and views on YouTube, Facebook, and/or Instagram. These creative announcements include music videos, crying dads (lots of them) and even a horror movie preview.
Beware: you may end up crying just as much as the people in the videos. I know I did.
Pregnant after praying for 953 days
It took Lauren Walker and her husband Garyt two and a half years to conceive, and when she finally did, they announced their pregnancy by posting this photo on Facebook of two onesies surrounded by 452 needles. That's because it took them that many needles, along with many nights of crying, two rounds of in vitro, corrective surgery, three unsuccessful fetus transfers, and a tremendous amount of faith to become pregnant. They are expecting twins, named Duke and Diana, due August 2017.
Walker wrote, "We thought about how to announce our two miracles to the world. Everything we could think of fell short of doing them justice. Doing ourselves justice, for every trial and tribulation we have been through these past years. Taking out these needles by the handful to take this photograph was... surreal."
The post received almost 4k likes and 585 comments, many of them from other women who were also struggling to conceive. Walker mentioned that she announced her pregnancy in this way to let these women know they are not alone: "For anyone struggling," she stated, "may our story give you comfort and hope."
Oooh we're pregnant again
Jerrad and Machel Green announced their second pregnancy with a Britney Spears video montage, including clips of "Oops I Did it Again" ("Ooh We're Pregnant Again"), "Toxic" ("Nauseous"), "I'm A Slave For You" ("I'm A-Voiding You"), "Everytime" (their gender-reveal background music), and "Pretty Girls" ("Little Girl featuring Daddy G").
The video montage covered many milestones of Green's pregnancy. Green found out she was pregnant, struggled with nausea in the second month, hid her pregnancy in the third month, and cried during a beach gender-reveal where loved ones splattered the entire Green family with pink dye.
Green's sleek blonde hair and well-executed dance moves revealed why they chose a Britney Spears montage to announce their pregnancy. But she wasn't the only one to steal the show. In the final song, Jerrad sported a gigantic gold peace sign, playing a very convincing Daddy G.
The couple, who own Vintage Marquee Lights, wrote this on their Facebook page after their video went viral: "Thank you all for sharing in our excitement! We're super flattered that our pregnancy announcement, 'labor of love' if you will, is now featured in Huffington Post, Pop Sugar, Baby Center, People, Buzzfeed, and Mashable. We can't wait to meet our little sweet pea in November!"
We can't stop... having babies
In another musical pregnancy announcement, Chad and Andrea Chapman took Miley Cyrus's "We Can't Stop" music video and transformed it. While the original video featured twerking and all night debauchery, the Chapmans' video showed happy kids dumping out boxes of cereal while standing on the kitchen counter — the G-rated idea of a crazy time.
A lot of singing in bed went down in both videos. Only, in the Chapmans' version, Andrea sang next to a pile of diapers.
Chapman told Today that she made the video in response to negative comments she heard from people when they found out she was pregnant with her fourth child. "They said, 'Oh, we thought you were done,' and I was like, 'Oh, we seem to not being able to stop having children.' And then I thought of that Miley Cyrus song," she said.
One of the best lines in the song goes, "It's my body and I'll grow who I want to," a defiant statement to people who wondered why Chapman wanted to have a fourth child.
He peed on a pregnancy test
In a twist on the typical pregnancy announcement, Oscar Morales switched the pregnancy tests on his partner, Kyra Sivertson, and revealed her own pregnancy to her in the middle of the night.
While Sivertson waited in the living room for the pregnancy test results, Morales told her he needed to go into the bathroom to set up the video camera. When he saw the positive result on her test, he did a silent cheer for the camera and then replaced her test with one that he had previously peed on, which, of course, was negative.
That night, he woke up their son, Levi, and wrote "Big Bro" on his shirt with a Sharpie. He picked Levi up, and brought him to Sivertson. When Sivertson saw her son's shirt and then the real pregnancy test, she cried with joy at finding out she was pregnant. "There's really a baby in my belly?" she asked twice, while repeatedly making sure Morales wasn't joking.
Teenage parents Morales and Sivertson post daily videos on their YouTube channel, OKBaby, which has close to a million subscribers. You can watch the updates they posted throughout the pregnancy, and see them with their newborn daughter at the hospital, born February 16, 2017.
She thought she wouldn't be able to conceive
I Can't Drink For The Next 9 Months

"Given I can't drink for the next 9 months." :) In 2005 at the age 27, I was diagnosed with breast cancer. Before treatment I was told it may affect my fertility. After years of trying, natural cycle fertility and many tears, heartaches and sorrow, we were told I was slipping in and out of menopause and would not be able to have children. Heartbroken, devastated and feeling complete and utter loss, we moved back home to NS to be near my family. We went for our first information session for adoption. At age 36, a month and a half after moving home I got sick. Positive it was from Thai food, I tried nursing myself for a week and a half before I had a feeling to buy another pregnancy test. When it came back positive we could not believe it so we bought two more, had blood work and an ultrasound. Yup, we were preggers!! A miracle baby. I couldn't wait to tell my family, especially my brother who did not believe we could not have kids. My brother and I are like best friends. We captured his reaction on video. My son is now 14 months old and I still cannot watch the video without crying. It defines our families true love. My little boy is my world. We have been so blessed by this miracle we never thought would happen. Our hearts are full. #LoveWhatMatters Email Submissions@LoveWhatMatters.com to submit your video. A Love What Matters Original Submitted by L. Mmacphee

Posted by Love What Matters on Wednesday, June 15, 2016
Lindsay MacPhee-Currie contracted breast cancer at age 27. After 6 months of intensive treatment, she was cancer free, but her doctor told her that she would have difficulty conceiving due to her cancer treatment.
"One doctor came in and said, 'I am so sorry to tell you and I don't quite know how to tell you this, but you're slipping in and out of menopause and your chances of conceiving are pretty well next to none,'" she told the Huffington Post.
That's why her older brother, Callum MacPhee, was so overcome with emotion when she broke the news of her pregnancy to him. She gave him a bottle of wine and said that she had originally bought it for herself, but that she wouldn't be able to drink it for 9 months. MacPhee immediately stood up, crying, and hugged his sister.
In the Facebook post, MacPhee-Currie wrote, "I couldn't wait to tell my family, especially my brother who did not believe we could not have kids. My brother and I are like best friends. We captured his reaction on video. My son is now 14 months old and I still cannot watch the video without crying."
Neither could I.
He found a baby bottle in the fridge
If you've ever been frustrated with your husband's inability to find something in the fridge, even when it's staring him in the face, you will appreciate this funny pregnancy announcement.
In the video, a woman told her husband that she bought his favorite Vitamin Water and that it was on the top shelf of the fridge. He failed to find it (not a surprise, as there actually wasn't any Vitamin Water there), so she suggested that he take everything out of the fridge.
When he grabbed a baby bottle with a positive pregnancy test inside, he didn't even notice, turning back to the fridge to continue to search for the beloved Vitamin Water. Laughing, his wife told him, "I think you already took it out." He finally saw the baby bottle, and an expression of surprise painted his face.
"Are you pregnant?" he asked.
"Yes I'm pregnant," she told him. "I've known for 2 days, and you said I can't keep a secret."
She broke the news, then found out her sister was pregnant too
Tara Brough broke the news of her pregnancy to her sister, Carly Walton, by having her open the oven and showing her the buns inside. It took Walton awhile to get the pun, but when she did, she happily celebrated her sister's pregnancy. But that was just the first pregnancy to be revealed that night.
The video cut to Walton mouthing to the camera and then walking over to Brough and saying, "Yeah, when we went to our first appointment last week, it kind of was like that, too." Brough's face changed to an expression of shock, and then she said, "No way. No way. No way!" and hugged Walton.
According to the Huffington Post, their babies are due 2 weeks apart. "It's just so fun going through pregnancy with someone you're so close to," Brough said.
They evicted their baby from her own crib
When Sharana Horton was cleaning her daughter's room to get ready for their expected baby boy, she came up with a cute idea for a pregnancy announcement — an eviction notice for her daughter, Summer.
"My husband came home and saw bags and boxes everywhere and said jokingly, 'It looks like we're getting evicted,'" Horton told Buzzfeed. "I then replied, 'We're not, but she is,' and we just kind of took that and ran with it."
They posted an eviction notice in Summer's crib, which read, "EVICTION NOTICE: Please Note That Your "Only-Child" Status Will Expire Within 18 Weeks. You are required to VACATE the Premises as a New Tenant is Expected on June 25, 2017. – Thanks, Management aka Mommy and Da Da"
In order to get Summer to cry, Horton's husband, Aaron, took a piece of pizza crust away from his daughter while she was eating it. They returned it to her after 30 seconds, which was just long enough to capture this sadistically funny pregnancy announcement.
She blindfolded him and fed him baby food
Cory Williams, a popular YouTuber, thought he was recording a simple taste-test video, but his wife, Kristen Williams, had something else in mind for him. Williams blindfolded her husband and had him taste a variety of foods, including ice cream, avocado, and finally, banana baby food.
As he ate, she held up signs reading, "A taste challenge, but that's not all this is. One sample is a HUGE surprise."
After Williams ate the baby food, he said, "This brings back a lot of memories. It's banana baby food." At first, he thought she gave it to him because it was his favorite as a little boy, but then she revealed her huge surprise — that she was pregnant.
When Cory found out, he kissed her, then kissed her belly, hugged her, and asked to see the pregnancy test. "You're really pregnant? You're really, really pregnant?" he confirmed, tears welling up in his eyes.
Williams told Inside Edition that he and Kristen have been trying to get pregnant for awhile. "I'm going to give this baby all the love I can give," he said. "I don't even have the right words (to describe) the level of excitement!"
Who knew pregnancy could be so scary?
In their hilariously spooky pregnancy announcement video, Judy and Gavin Holt mimicked a horror movie trailer to perfection. They used shots of windchimes, a swing on a dark porch, and a mirror streaked with Prego sauce to let the world know they were expecting a baby.
In the middle of the video, Judy said, in a traumatized voice, "I can feel it grow inside of me. What's happening to me?" Then, as she washed the dishes in the dark, her oven door creaked open on its own. (Later in the video, you can see there are buns in the oven.)
In the comments below the video, Gavin wrote, "Thanks to my loving wife Judy and our new family that we will start together. This video may be scary, but starting a family with her is anything but. I love you!"
He thought it was just another photo booth session
Jessica and Michael Devins couldn't walk past a photo booth without stopping and going in, a tradition that went back to their first date at Disneyland.
"It only seemed appropriate that I tell Michael that we're expecting our first baby in a photo booth since it's a tradition that we started years ago," Devins told ABC. "We have a wall in our home that has many of our photo booth strips as they are memories we cherish."
Michael was overwhelmed with joy when, on this special photo booth visit, Jessica revealed that she was pregnant. As the photo booth began taking photos of the couple, Jessica held up a white baby hat. At first, Michael didn't notice the hat with the word "baby" printed on it in black, but then Jessica turned, and, with a knowing look, showed it to him.
"What?" he asked. She just held it up and nodded.
"For real?" he asked.
"Yeah," she said.
"I am so happy. I am so happy," he repeated, leaning his forehead against hers.
Then the couple proceeded to do the photoshoot, now both holding up the baby hat with huge smiles on their faces.
The "I'm pregnant" gift bag
The day Brittany LeBlanc Welch found out she was pregnant, she presented her deaf husband, David Welch, with a shiny green bag full of "gifts." First, he pulled out a Baby Ruth candy bar. Then he reached back into the bag and grabbed the second gift, a bottle of Dad's Old Fashioned Root Beer.
Wide-eyed, he looked up at his wife, who signed to him that there was more in the bag. His hands shaking, he pulled out the final gift, 2 positive pregnancy tests wrapped in tissue paper. He teared up as he said, both out loud and in sign language, "I will be a dad?"
As the final touch to her gift, LeBlanc Welch gave her husband a little green card that said, "Surprise, Daddy." He reached out to give her a hug, his face full of emotion.
The best Christmas miracle ever
On Christmas Eve, Rachel Earls, a popular YouTube vlogger, headed into the bathroom to take a pregnancy test. Her period wasn't due for 3 days, but she figured she would take a test just in case, because she wanted to give her husband, Harold Earls, a truly memorable Christmas gift if she did happen to be pregnant. To her surprise, it came out positive. She then drove to the store and took another pregnancy test, just in case. It also showed that she was pregnant.
Then, on Christmas morning, she surprised her husband with the news. First she covered his eyes with a Christmas hat, and then had him sit next to the Christmas tree. There, she read a truly touching passage to him about the importance of their marriage and her love for him. She began with, "'I just want to tell you one thing. On June 11, 2015 I gave myself to you and took you as my best friend, my husband, my love for all the days we have together and the future father of our children."
When he opened his eyes, she revealed his gift — a package containing baby booties, a shirt reading "Future Tailgater," and a note that read "Happy B-Day Jesus. Merry Christmas Dad!!" Earls immediately cried tears of happiness. "I'm going to be a dad? Are you serious? I love you so much!" Earls said through his tears. Rachel then gave him a stocking with 4 pregnancy tests in it.
"This is the best Christmas ever," he celebrated.
A moment they'll remember for a lifetime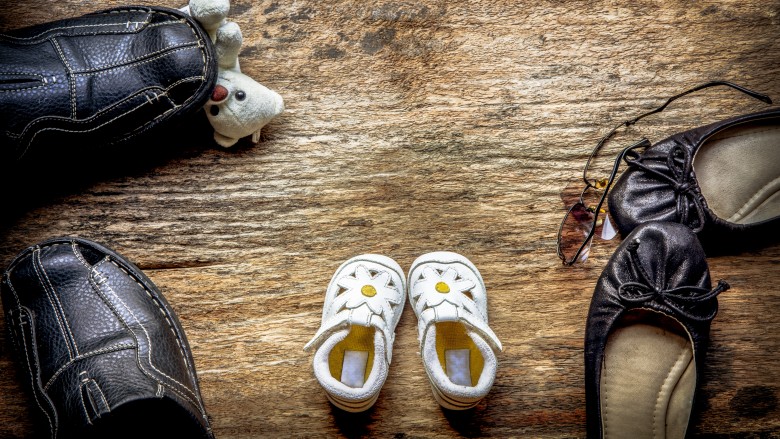 Shutterstock
Whether you're on baby number four like the Chapmans or your first (and second) like the Walkers, it's rare that you get to celebrate something as special as being pregnant. Each of these couples shared their excitement in a way that totally worked for them.
You can announce your pregnancy in the middle of the night with a Sharpied shirt, on Christmas morning, or in a photo booth. No matter what, it's a moment to remember and cherish. And if you do it creatively enough, you can celebrate it with millions of people.