The Truth About Pauli Murray's Sexuality
Civil rights activist who coined the term "Jane Crow," Pauli Murray, was born Anna Pauline Murray in November of 1910 (via The New Yorker). The life led by Murray was one of turmoil, challenges, and hardships, but also one of inspiration, change, acceptance, and brilliance. The New Yorker recounts Murray's time at Howard University, where, as the only woman in her class, wrote a paper that would later be successfully presented in the Brown v. Board of Education suit, arguing that segregation violated the 13th and 14th amendments of the United States Constitution.
Represent Women details Murray's many incredible accomplishments, including being the first Black woman to practice law, being a founder of the National Organization for Women, and, in 1977, to become the first Black woman ordained as an Episcopal priest.
The New York Times reports that, although struggling with her own gender identity, women's equality and feminism was part of her civil rights agenda. Murray's work on social justice helped the A.C.L.U. win an anti-discrimination case, and lawyer and educator Anita Hill declared, "She challenged racism, sexism, heterocentricism, colorism and elitism."
Murray was a pioneer for the LGBTQ+ community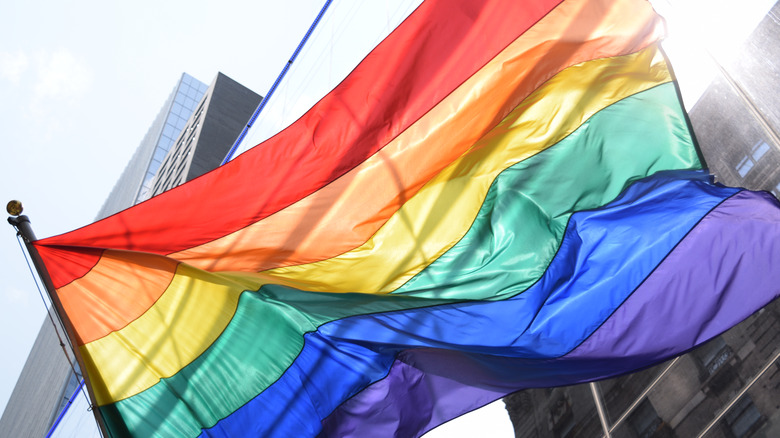 Jay Fog/Shutterstock
It was discovered through her journals that Pauli Murray was confused about her sexuality and gender, and she was even questioning whether she was "one of nature's experiments; a girl who should have been a boy" (via Smithsonian). It was reported that she even pleaded with doctors to check her hormone levels and sexual organs, and treat her with testosterone. The Smithsonian shares that Murray innately believed she was a man stuck in woman's body.
Murray was briefly married to a man but went on to have relationships with women, although she refused to call herself a lesbian, as the Smithsonian shares, rather, she thought of herself as a man attracted to bi-sexual women. Salon explains that by todays standards, Murray may have identified as a trans man, and although she never kept her sexual identity a secret, it is clear she did not fully understand it either.
She may not have realized it while alive, but the famous lawyer was a pioneer, perhaps the first pioneer, for the LGBTQ+ community as well as women of color (via Forbes).