Theragun Vs. Hypervolt: Which Recovery Tool Is Better?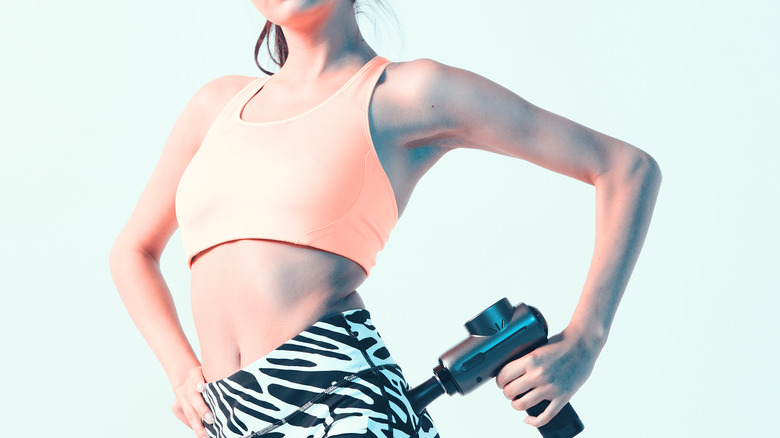 Geobor/Shutterstock
You might have noticed that percussion massage guns are all the rage for recovery. They reach deep into your knotted-up muscles to release them, easing your pain and mimicking a professional massage when you're unable to get one. A 2014 study published by National Center for Biotechnology Information concluded that these massagers could work even faster than traditional massage therapy. 
Physical therapist Gary Calabrese discussed the benefits of these portable massagers with Cleveland Clinic. "Think of it as a mini hammer, repeatedly impacting the soft tissue, causing blood flow to increase in that area," he said. "The gentle pressure can decrease any tight muscle tissue or soften scar-like tissue, called adhesions, thus helping to elongate the muscle fibers." Dr. Calabrese warned that these tools don't necessarily increase physical performance over the long term. Still, they help by easing pain, and he also touted their benefits for warming up and cooling down your muscles. 
Two popular versions of this type of device are the Theragun and the Hypervolt, Gear Patrol reported. It can be hard to figure out which one would work best for you, though. So if you're struggling to choose between the Theragun and the Hypervolt, read on to find out what each device has to offer.
How to choose between the Theragun and Hypervolt percussion massage tools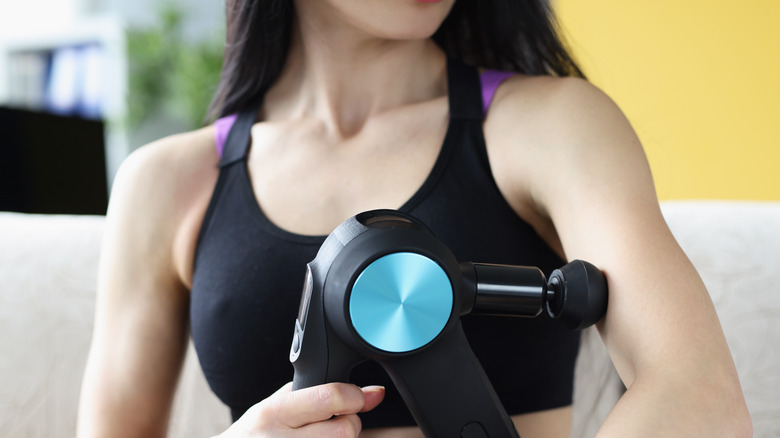 H_Ko/Shutterstock
According to Gear Patrol, the Hyperice Hypervolt Plus ($329) and Theragun PRO ($599) are the bestselling massage guns on the market right now. The first noticeable difference between these two percussion massagers is the price, with the Theragun Pro costing $270 more. In addition, the Theragun comes with five speed options, while the Hypervolt sports only three speeds. According to Gear Patrol, they're both reasonably compact, but the Theragun edges out the Hypervolt in terms of ease of use.
In terms of battery, both massage tools offer 150 minutes of battery time per charge. However, the Theragun comes with a second battery, so you can have one charged and ready to go when the first one dies out. If you want a second battery for the Hypervolt, they're available for about $80. Both devices connect to apps to help control the speed and vibration to get the most relief. The Theragun comes with more attachments and a convenient case to keep them together. While the Theragun offers superior customization, both devices work well. If price is your main concern, choose the Hypervolt, but if you want more customization, try the Theragun. As always, if you have any questions, consult your physical therapist for personalized recommendations.