How To Throw An Awesome Zoom Halloween Party
Jihan Nafiaa Zahri/Shutterstock
In order to safely celebrate Halloween this year, some may opt for a Zoom party. It may sound sad to miss out on in-person trick-or-treating and parties, but there are still plenty of ways to have a fun and festive time virtually.
The first step is to send out invites, making sure everyone knows where and how to log on and at what time. In addition to these details, send guests a party kit, too, as recommended by Party City. This can include decorations for the backgrounds seen on computer screens, candy, and any supplies that may be needed for activities.
Perhaps the most important part of any event centered around this holiday is the costumes, and a host may choose to have a costume contest. Follow The Bash's advice by making sure the rules, judges, categories, and prizes (such as movie tickets for more horror flicks or bouquets made out of sweet treats) are set and stated beforehand.
Invitations, playlists, snacks, and activities can help everyone virtually celebrate Halloween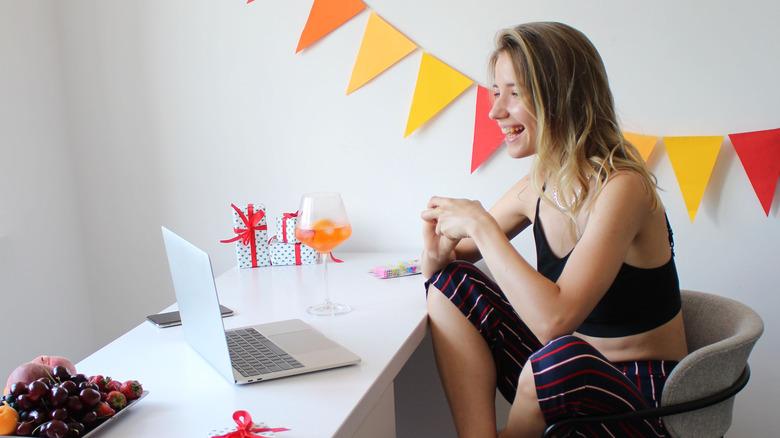 lovely_melody/Shutterstock
When it's finally time for the Zoom Halloween party, there are a few important components to keep in mind. One is the music, which helps set the mood and keep things exciting. Some song suggestions from Teambuilding are "Monster Mash," "This is Halloween" from "The Nightmare Before Christmas," "I Put a Spell on You," "Thriller," and theme songs from movies like "Halloween" and "Ghostbusters."
Refreshments are also a must, and a unique idea is to offer up drink and candy pairings, which Teambuilding also recommends. This is great for an adult party held between friends, family, or coworkers, though non-alcoholic beverages could also be used. The party will need at least a couple of activities, as well. Attendees could take turns telling ghost stories, Halloween-themed shows or films could be watched together, or everyone could get crafty by making their own masks or jack o'lanterns.
As one can see, there are many ways to have a happy (and safe!) Halloween this year!