The Real Reason Hobby Lobby Doesn't Sell Halloween Decorations
Joe Raedle/Getty Images
People enjoy going to Hobby Lobby, and if you are passionate about home decor, or arts and crafts, you're bound to see why. The chain operates more than 900 stores across the U.S. and has an inventory of more than 70,000 goods encompassing different departments from art and craft supplies to home decor items (via Hobby Lobby). It even has an event planning section that encompasses weddings and birthday parties. But while you see it go all out with decorations for events like Thanksgiving or Christmas, it's best to give Hobby Lobby a wide berth when you're looking to dress up your home for Halloween. 
Social media didn't waste any time confirming that Halloween remained canceled at Hobby Lobby. "Went to Hobby Lobby. They have no Halloween out. They do not DO that, they told me," on social media user fumed. 
And it didn't take long for Twitter users who thought to ask, to find out just why the chain didn't sell Halloween decorations, even if they were into the idea of "fall-themed items" or "autumn essentials" like pumpkins with inspirational messages and happy scarecrows (via Hobby Lobby). "Wasted an hour in Hobby Lobby looking for Halloween decorations. I forgot this is a Christian store," tweeted one social media user. "I was today years old when I found out @HobbyLobby doesn't sell Halloween stuff because it's 'the devil's holiday' aaaaaand there goes me ever wanting to shop there again. #bummer #itsachildrensholiday #getoverit" fumed another.
Hobby Lobby hasn't formally said why they don't carry halloween decorations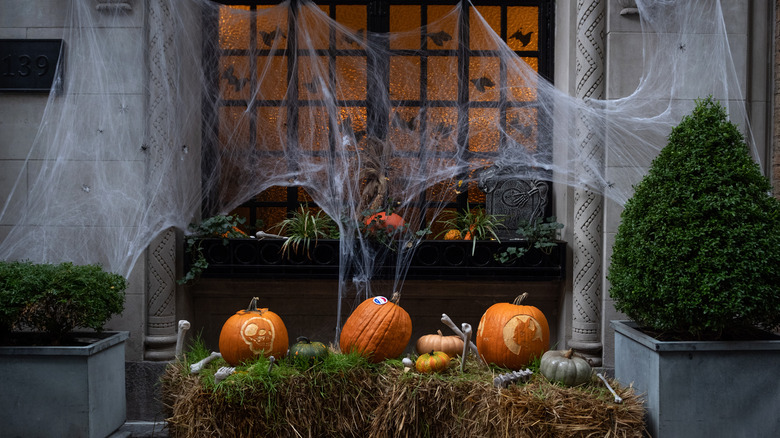 Alexi Rosenfeld/Getty Images
While Hobby Lobby has not issued a formal release to explain exactly why Halloween isn't promoted at their stores, a look at their website might have the answer. In the "About Us" section of Hobby Lobby's website, the chain says it is committed to "Honoring the Lord in all we do by operating the company in a manner consistent with Biblical principles." Such is their dedication to their religious belief that they are clear about the fact that all their stores are closed on Sunday (via Hobby Lobby).
Canceling Halloween isn't the only time Hobby Lobby's founder David Green has let his interpretation of the Bible dictate his business practices. In 2014, Hobby Lobby won a case in the Supreme Court which upheld its right to hold back reproductive benefits because private companies could base their policies on religious preferences (via Insider).
Hobby Lobby draws business inspiration from its religion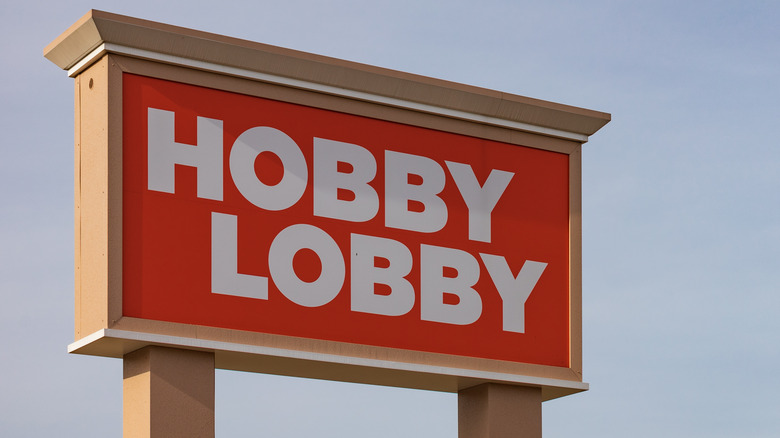 Nolichuckyjake/Shutterstock
More recently, Hobby Lobby drew criticism for staying open during the early coronavirus outbreak because Green's wife "received a message from God." In a rather un-Christian twist, it was revealed by Business Insider that Hobby Lobby wouldn't pay its employees for coronavirus sick leave. By April, the company decided to close all its stores — without paying staff.
If it's any comfort to those who were thinking of going to Hobby Lobby to glam up their homes for the spookiest night of the year– know that they don't carry something else either. "I walk into hobby lobby and ask for Halloween decorations and a menorah and they ask me to leave," a Twitter user shared in disbelief. This, nearly a decade after the company was forced to apologize for the comments of an employee who made an anti-Semitic comment by saying that the company "does not cater to your people." Green made a public apology as a response to that statement.