The Best Acne Face Washes You Can Buy In 2022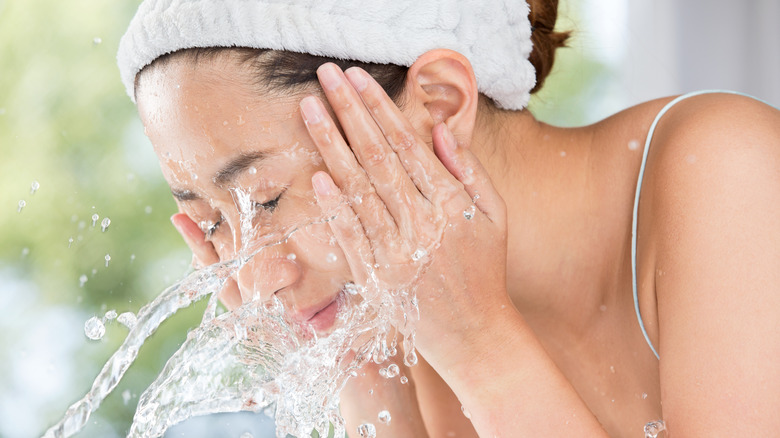 kei907/Shutterstock
We may receive a commission on purchases made from links.
The backbone of a proper skin care routine is an everyday face wash or cleanser. Dr. Kathleen Cook Suozzi, MD, director of aesthetic dermatology at Yale, stresses the importance of a "really gentle skin care regimen," because using too many products can sensitize skin and make it more prone to irritation (via NBC). Finding a reliable face wash can be easier said than done, though. According to SmarterSkin Dermatology's Alexandra Gold, when it comes to face wash, "you want something that is both oil-free or non-comedogenic, as well as hydrating" (via New York Mag). Hydrating ingredients include hyaluronic acid and ceramides, which cleanse while maintaining skin's natural oils.
But it doesn't stop there—while all face washes cleanse and work to prevent acne, different skin types require different ingredients. Do you have dry skin, combination skin, oily skin, or rosacea-prone skin? There's a formula out there for all of them. But don't worry. We've done the legwork so you don't have to. These are the best acne face washes to fit even the toughest customers.
The best face wash for acne overall
Whether it's cystic, hormonal, or just a few scattered blackheads and whiteheads, everyone has struggled with acne at some point in their lives. EltaMD Foaming Facial Cleanser is here to help. This gentle cleanser is oil free, and packed with enzymes like bromelain, to gently cleanse, reduce inflammation, and leave skin smooth. The rich foaming formula not only gently wipes away makeup, excess dirt and grime, but penetrates pores to lift away oil and other impurities.
Purchase EltaMD Foaming Facial Cleanser on Amazon for $28.
The best face wash for acne and dry skin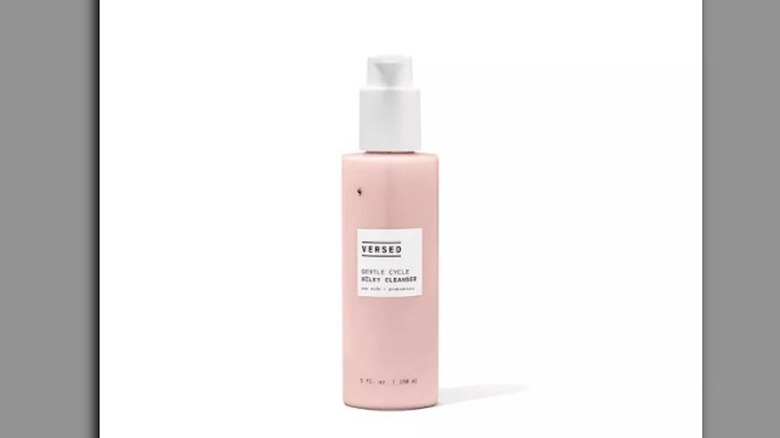 Target
When you're trying to treat both acne and dry skin at the same time, picking a face wash can be a double-edged sword. Many acne-fighting ingredients are drying, and can irritate sensitive skin, but are necessary to clear your complexion. Luckily, Gentle Milky Cycle Cleanser from Versed has thought of everything. Formulated with a mix of acne-combating ingredients and skin-soothing oat milk, this foaming cleanser lifts dirt and impurities while maintaining the skin's natural moisture.
Purchase Versed Gentle Cycle Milky Cleanser at Target for $14.99.
The best face washes for acne and oily skin
Oily skin tends to be more prone to acne than combination or dry skin, so it's important to pick a face wash formulated specifically for it. CeraVe Foaming Facial Cleanser uses its gentle foaming formula to lift excess oil and impurities while leaving skin's natural barrier intact. 
La Roche-Posay Toleriane Purifying Foaming Cleanser uses a similar formula, coupled with essential ceramides and soothing niacinamide, to cleanse oily skin of makeup and dirt.
Purchase CeraVe Foaming Facial Cleanser for Normal to Oily Skin on Amazon starting at $12.99.
Purchase La Roche-Posay Toleriane Purifying Foaming Cleanser on La Roche Posay starting at $11.99.
The best face wash for acne and combination skin
If you have combination skin, you may have trouble nailing down a face wash that balances the oily and dry spots of your face, or effectively tackles your T-zone. Cetaphil Pro Oil Removing Foam Wash takes both the oily and dry parts into consideration to balance your complexion and cleanse without stripping or overdrying skin. The fragrance-free, non-comedogenic zinc-infused formula is gentle on skin and works to balance its natural pH.
Purchase Cetaphil Pro Oil Removing Foam Wash at Target for $9.79.
The best face washes for acne and sensitive skin
When your skin is prone to redness and sensitivity, finding a face wash that's gentle enough to use every day can feel like a monumental task. Versed Keep the Peace Acne-Calming Cream Cleanser takes away the guessing game— formulated with salicylic acid and natural anti-inflammatory blue tansy, it cleanses skin without stripping it. 
Similarly, Vanicream's Gentle Facial Cleanser has a foaming formula that is non-comedogenic and soap free. That means it will lift away dirt and impurities without irritation. 
Purchase Versed Keep the Peace Acne Calming Cream Cleanser on Versed for $16.99.
Purchase Vanicream Gentle Facial Cleanser on Amazon for $8.86.
The best face washes for acne that also remove makeup
When it comes to nightly skincare, it's best to keep things simple. So why not combine your everyday cleanser with your makeup remover? Milk Makeup's Vegan Milk Cleanser lets you do just that— made by combining rich and calming oat and fig milks with other sulfate-free ingredients, this cleanser gently wipes away makeup while also cleansing and hydrating.
The same goes for Glossier's Milky Jelly Cleanser. The gel-based formula is created to lift away makeup and dirt without irritation. In fact, it's formulated with Poloxamer rather than soap, an ingredient used in contact lens solution that is not only effective at removing eye makeup, but also sting free.
Purchase Milk's Vegan Milk Cleanser at Sephora for $30.
Purchase Glossier's Milky Jelly Cleanser on Glossier for $9.
The best face wash for acne and rosacea
For many people, acne and rosacea go hand in hand, and finding a fix for one that doesn't overwhelm the other can be tricky. Luckily, Dr. Jart+'s Cicapair Tiger Grass Enzyme Foam Cleanser is formulated to take care of both. This foaming cleanser is formulated with Tiger Grass, or Centella Asiatica, and a number of other revitalizing herbs which cleanse and brighten skin. Additionally, the green pigment helps to eliminate red and uneven tones.
Purchase Cicapair Tiger Grass Enzyme Foam Cleanser on Dr. Jart+ for $25.
The best face wash for fungal acne
Fungal acne can be a tricky thing to tackle when you're first confronted with it. Fungal acne comes from an overgrowth of yeast in hair follicles, and is characterized by small, hard bumps resembling pimples. Once you know what you're up against, reach for Noble Formula's Original Emu Bar Soap. Made with Zinc to combat the fungal growth and all natural ingredients like olive oil, emu oil, and milled oats, this facial cleanser gently calms and exfoliates leaving skin balanced and clear.
Purchase Noble Formula Original Emu Bar Soap on Amazon for $12.99.
The best face wash for acne with salicylic acid
If you're already well on your skincare journey, chances are you've seen the words "salicylic acid" enough already, but what do they mean? As an anti-inflammatory, salicylic acid is a common enough ingredient in face washes, but it has a reputation of being more drying than other ingredients, which is why it's so important to find the right face wash that uses it. The Salicylic Acid Cleanser from The Inkey List combines 2% salicylic acid cleanser with a zinc compound to create a gentle, non-drying face wash that still penetrates pores and lifts impurities.
Purchase Salicylic Acid Cleanser on The Inkey List for $9.99
The best face washes for acne with benzoyl peroxide
Benzoyl peroxide can be a powerful ingredient in combating all kinds of acne, from cystic to blackheads. Differin Daily Deep Cleanser is formulated with 5% benzoyl peroxide, for a deep penetrating cleanse that won't strip the skin of moisture. 
If you're looking for a face wash with a little more kick, PanOxyl Acne Foaming Wash is formulated with 10% benzoyl peroxide, the highest amount available without a prescription, to tame breakouts and prevent new ones.
Purchase Differin Daily Deep Cleanser Sensitive Skin Formula on Amazon for $11.99
Purchase PanOxyl Anti-Microbial Acne Foaming Wash with 10% Benzoyl Peroxide on Amazon for $10.44.
The best charcoal face wash for acne
With its ability to draw out dirt and impurities like a magnet, activated charcoal has remained a popular trend in skincare for several years. Yes To Tomatoes Detoxifying Charcoal Cleanser combines the cleansing effects of charcoal with powerful exfoliants for a deep clean that prevents future breakouts. Packed with tomato juice and jojoba oil for a burst of much needed antioxidants, this cleanser also evens and brightens your complexion.
Purchase Yes to Tomatoes Detoxifying Charcoal Facial Cleanser on Amazon for $9.39.
The best affordable face wash for acne
Believe it or not, radiant and clear skin doesn't necessarily have to come with a high-end price tag. The Ordinary's Squalane Cleanser delivers luxury results at drug store prices. This facial wash combines powerful, natural antioxidant squalane with a host of gentle esters to dissolve makeup, dirt, and other impurities while leaving skin smooth and moisturized. This non-comedogenic, soap-free formula is perfect for everyday use without breaking the bank.
Purchase The Ordinary Squalane Cleanser on Deciem for $7.90.
The best face wash for acne that's a splurge
In the immortal words of NBC's "Parks and Recreation," sometimes you just have to treat yourself! Drunk Elephant's Beste No. 9 Jelly Cleanser is a luxurious gel-based cleanser that uses glycerin, hydrating marula oil, and a mixture of other rich, hydrating ingredients to cleanse skin of makeup, excess oils, dirt, and other impurities without any residue. This gentle cleanser is formulated without fragrances or sulfates, so it can be used everyday without irritation.
Purchase Beste No. 9 Jelly Cleanser on Drunk Elephant for $32.
The best vegan face washes for acne
As social problems become more prevalent in all factions of life, the beauty industry has adapted. As a result, there's a wide array of clean beauty and vegan skincare options on the market. The Body Shop's Tea Tree Skin Clearing Facial Wash is made with a host of powerful natural ingredients, particularly ethically sourced tea tree oil, to keep skin naturally refreshed and bright. 
Pacifica Beauty's Kale Detox Deep Cleansing Face Wash is formulated with simple and gentle ingredients. Kale, coconut water, and green juice, are not only rich in antioxidants, but they're gentle enough for everyday use.
Purchase Tea Tree Skin Clearing Facial Wash at The Body Shop for $18.
Purchase Pacifica Beauty Kale Detox Deep Cleansing Face Wash on Amazon for $9.99.