Prince William Reveals Prince George's Surprising Obsession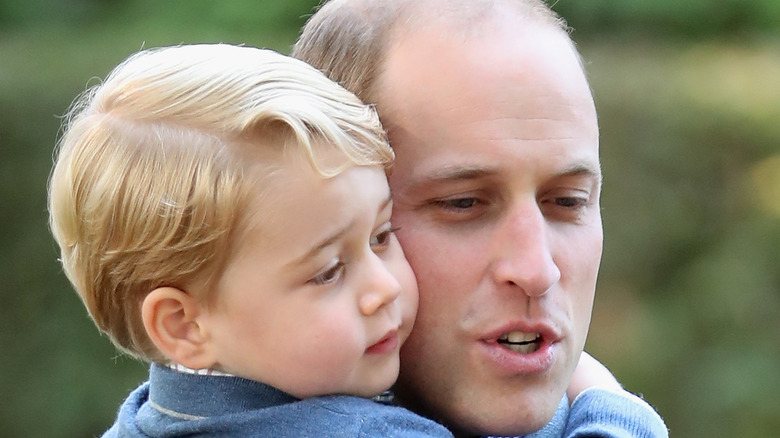 Chris Jackson/Getty Images
Prince William has revealed Prince George's surprising obsession. According to Town & Country, the Duke of Cambridge made the revelation on Wednesday, September 29, 2021 while on a trip to Northern Ireland with his wife Kate Middleton. 
During the pair's royal visit, the duke and duchess stopped by a campus petting zoo at Ulster University's Magee Campus. As The Mirror reported, William was then given a snake to hold, which he described as being "very cool" before revealing, "George is obsessed with snakes, he's going to be so upset he missed this."
While attending the petting zoo, Kate also spotted a tarantula, prompting her to ask the zoo's staff, "Ooh, please can I hold the tarantula? What's her name?" When she was informed the spider shared the same name as her daughter, Charlotte, the duchess laughed and responded, "Is she really?"
While holding the tarantula, the spider began moving up Kate's hand. Referencing his wife's purple trouser suit by Emilia Wickstead, William went on to joke, "Maybe she's not so keen on purple, or she maybe thinks you're a flower."
Prince William and Kate Middleton discussed the mental health benefits of animals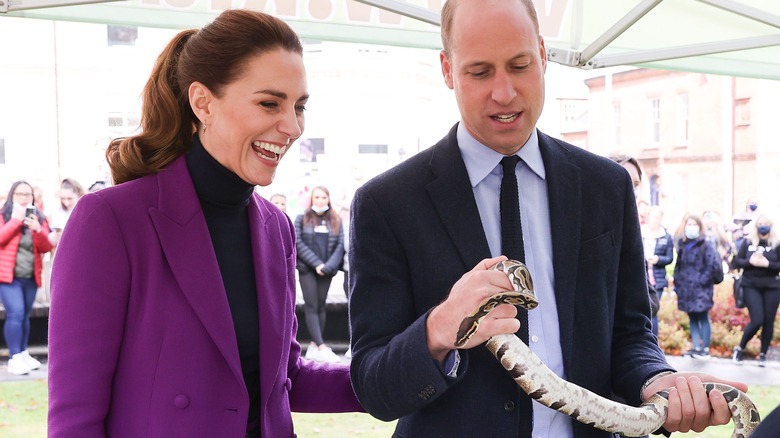 Chris Jackson/Getty Images
Per Town & Country, the petting zoo at Ulster University's Magee Campus is organized by the local mobile zoo company KidzFarm, which aims to help students cope with mental health and anxiety issues using animals. Speaking to staff at the zoo, the Duke and Duchess of Cambridge discussed how they themselves have found animals to help with stress, especially during the coronavirus pandemic lockdowns. 
According to The Mirror, Kate Middleton revealed that their family had "lots of animals during lockdown," adding, "During lockdown, animals are often like therapy." Standing beside her, Prince William also went on to reveal that they had acquired "lots of chickens" during the pandemic. 
Following their visit to the petting zoo, the duke and duchess then stopped by the university's student union, where they were joined by students who shared their university experiences and discussed how to help both local and international students adjust to life on campus. During the visit, Kate was offered a half-pint of Guinness, while William opted for a whisky. "Now we're talking, I'm going to go for a whisky," the future king joked.