Is This How Queen Elizabeth Really Views Kate Middleton?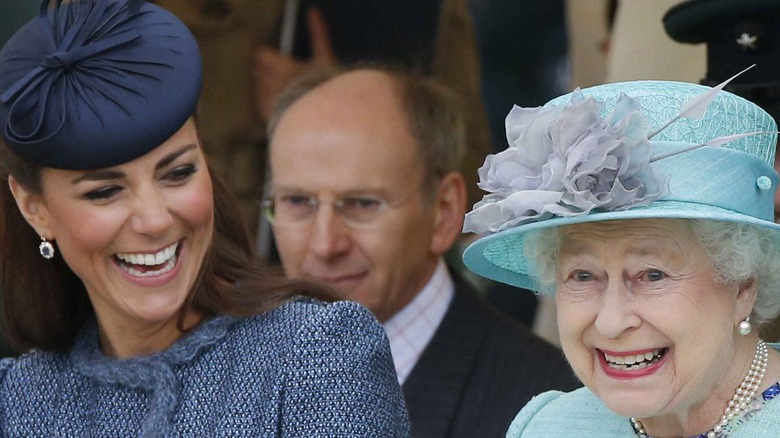 Wpa Pool/Getty Images
Of Prince Charles and Princess Diana's two sons, it's Prince William and his wife, Kate Middleton, who still actively represent the family throughout the British commonwealth, performing royal duties assigned to them. William's brother, Prince Harry, and his wife, Meghan Markle, chose to leave Britain and the royal family behind in 2020 for Meghan's native Southern California, where they now own a house in the upscale community of Montecito raising their two small children, Archie and Lilibet, according to USA Today.
The move left Queen Elizabeth with the grandson who is second in line for her throne (after his father, Prince Charles) still by her side with his wife, Kate, taking on the role of a scandal-free royal. In fact, the queen may trust Kate more than she does other members of her family who continue to make headlines, including her second son, Prince Andrew, who has faced (and continues to face, as of publication) allegations and court proceedings related to sexual assault allegations poised against him (via Reuters).
Queen Elizabeth has put her trust in Kate Middleton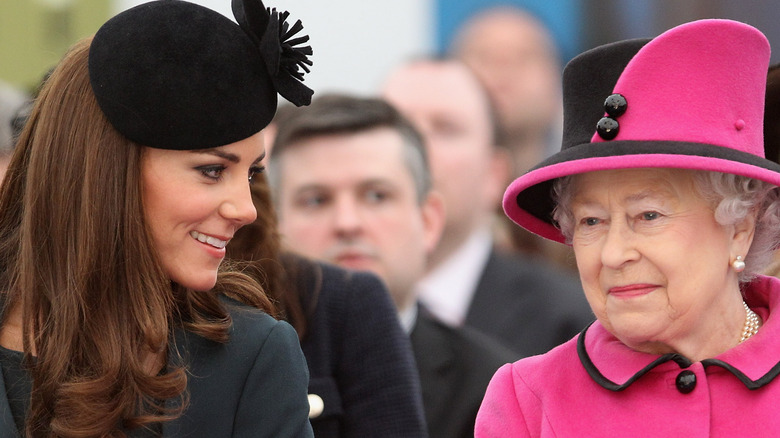 Oli Scarff/Getty Images
On April 29, 2011, Kate Middleton married Prince William and the pair became the Duke and Duchess of Cambridge. More than 10 years and three children later, Queen Elizabeth sees her granddaughter-in-law, who will one day be queen herself, as "a team player," according to Us Weekly.
"She's been a member of the royal family for 10 years now," royal expert Joe Little told Us Weekly. "I think given that all that's going on in the past few years in the royal family in terms of the fallouts ...The queen has great trust in Kate."
Little also shared that he thinks the fact that the queen bestowed Kate with the royal family order affirms her feelings for the woman who married her grandson. "I would say that the queen has great trust in the future Prince and Princess of Wales William and Catherine will be one day and, you know, in the fullness of time ... King William and Queen Catherine," he said.
In 2020, when the coronavirus pandemic began, the 96-year-old queen began relying on William and Kate more than ever. "Knowing she can rely on Kate and Prince William to handle matters in her absence is the greatest comfort she could ask for," a source told Us Weekly in August 2020.
Another source affirmed Queen Elizabeth's feelings about Kate in November of last year. "Kate has flourished into a queen in waiting in front of everyone's eyes. The royal family could not be more pleased."