The Truth About Blue Halloween Buckets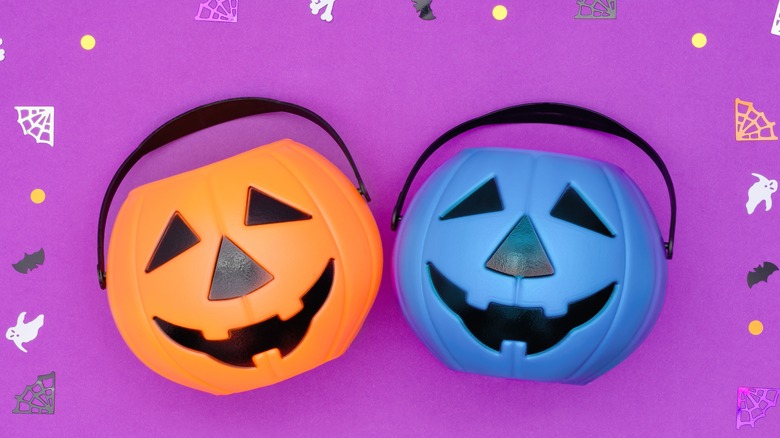 Sasha Medvedeva/Shutterstock
Halloween is a favorite time of year for many, but for children with autism – as well as their parents — the holiday can be challenging. So in 2018, Alicia Plumer decided to send her 21-year-old son around with a blue bucket so that neighbors would know he had autism. She was inspired by the Teal Pumpkin Project, which urges people to offer non-edible items for children with food allergies so they can also enjoy Halloween. "While he has the body of a 21-year-old, he loves Halloween. Please help us keep his spirit alive & happy," Plumer wrote (via Newsweek). "So when you see the blue bucket share a piece of candy. Spread awareness! These precious people are not 'too big' to trick or treat."
As Omairis Taylor explained, she was tired of having to notify every house that her 3-year-old son couldn't say "trick or treat" because he is nonverbal, so they started carrying the blue bucket. "Please allow him (or any other person with a BLUE BUCKET) to enjoy this day...," she wrote, adding that "this holiday is hard enough without any added stress" (via CBS News).
The blue bucket can make Halloween easier for kids with autism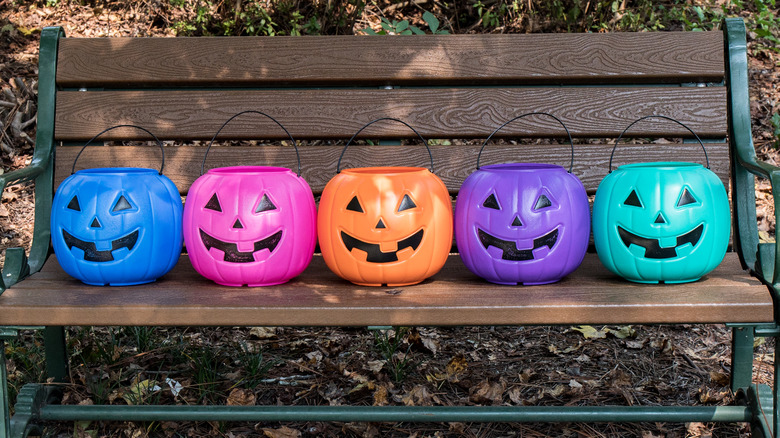 Becky Wright Photography/Shutterstock
While many parents of autistic children will have their kids carry blue buckets on Halloween, one parent wrote that she cannot "get behind" the movement. In an op-ed piece published by The Washington Post, Jackie Spinner explained that her 7-year-old son "shouldn't have to tell a stranger he is autistic to get some chocolate." She wrote, "If you have your light on this Halloween, if you plan to invite trick-or-treaters for candy or snacks or toys or whatever you want to hand out, how about this instead? Smile and hand out the candy. To a big kid, little kid, kid in a costume, kid not in a costume, kid who is verbal, kid who is nonverbal, kid who can hold it together, kid who can't hold it together. Just hand out the candy. Or turn your light off."
Still, as Wendy Fournier, president of the National Autism Association, told Newsweek, the blue bucket can "provide a subtle, dignified way of alerting people that this child or young adult may not be able to make eye contact, or tolerate wearing a mask, or even say 'thank you', but they certainly deserve to enjoy the fun of Halloween as much as everyone else."