Ron DeSantis Reveals His Wife's Heartbreaking Health Diagnosis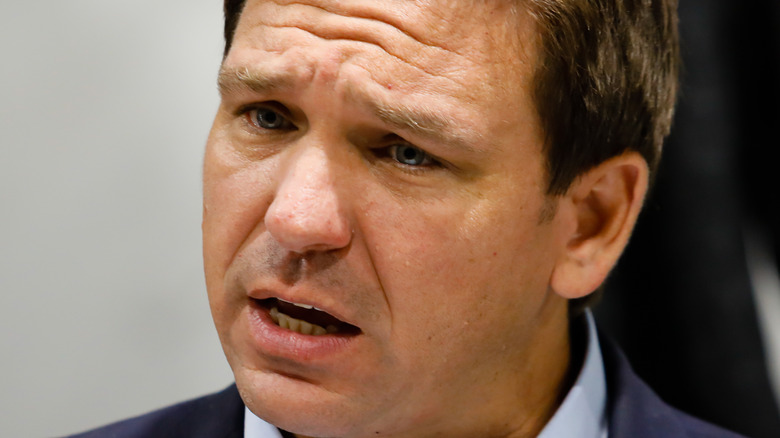 Bloomberg/Getty Images
Ron DeSantis, the Republican governor of Florida, is a contentious name in politics. The Republican governor has made headlines before for his close ties with former president Donald Trump and a number of public controversies, per Business Insider. Now, he's shared devastating news about his wife, Casey DeSantis.
Casey and Ron DeSantis have been married for over a decade, per The Sun. Florida's First Lady has roots in Ohio, where she was raised, and South Carolina, where she earned her bachelor's degree from the College of Charleston. Now, she lives in Tallahassee with her family in the governor's mansion. According to The Sun, their tenure is the first time in five decades that young children have lived in the mansion. In office, Casey has focused on such topics as increasing access to help for those who struggle with their mental health and/or substance abuse (via Florida's Department of Education). 
Now, too, Casey has been diagnosed with a heartbreaking health condition, with her husband revealing it to the world on October 4.
This is the harsh cancer that Casey DeSantis has been diagnosed with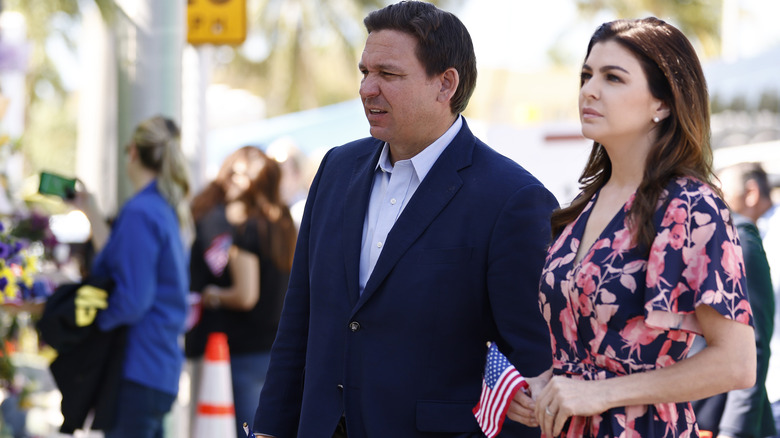 Michael Reaves/Getty Images
Ron DeSantis revealed his wife's heartbreaking health diagnosis in a statement shared to social media on Monday. According to The Daily Mail, Casey DeSantis has been diagnosed with breast cancer.
"I am saddened to report that Florida's esteemed First Lady and my beloved wife has been diagnosed with breast cancer," DeSantis wrote. "As the mother of three young children, Casey is the centerpiece of our family and has made an impact on the lives of countless Floridians through her initiatives as First Lady."
He continued, "As she faces the most difficult test of her life, she will have not only have my unwavering support but the support of our entire family, as well as the prayers and well wishes from Floridians across our state." He added that Casey is "a true fighter" and will "never, never, never give up."
Casey's children range in age from 4 years old to 18 months old. The First Lady formerly worked as a television host for PGA before leaving to raise her children and support her husband's political career (via The New York Post). DeSantis did not reveal which stage Casey's cancer is in, but hopefully her road to recovery is a safe one.