The Exact Lip Color Margot Robbie Wore As Harley Quinn In Birds Of Prey
Harley Quinn easily emerged as one of the most beloved anti-heroes in the DC Extended Universe upon making her debut in 2016's "Suicide Squad." Reviews for the film itself were, well, let's call them critical at best (via Rotten Tomatoes). However, Margot Robbie's portrayal of the delightfully demented baddie won acclaim to the point where the Providence Journal dubbed her the favorite film character of the year.
There was enough interest to nab the Clown Prince of Crime's partner a standalone film, 2020's "Bird of Prey (and the Fantabulous Emancipation of One Harley Quinn)." The female-led project freed Quinn from her abusive boyfriend, The Joker, and introduced her to a new team of strong women, including The Huntress (Mary Elizabeth Winstead), Black Canary (Jurnee Smollet-Bell), Renee Montoya (Rosie Perez), and Cassandra Cain (Ella Jay Basco).
Together, they took down a mob boss and nabbed a "certified fresh" rating on Rotten Tomatoes. The cast looked fabulous while doing so in distinctive costumes that showcased their personalities. Robbie, in particular, debuted a new look for Harley Quinn, which she dubbed "less male gaze-y" than her overtly sexualized "Suicide Squad" costume in an interview with Vogue.
The costume has since become a fan favorite with many moving to copy her look, which included a signature jacket and always-colorful makeup. Read on to figure out the finishing touch you'll need to pull it off: the exact shade of lipstick Robbie wore on set.
Harley Quinn's signature red lip was created using Stila's Stay All Day Liquid Lipstick
If you've been wondering exactly what lipstick Margot Robbie wore to play Harley Quinn, TikTok user Brittany Cale has the answer for you. The beauty guru broke down several of Robbie's "Birds of Prey" looks on TikTok. Let's start with that signature red lip that epitomizes her colorful aesthetic.
According to Cale, the red lip was achieved using Stila's Stay All Day Liquid Lipstick in Beso. To define the lips and ensure a clean application, makeup artists on set used Ben Nye's Lip Colour Pencil in Beet Red. When it was time for touch-ups between scenes, Robbie dabbed on MAC's Matte Lipstick in the iconic Russian Red. Pair this look with a heart on your cheek and smoked-out eyeshadow, and you'll look just like the villainess with a heart of gold.
What if you want to channel a different look from the film? The dramatic purple lip she wore to a club was achieved using Sorme Cosmetics' Smearproof Lip Liner in Burgundy and Maybelline's Super Stay Matte Ink Liquid Lipstick in Believer. What about that unforgettable Marilyn Monroe recreation? Her colorful berry lipstick was MAC's Retro Matte Lipstick in Flat Out Fabulous. 
There are a couple of other Harley Quinn-approved products that can complete your look, too.
Check out these Harley Quinn-inspired makeup products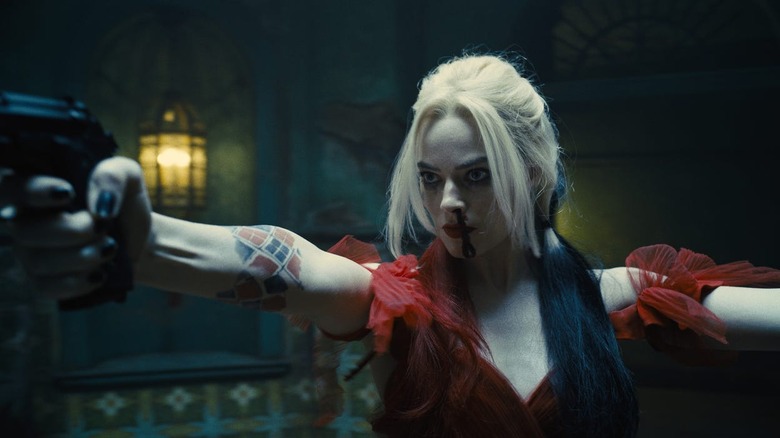 Warner Bros. Pictures
Now that you know the exact shade of lipstick you need to channel Harley Quinn, it's time to pick up a couple other makeup products that the antihero would certainly endorse. Beauty brand Makeup Revolution paid tribute to Margot Robbie's aesthetic from "Birds of Prey" when putting together a pastel-hued nine-pan eyeshadow palette. The Daddy's Little Monster palette offers a blend of shimmers and mattes in soft pinks, blues, and purples with an accent of green and white. You can also pick up a coordinating lip gloss from the collection.
Fans who have already seen 2021's "The Suicide Squad" likely noted that Harley Quinn debuted a darker, vampier look in the film. You can channel those vibes by picking up products inspired by the character from a new drop by Smashbox. The collection includes a pitch-black Always On Cream Shadow Squad named Harley Quinn and a blood-red Be Legendary Anti-Hero Lipstick, also called Harley Quinn. 
However, if you're wondering how to pull off Robbie's black lip in that film, you won't achieve it using lipstick. Heba Thorisdottir, the makeup department head for "The Suicide Squad," told Allure that they had to use Smashbox's Always On Gel Eye Liner in Fishnet topped with lip balm to get the look. It was the only product to hold up during Robbie's intense days on set.