The Best CBD Oils For Neuropathy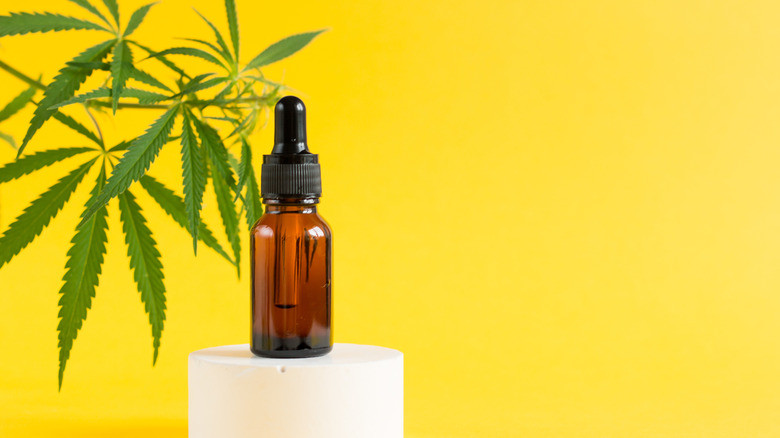 Ekaterina_str/Shutterstock
Cannabidiol (CBD) oil use is on the rise and many people are hyping its research-backed benefits like reducing anxiety, treating epilepsy, and managing pain (via Forbes). CBD has become so widely accepted that you might even find it being sold in your doctor's office. 
CBD oil is especially revered for its help with pain, including that from arthritis, muscle spasms, and nerve pain (per Women's Health). Nerve pain, also known as neuropathy, is pain caused by the malfunctioning or damage of the peripheral nerves that can cause symptoms such as tingling, numbness, sharp pains, heaviness, and even digestive issues (via Healthline).
One study out of the Current Pharmaceutical Biotechnology journal found that applying CBD topically to the affected areas reduced pain levels and "disturbing sensations" in participants. Another study in the Current Pain and Headache Reports found that participants had relief of neuropathy by way of taking CBD under the tongue or via vaporization. 
Try these three CBD products for nerve pain
It's important to note that not all CBD is made the same. According to Healthline, there are at least three CBD products that are helpful in treating neuropathy and meet specific guidelines ensuring high quality and potency. The following products hold certificates of analyses — showing they've been tested for pesticides, heavy metals, and molds — and contain 0.3% or less THC.
Healthline chooses CBDistillery Relief + Relax CBD Oil for its full spectrum product and shares that this is a great option for those needing a stronger dosage of CBD. It's made using full-spectrum hemp extract and coconut oil, is highly reviewed, and contains upwards of 5,000 milligrams per bottle. Prices range from $35–$260 per bottle of the full spectrum product.
Per Healthline, a good choice for CBD isolate oil is Medterra's CBD Tincture, which is an organically grown, grain-free, non-GMO certified CBD with MCT oil available in three strengths. There are many reviews in favor of the product's efficacy for pain and other ailments, and prices for the tincture start at $34.99 (via Medterra). If you'd rather try a cream for neuropathy pain, Healthline suggests trying Cornbread Hemp CBD Lotion + Menthol. At $49.99, the website declares the CBD lotion will "provide soothing, cooling relief directly to the source of your discomfort" (via Cornbread Hemp). 
Whether you're using CBD to help reduce neuropathy pain or ease the symptoms of another medical condition, it's important to let your doctor know you're using it.