Meet Dylan Dreyer's Husband, Brian Fichera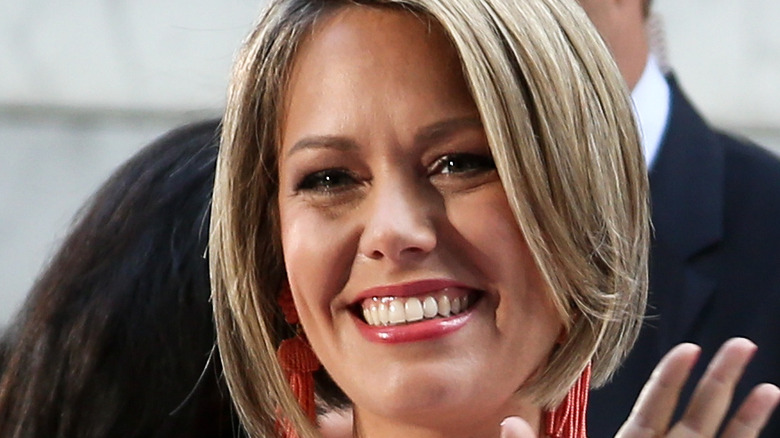 Debby Wong/Shutterstock
Workplace romances are hit or miss. Either you end up with the person of your dreams or you're doomed to see the person you once shared your deepest darkest secrets with on the daily. Luckily the relationship between "Today Show" co-anchor and meteorologist Dylan Dreyer and husband, Brian Fichera was a perfect match (via US Weekly).
The couple, who met while working at Boston's WHDH station, married in October 2012 and quickly moved from Boston to New York City when Dylan joined "Today" (via Good Housekeeping).
Although Dreyer thought Fichera's name was Tom before realizing it was really Brian, the slight was forgotten and the two went on to have a swoon-worthy relationship, as the couple revealed on their now-defunct wedding website (via Heavy) — scroll through Fichera's Instagram posts if you don't believe us. The studio technician proposed to the meteorologist in July 2011 and the rest is history, per Boston.com.
Let's meet the news anchor's gorgeous husband, Brian Fichera.
Brian Fichera is a cameraman
Before Brian Fichera became known for his cute Instagram posts of his sons and wife, Dylan Dreyer, the Easton, Massachusetts native was a cameraman at the same station where Dylan Dreyer was working as a meteorologist as the couple shared on their wedding website (via Heavy).
According to Biography Daily, Fichera also worked on NBC News as a writer and producer. As a cameraman for "Nightly News," Fichera is familiar with everything that happens behind the scenes of a daily newscast (per Today). It's most likely the couple's shared interest for all things news, along with mutual respect for one another and their ability to laugh together, that bonds these two.
The cameraman shares some of those shared jokes via social media, giving us a peek into their very relatable marriage. Who hasn't been mad at their partner because of a dream? "Dyl being LiViD all day because of a "nightmare" she had where I ran off with 3 SNL girls ... to.......EAT FRENCH FRIES.....is peak marriage fights," he wrote on Instagram in the caption of a screenshot convo between the two in which Dreyer described the dream in detail.
Although not much is known about Fichera's personal life, much of what the writer and producer shares online is focused on his close-knit family. In fact, Fichera and Dreyer added to their brood in September 2021 when they welcomed their third son, Russell James, to their family. He joined older brothers Calvin and Oliver, per The U.S. Sun.