How Is A HydraFacial Different Than Microdermabrasion Or A Chemical Peel?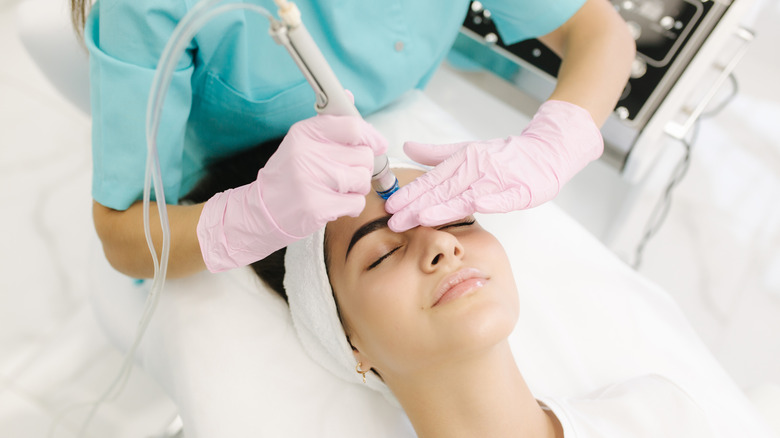 Hrytsiv Oleksandr/Shutterstock
The HydraFacial has become so popular that there's one performed every 15 seconds, as per Allure – now, that's a lot of HydraFacials, isn't it? In the last year alone, there were over two million HydraFacial treatments performed across the world, and it's easy to see why.
A HydraFacial is a form of facial performed with a medical-grade hydradermabrasion device that has a patented three-part process of cleansing, exfoliating, and infusing skin with intensive serums, and compared to microdermabrasion and a chemical peel, it tends to offer better results. Plus, it's a lot less likely to irritate your skin. 
As per Yahoo! Life, in order to perform a HydraFacial, a spa should be registered and according to board-certified dermatologist, Dr. Ariel Ostad, "The HydraFacial is the only hydra-dermabrasion procedure that uses patented technology to cleanse, extract, and hydrate." If you're going to treat your skin to a pamper, it needs to be by a qualified dermatologist, in order to see the best results. 
HydraFacials are extremely popular, but what sets them apart from microdermabrasion treatments or traditional chemical peels?
How is a HydraFacial performed?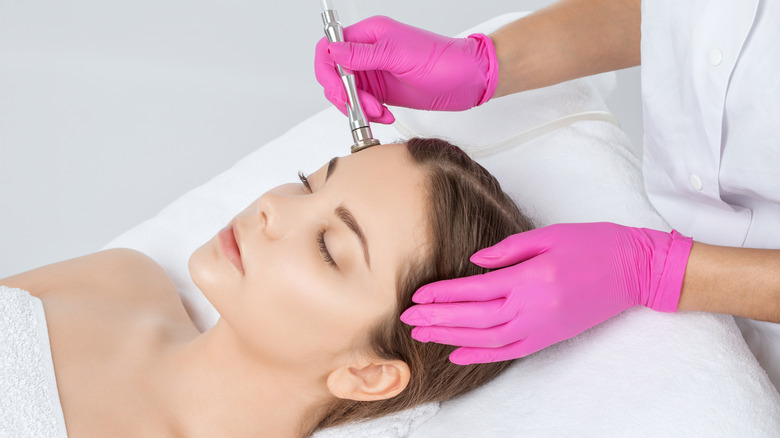 dimid_86/Shutterstock
Usually, the 60-minute HydraFacial treatment is divided into three parts, with the first part being the cleanse and peel.
As per Yahoo! Life, Dr. Ariel Ostad explained that, "HydraFacial uncovers a new layer of skin with gentle exfoliation and relaxing resurfacing. The Activ-4™ serum removes dead skin cells to reveal healthy skin and the GlySal™, a mixture of glycolic and salicylic acids, delivers the benefits of a peel without post-peel scaling".
The next part is to extract and hydrate — this is where the treatment removes any debris from pores using a gentle suction method that also nourishes skin with intense moisture. Ostad explained, "The patented, automated vortex suction painlessly cleans out pores with the exclusive Beta-HD™ serum and Antiox+™ serum nourishes and protects with antioxidants, peptides, and hyaluronic acid." 
The last step is to fuse and protect, and according to Ostad this is where "a HydraFacial saturates the skin's surface with antioxidants and peptides to maximize your glow. Targeted, proprietary skin solutions are delivered to address specific skin concerns. Patients maintain results at home with Daily Essentials™ featuring the same ingredients used in the treatments." 
What's the difference between a HydraFacial, microdermabrasion, and a chemical peel?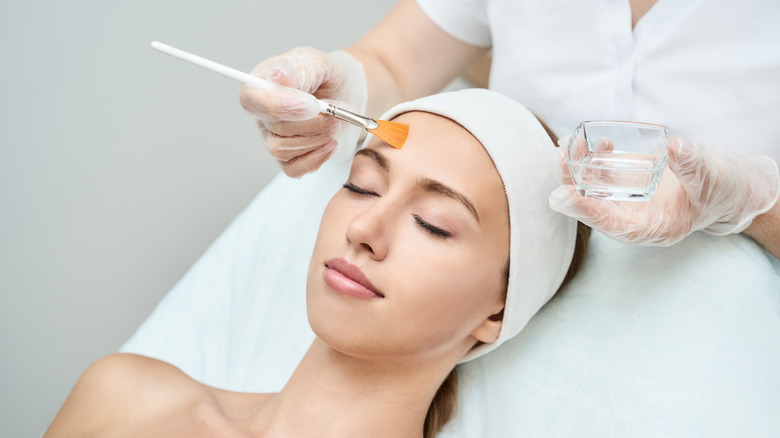 elenavolf/Shutterstock
Unlike traditional microdermabrasion which blasts the skin with grit, a HydraFacial is a gentler approach which vacuums pores while also pushing potent serums into the skin, moisturizing, brightening, plumping, and protecting as it is performed, as per Allure.
Yahoo! Life reported that when it comes to the differences between a HydraFacial, microdermabrasion, and a chemical peel, there are some key differences.
For instance, microdermabrasion tends to use a manual extraction process, whereas a HydraFacial uses a specialist vacuum tip to offer a deep cleanse, and chemical peels use acids to break down debris in pores. Compared to microdermabrasion, the HydraFacial extraction process is far less painful, and tends to be far more effective than the chemical peel process.
The HydraFacial is also unique in the fact that, as board-certified dermatologist Dr. Gretchen Frieling explained to Yahoo! Life, unlike other skin resurfacing procedures the HydraFacial has the ability to moisturize the skin and the treatment offers a soothing, non-irritating, and refreshing facial that's immediately effective.