How Alexandria Ocasio-Cortez Is Dealing With The Trauma Of The Capitol Attack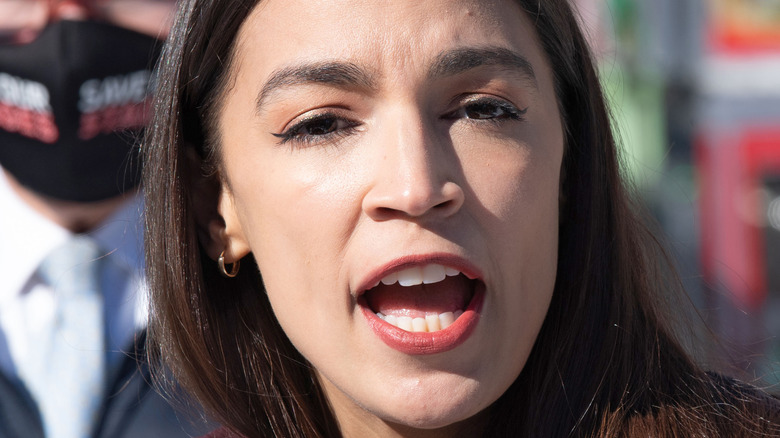 Ron Adar/Shutterstock
Just a few weeks after the January 6, 2021 violent attack on the United States Capitol, New York Representative Alexandria Ocasio-Cortez shared her harrowing story on Instagram Live, explaining how she hid in her office bathroom alone thinking her life was over as she heard men outside calling out, "Where is she? Where is she?" (via Upworthy). 
While those men turned out to be Capitol police who told Ocasio-Cortez and her aide to flee to another building, there were a few terrifying moments when the young congresswoman had jumbles of thoughts running through her mind. "The weird thing about moments like these is that you lose all sense of time. In retrospect, maybe it was four seconds, maybe it was five seconds, maybe it was 10 seconds, maybe it was one second, I don't know. It felt like my brain was able to have so many thoughts ... I mean, I thought I was going to die," she said, later adding that she also turned spiritual. "If this is the plan for me, then people will be able to take it from here ... I had fulfilled my purpose," (via Upworthy). 
Alexandria Ocasio-Cortez learned to slow down and care about herself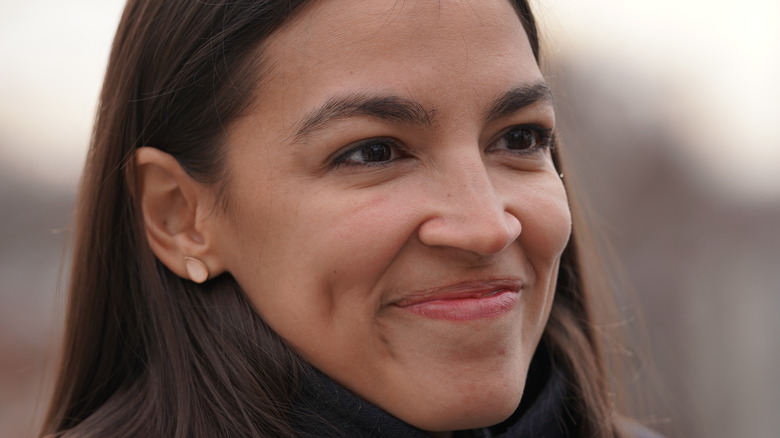 Phil Pasquini/Shutterstock
Alexandria Ocasio-Cortez and her aide eventually made it to fellow Representative Katie Porter's office, where she hid for hours until the siege on the Capitol was over (via People). After that, it was time to deal with the trauma she went through that frightful day.
It was February when Ocasio-Cortez shared her personal story of the January 6 Capitol attack on Instagram Live. Months later in May, she sat down for a long talk with Latino USA in her native New York and explained that she was doing much better after the trauma endured because she learned to focus on self-care.
"If I take a couple of months now and just be really good, then I don't have to live with this thing festering and lingering with me like a roommate in my apartment for years," Ocasio-Cortez said, admitting that she's taken steps to mentally and emotionally heal since the January 6 Capitol riots. (time stamp around 11:50)
Alexandria Ocasio-Cortez took charge of her mental health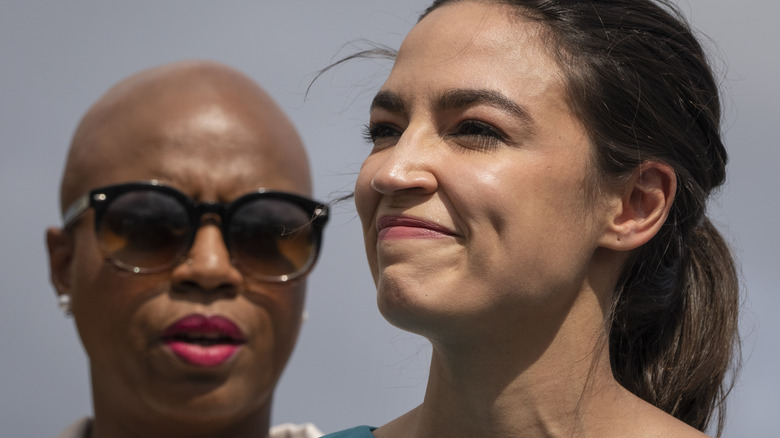 Drew Angerer/Getty Images
After the Capitol riots and the harrowing experience she went through believing rioters had broken into her office, Alexandria Ocasio-Cortez explained that she had to step back and work through what happened for her own well-being. She also realized that she, like many Latinos, had experienced trauma over the last four years.
"I'm doing therapy, but also I've just slowed down," she told Latino USA's Maria Hinojosa. "I think the Trump administration had a lot of us, especially Latino communities, in a very reactive mode. And so I have also been putting myself in a more proactive space." 
It was Representative Ayanna Pressley who made Ocasio-Cortez realize she needed to process and deal with what happened. "She was like 'You need to recognize trauma. This is something that you went through but that we are all going through,'" she said. "You need to pause after that because you need to process it." 
As of this writing, Ocasio-Cortez is focusing on her work as a member of the House Progressive Caucus as Democrats struggle to reach an agreement within the party and within both chambers of Congress on how to craft a bill that will strengthen and expand America's social safety net.