What You Should Know About Day Of The Dead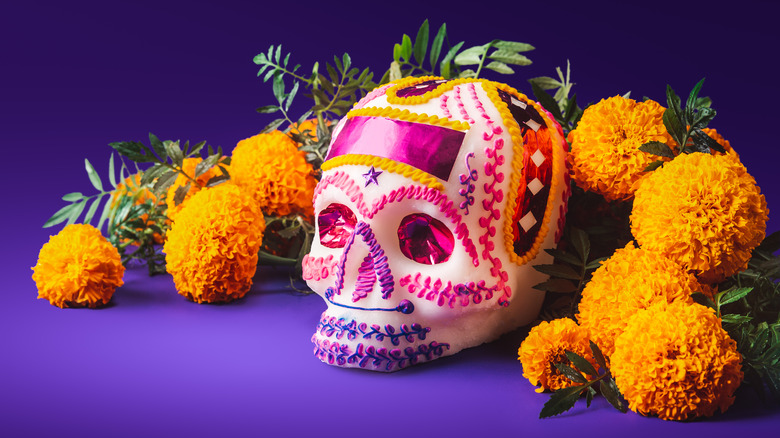 Fer Gregory/Shutterstock
While you're browsing the store aisles for your Halloween pumpkin and ghost décor, you might notice some distinctive colorful skulls and skeletons in the mix (like the one above). Though these decorations may seem like just part of the vampires-and-witches theme, they actually have nothing to do with Halloween. They're part of a traditional Mexican celebration called Día de los Muertos – Day of the Dead – and despite its spooky name, the holiday is about joy and remembrance, not scares and gore.
As History explains, the festival and its traditions go back thousands of years to the Aztec empire in central Mexico. The indigenous communities believed that after death, the soul traveled for several years on a multi-part journey to Mictlán, the final destination in the world of the dead. To help the departed reach their goal safely, loved ones would set out food, drinks, and other practical items. Over the centuries, these customs evolved and merged with ones from other cultures, such as pagan autumn festivals and the Catholic All Souls' Day traditions of medieval Spain. 
Today, Day of the Dead is a beloved holiday both in Mexico and in other Latinx cultures, and has captured the hearts of a wider audience thanks to the Disney/Pixar film "Coco" (via Decider).
The two-day holiday features special foods and flowers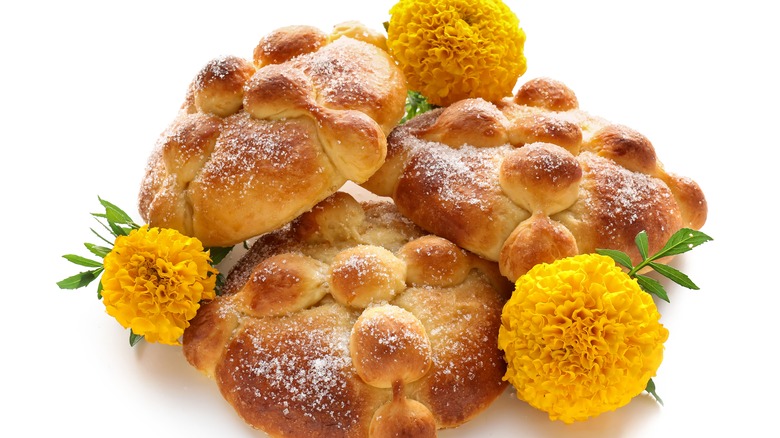 Pixel-Shot/Shutterstock
Spanning two days — November 1 and 2 — El Día de los Muertos is a time for feasting, music, and remembrance. Families prepare for the holiday by creating altars called ofrendas in their homes. Ofrendas pay tribute to departed loved ones by featuring their photos and favorite foods, along with other decorations such as candles, sugar skulls, flowers, and sometimes religious symbols. Some towns in Mexico also feature large ofrendas in public areas (via Day of the Dead). The first day is dedicated to children who have died, and their favorite toys and candies are placed at their graves or ofrendas. On November 2, adult loved ones get their due with songs, food, and toasting with liquor.
Other common items used on ofrendas and elsewhere include papel de picado, colorful paper with perforated decorations, which represent the beauty and fragility of life. Calaveras, or skulls, are often made of sugar and painted in bright colors; another popular treat is pan de muerto, a lightly sweetened yeast bread shaped to resemble a pile of bones. Marigolds (above, with pan de muerto) are the traditional flower of the holiday, says the Day of the Dead website; the flower's strong scent is thought to help guide the souls of the dead back to their homes for the occasion. 
The Day of the Dead is anything but morbid. It's a spectacle of parades, parties, family gatherings, and visits to cemeteries, all with the intent of celebrating life and keeping the memories of loved ones alive for generations.