Royal Expert Reveals Prince Andrew's Impact On The Queen's Image In America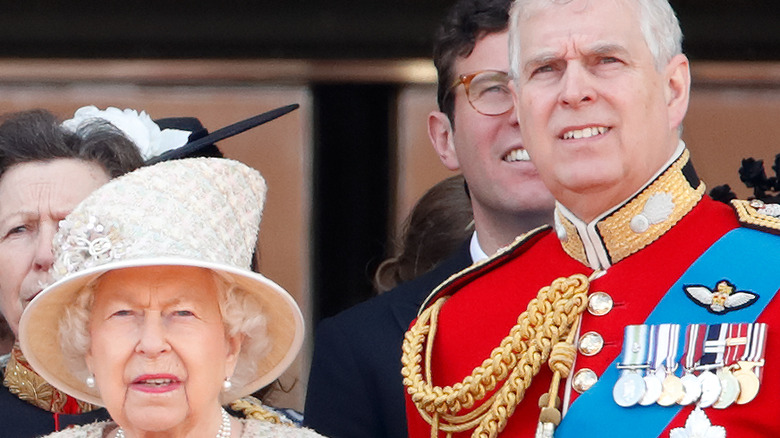 Max Mumby/indigo/Getty Images
On September 20, 2021, Britain's Prince Andrew was served papers in a United States lawsuit alleging that he sexually assaulted a woman named Virginia Giuffre, who claims she was 17 when she was forced to have sex with the prince in London, New York, and the U.S. Virgin Island. She also claimed she was trafficked for sex by Jeffrey Epstein, the man charged with multiple sex offense counts and who died in prison in 2019 while awaiting trial, according to CNN.
As far back as 2019, Andrew denied the allegations that are now part of a civil suit, telling the BBC, "It didn't happen. I can absolutely categorically tell you it never happened. I have no recollection of ever meeting this lady, none whatsoever." Still, the lawsuit is forging ahead and Queen Elizabeth has been doing everything she can to protect her second son — something royal experts believe is hurting her reputation.
Queen Elizabeth's actions to protect Andrew may come back to haunt her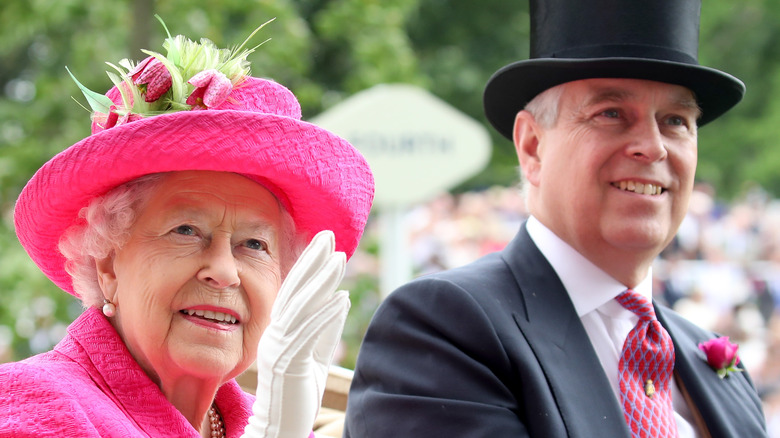 Chris Jackson/Getty Images
According to the Daily Mail, Prince Andrew had spent the weeks since being served sheltered away from public life with his mother and his ex-wife, Sarah Ferguson, at Queen Elizabeth's castle at Balmoral in Scotland. The Daily Telegraph also reported that the queen has been paying her son's legal fees during this scandal.
Royal correspondent Katie Nicholl told True Royalty TV's "The Royal Beat" that Andrew is not doing well financially and needs as much of his mother's help as he can get. "Andrew hasn't got any ... accessible money," she said (via the Daily Mail). "They've just had to sell their chalet in Verbier — there was a massive mortgage. I don't think there's the money you would associate with a dukedom. "[The queen] is giving him shelter," Nicholl continued. "She is allowing him at Balmoral and allowing him to sort of hide in her skirts. And I think that is for the queen's image, particularly in America, it is damaging for her."
Nicholl's assessment of the case came soon after the public learned that Andrew's lawyers would be able to review a settlement Jeffrey Epstein made with U.S. prosecutors back in 2009 when he was first under investigation for sex trafficking (via the Daily Mail).