Why The Queen's Comment About This Media Outlet Is Causing A Stir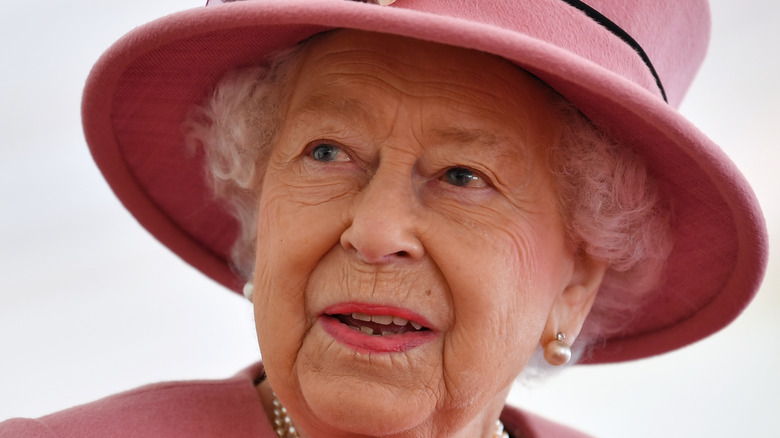 Wpa Pool/Getty Images
On October 4, the Royal Regiment of Canadian Artillery was involved in the Changing of the Guard at Buckingham Palace as part of their month-long takeover as the Queen's Guard (via National Post). By the next day, the front page of The Times had a photo of this special ceremony, and on October 7, Queen Elizabeth II met with the Canadian soldiers at Windsor Castle.
When speaking to one of them, she said, "The picture was rather an advance, on the front page of The Times, wasn't it? Well, it's rather nice to think that they, you know, took an interest" (via Newsweek).
This may seem like a trivial comment, but it is important to know the history that the royal family has with The Times, especially when it comes to Prince Harry and Meghan Markle. In 2018, the publication printed an email from the Duke and Duchess of Sussex's former communications secretary that accused Markle of bullying employees, but the story, with its harsh examples and sad effects, does not stop there.
Prince Harry and Meghan Markle have a rough history with The Times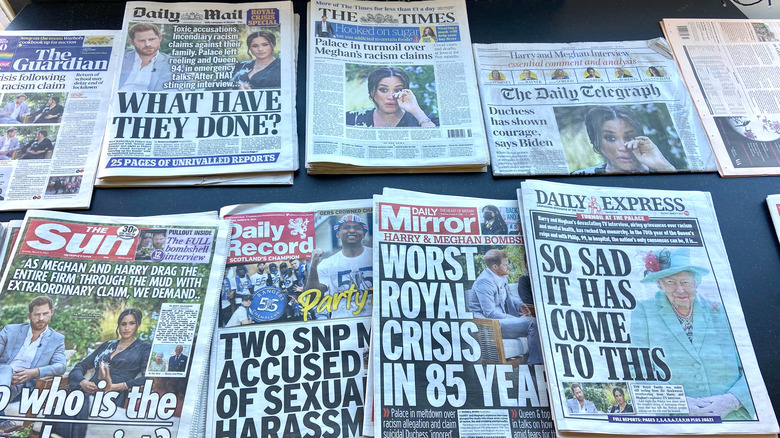 Lorna Roberts/Shutterstock
Over the years, Prince Harry and Meghan Markle have launched lawsuits against the press, as reported by Newsweek. Tabloids in the United Kingdom continue to be critical of the couple, despite their step back from royal duties and move to the United States, as stated by Elle.
Richard Sanders, the director of "Harry and William: What Went Wrong?," wrote about "Harry and Meghan's core grievance, as articulated to Oprah Winfrey, [is that] that they were the victims of a racist, misogynist, xenophobic press, against which Buckingham Palace had failed to push back" (via Byline Times). Prince Harry has a particular dislike for the tabloid media, as he put the blame of his mother's death on them (via The Mercury News).
Recently, Harper's Bazaar spoke with one of Markle's friends on the topic, asking how the negative press was affecting the couple. "The tabloids will do as the tabloids do. Only difference now is that they really don't pay attention to it. It doesn't penetrate their world." With everything that Harry and Meghan have been through with The Times, the Queen's comments about the publication to the Royal Regiment just show how distant she is from the drama.