Daniel Craig Just Gave Rami Malek A Royal Ribbing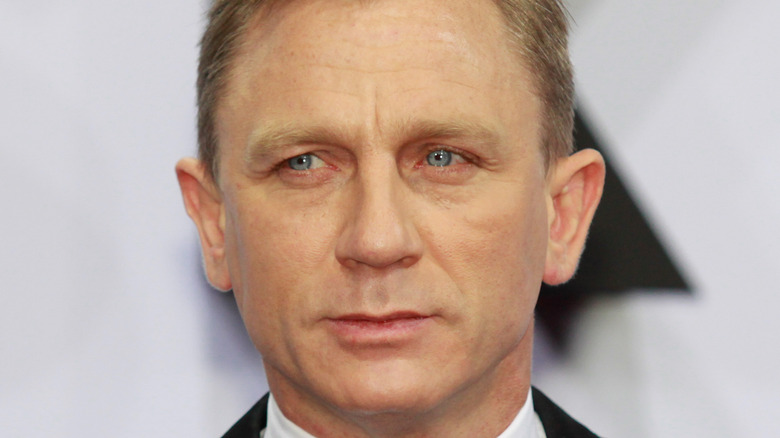 Piotr Zajac/Shutterstock
Prince William and Kate Middleton recently made an exciting appearance at the premiere for the new James Bond film, "No Time To Die" in London. While at the event, the Duke and Duchess of Cambridge had the pleasure of meeting some of the movie's actors, such as Rami Malek (via E! Online). After the event, the Oscar and Emmy winner admitted that he kept his eye on the royals while the film was playing, and that he believed William was a fan. "I was watching Prince William's reaction. You can see a lot from what someone's body language was doing. I think they loved the film. That was the impression I got."
Following the event, Malek appeared on "Jimmy Kimmel Live" and spoke candidly about his interaction with Kate, reports Yahoo! Entertainment. "I just looked at Princess Kate at one point, and I said, 'This must be exhausting,'" Malek explained. "And she said, 'Why?' [I asked,] 'You just had a baby, right?' I think she was taken aback. She said, 'How are you doing?' [I'm like,] 'No, how are you?,'" he continued, "And in the most regal, elegant way, she gave me a look. But you can tell. Imagine, you're dressed to the nines, have to talk to all these actors" (on YouTube). However, the pair's conversation didn't stop there.
Daniel Craig jokes about Rami Malek's offer to babysit William and Kate's children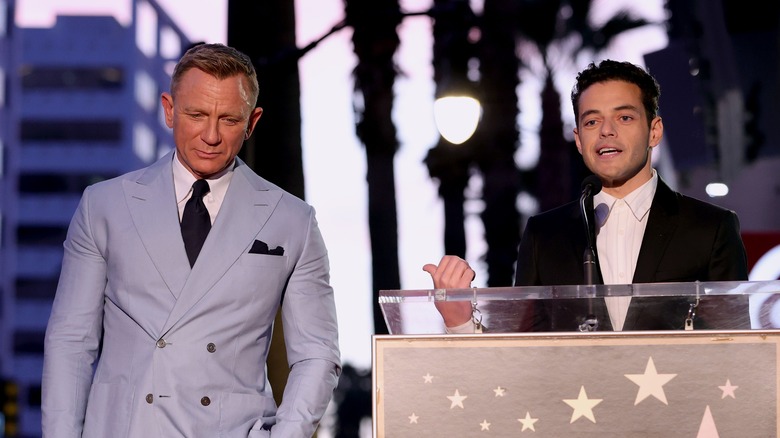 Rich Fury/Getty Images
According to Yahoo, Rami Malek admitted that upon meeting up with Prince William and Kate Middleton at the "No Time To Die" premiere, he offered up his babysitting services for the Duke and Duchess of Cambridge. Malek told Jimmy Kimmel that he offered to watch Prince George, Princess Charlotte, and Prince Louis if the royals ever needed a night out on the town. "The funniest thing about that was, I said, 'If you ever need a day off, some time off, I'm backup for you,'" he recalled. "She's like, 'What do you mean?' I go, 'I can babysit, you guys go out, have a good time.'"
Upon hearing the funny story, Malek's co-star, actor Daniel Craig, shared his thoughts on the encounter. "That seems quite forward to me," Craig told Kimmel during his own appearance on the show (also on YouTube). "What was he gonna charge an hour?" The actor went on to joke about the possibility of Malek babysitting the young royals. "I don't remember him being muscled off anywhere at any point, so maybe they made a deal," he quipped.
Although it seems unlikely that William and Kate will hire Malek as their children's babysitter, it's fun to think about the "Mr. Robot" star caring for the young princes and princess.