21 Best Shoes For Standing All Day In 2022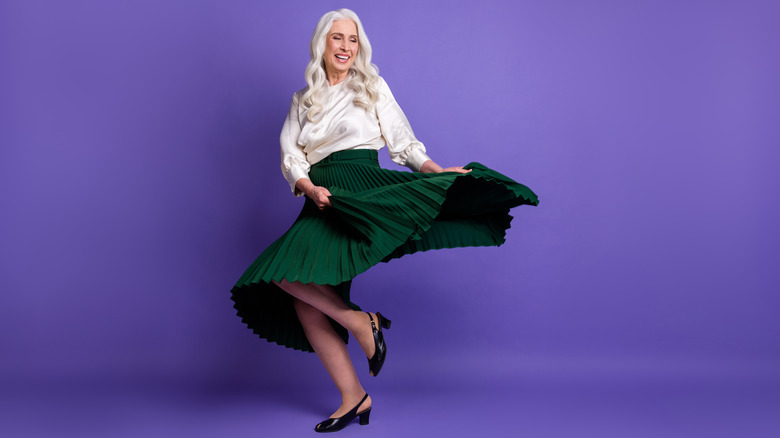 Roman Samborskyi/Shutterstock
We may receive a commission on purchases made from links.
When it comes to retail therapy, new shoes always cure the blues. Unfortunately, it's more common to choose fashion over function when footwear is on the brain. However, being uncomfortable and in pain isn't always an option, particularly if you've got a long shift at work, are attending an all-day marathon of a wedding, or simply need to do a proper deep-clean of your home. 
When you absolutely need to be on your feet all day, comfort is paramount. Thankfully, there's a way to avoid blisters and look stylish without sacrificing your feet to the shoe demons. If you're stumped when it comes to finding the perfect pair of pumps and those red soled stilettos won't cut it, take our advice and consider these fashionable options instead. 
Best shoes for standing overall
Who says sneakers can't look chic? These Atoms shoes look great while keeping your feet comfy all day long. They're also incredibly durable, thanks to the coated TPU yarn-blend material. A custom foam midsole and non-slip rubber outsole mean you won't feel the ground regardless of texture. These 100% vegan shoes actually adapt to the movement of your feet throughout the day, so they're ideally suited for any activity. Likewise, the stretch laces ensure you won't be caught stooping down to re-tie them either. 
Elsewhere, the women's wool runners from All Birds are fair trade, but they also happen to look super cute and are available in a variety of colors. These shoes are ideal for long walks and can even be worn without socks. Made of a warm merino wool, these sneakers are the ultimate in chic, everyday wear. 
Purchase Atoms Model 000 for $129. 
Purchase the All Birds Women's Wool Runners for $98. 
Best budget friendly shoes for standing
Standing all day long can wreak havoc on your feet and legs, but with TIOSEBON's Women's Athletic Walking Shoes, you won't feel the burn until you want to. Available in a variety of fun colors, as well as standard black and grey, these breathable work shoes have a high-resistance, high-elastic outsole making them both comfortable and easy to slip on and off. 
The New Balance Fuelcore Nergize V1 sneakers also boast a resistant rubber sole, but their REVlite midsole promises an extra level of lightweight comfort. Responsive to the movement of your feet throughout the day, the construction of this tried and true brand also makes your feet feel snug and supported. 
Purchase the TIOSEBON Women's Athletic Walking Shoes from Amazon starting at $19.99. 
Purchase the New Balance FuelCore Nergize V1 sneakers from Amazon starting at $32.07. 
Best shoes for standing with a stylish chunky heel
Whether you're standing in front of a classroom or a boardroom, sometimes sneakers just aren't an option. Choosing the right pair of shoes and the right heel can make all the difference. The chunky-heeled Clarks Kaylin sling-back shoe is 100% synthetic, made of premium leather or suede, has a comfortable rubber sole for all-day wear, and boasts a reasonable heel height of 3.2". 
Similarly, Clarks' Emslie Lulin Pump is 100% leather, with a rubber sole and a slightly shorter heel at 2.16". These shoes are super soft and comfortable, featuring a fashionable buckle design that makes them feel slightly fancier than a typical non-stiletto shoe.
Purchase the Clarks Kaylin Sling from Amazon starting at $37.95. 
Purchase the Clarks Emslie Lulin Pump from Amazon starting at $44.99. 
Best shoes for standing and dancing at a wedding
Dressing for a wedding is a minefield as it is, but thankfully you won't need to worry about finding the perfect shoes thanks to DREAM PAIRS Luvly. With a low heel of around 2.5" and a platform measuring around 0.1," these round-toed slip-on heels include a latex padded insole for added, all-day comfort. 
The TOP Moda Vision-75 are a slightly more intricate option, since they're sandals. Ideally suited to outdoor, or destination weddings, these shoes are eye-catching and cool but still comfy. Put simply, both options are fashionable and stylish without preventing you from dancing the night away.
Purchase the DREAM PAIRS Luvly from Amazon starting at $21.99. 
Purchase the TOP Moda Vision-75 from Amazon starting at $34.90.
Best formal flats for standing all day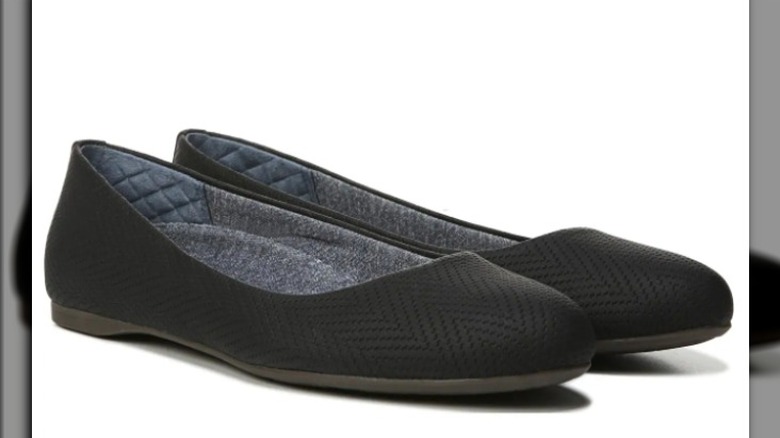 Dr. Scholl's
Heels aren't always an option, particularly if you're anticipating being on your feet all day, but the Dr. Scholl's Women's Giorgie Flat is so stylish and cute it hardly matters. A flexible, durable ballerina flat that's endlessly versatile, this shoe boasts a Memory Foam Cool Fit™ insole and is ideal for any occasion, fancy or casual, and fans rave that they are perfect for travel. 
Purchase the Dr. Scholl's Women's Giorgie Flat for $29.98.
Best casual sandals for standing or walking all day
Planning a trip to Disney with the kids? It can be tough to find comfortable sandals, particularly when the straps end up digging into your feet as the day drags on. The Paloma Camel sandal promises incomparable comfort, thanks to their orthotic insoles, which offer anatomical arch support and multiple layers of deep-cushioning support. Aside from your feet and heels, your knees, hips, and lower back also won't feel any pain standing or walking. The best part, the straps are fully adjustable. 
For those looking for a sandal with more height, the BZees Sunset Sandals boast a platform measuring around .75 inches. Their stretchable heel strap has an open toe, which should prevent any discomfort no matter how long you wear them, while Bzees' Cloud Technology ensures walking feels air-soft.
Purchase the Paloma Camel sandals for $99.95 from Ortho Feet. 
Purchase the BZees Sunset Sandal starting at $46.99 from Amazon. 
Best thong sandals for standing all day
Flip flops always seem like a good idea, but in practice they can be surprisingly impractical and uncomfortable. Not with the options, however!
The Reef Cushion Breeze Sandals are handmade with a rubber sole and soft webbing, with a rubber sponge outsole, for all-day comfort. Although ideal for the beach, these sandals can easily be worn anywhere. 
The Teva Olowahu Flip-Flop sandals are a slightly chunkier take on the flip flop. Also boasting rubber soles, they're vegan and made from recycled materials, with each pair reportedly preventing four plastic bottles from ending up in landfills. The hook-and-loop closure makes these popular sandals feel like they were custom made just for you. 
Purchase the Reef Cushion Sandals starting at $31.67 from Amazon.
Purchase the Teva Olowahu Flip-Flop sandals starting at $18.98 from Amazon.
Best slide-on sandals for standing all day
Sliders are already a go-to shoe for comfort, and if you're looking for the best, and coolest, you can't go wrong with sneaker manufacturers Adidas. The Adilette Comfort Sliders are comfortable, butter soft shoes, with a lightweight, Cloudfoam Plus contoured foot-bed that makes every step feel like you've got actual pillows on your feet. The classic design lets everyone know you've got serious style, too, as everybody will recognize the classic three-stripe design.
Purchase the Adilette Comfort Slides from Adidas for $35. 
Best knock-around shoes for standing all day
Crocs tend to be the butt of the joke but there are times when only these "Certifiably Comfortable™" shoes will do. Comfort is key here, since the Crocs Bistro Clogs, as their name suggests, were created with workers who are constantly on their feet in mind, including those in hospitality and healthcare. Simultaneously light and supportive, with contoured footbeds and an enclosed toe design to protect your tootsies, you can wear them to run errands, clean the house, or even while chasing the kids at the playground. They're available in a wide range of different colors which makes pairing them to any outfit (or uniform) a breeze. 
Purchase the Crocs Bistro Clogs for $44.99. 
Best boots for standing all day that will also last forever
You can't beat a good boot, but more often than not they tend to be an investment, so it's worth noting the Blundstone High-Top Boots will likely last forever. With anatomic, removable footbeds made of EVA and Poron foams, these boots are endlessly comfortable while their steel shanks also provide strength and stability. The Shock Protection System (SPS) promises to disperse impact at the heels, reducing skeletal stress on the foot, knees, and vertebrae, so no matter what you're doing, or how long you're doing it for, you're protected.
Purchase the Blundstone High-Top Boots from REI for $199.95. 
Best shoes for standing all day on vacation
Finding a good vacation shoe, particularly if you're planning to be active rather than relaxing, can be difficult, but these Blu Kicks are designed to effortlessly match every outfit and situation. Comfortable, breathable, and cozy, these shoes are made with herringbone wool and feature a natural rubber sole for comfort. The removable insoles provide arch support and you can rest assured these shoes give back too, since a dollar from each shoe is donated to a threatened habitat. 
Purchase the Women's Arctic Wool | Blu Kicks for $62. 
Best shoes for standing all day that are machine washable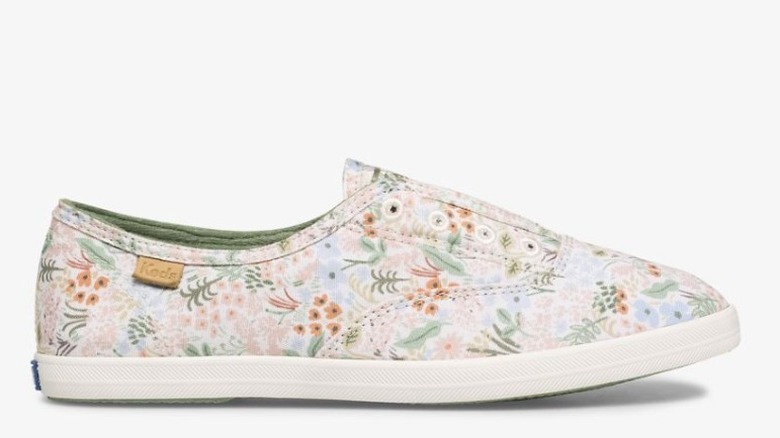 Keds
Sneakers don't necessarily have to be sporty, they can be fashionable too. This lovely meadow print, by Keds x Rifle Paper Co., puts a summery spring in your step. Machine-washable, with a broken-in feel requiring no further effort on your part, these chic sneakers have soft, slouchy uppers, lightweight and removable footbeds, and a soft, breathable lining featuring organic cotton. 
Purchase the Women's Keds x Rifle Paper Co. Washable Chillax Meadow for $36.95.
Best shoes for standing all day that are good for the environment
When it comes to comfort, style and ethical standards, Toms always comes mind. The Alex Sneaker delivers all that and more. These classically inspired, court shoe sneakers feature removable insoles and TOMS custom rubber outsole. They're good for the planet too, with TOMS donating one third of their profits to support those working to build equity at a grassroots level. Comfortable and ethical.
Purchase the Alex Sneaker from Toms for $59.95. 
Best shoes for standing or running all day
Workout queens are well aware how difficult it can be to find the perfect sneaker to go from treadmill to Target, but these super-cute synthetic-and-mesh sneakers from Asics are perfect for walking, running, and everything in-between. With rubber soles, rearfoot and forefoot gel technology and even Ortholite sockliners, they promise to be incredibly comfortable and supportive too. Meanwhile, the high abrasion rubber outsoles protect your feet from the inside out. 
Purchase the ASICS Gel-Quantum 180 4 Women's Running Shoe from Amazon starting at $96.51. 
Best shoes for standing all day that are nurse approved
You'd be hard pressed to think of a job that's more demanding, physically, emotionally and mentally, than being a nurse. The Clove Grey Matter sneakers were created with front-line healthcare workers in mind, providing endless comfort during those lengthy shifts. They're also fluid resistant and easy to clean, so you won't need to worry about anything after clocking off, aside from resting up in between shifts.
Purchase the Clove Grey Matter shoes for $103.20.