Why Melania Trump's Former Friend Has Harsh Words For Stephanie Grisham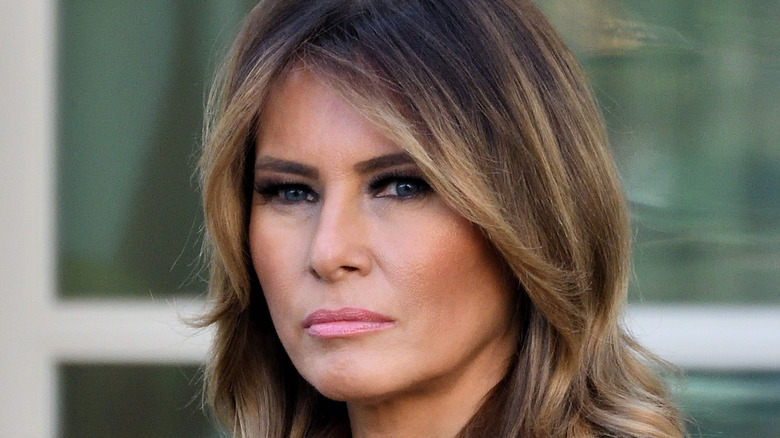 Evan El-Amin/Shutterstock
It feels as though 2021 will go down in history as the Year of the Explosive Tell-All. It began with the announcement of Prince Harry's upcoming memoir, which has everyone speculating that he might be spilling royal tea about such juicy topics as the person who reportedly made a racially charged comment about baby Archie. Then Katie Couric came forward with a memoir that threatened to destroy her rep as the nice girl of TV journalism. (Her own nanny fired back with some shocking allegations of her own.) Now Stephanie Grisham, who served several roles in the Trump administration, has penned a no-punches-pulled book titled "I'll Take Your Questions Now: What I Saw at the Trump White House." Formerly the president's press secretary, Grisham was also the chief of staff for first lady Melania Trump.
Grisham describes the climate at 1600 Pennsylvania Avenue as that of a dysfunctional family subjected to the whims and mood swings of the president (via NPR). Grisham felt a closer bond with Melania Trump, but claims their friendship went by the wayside because of the first lady's lukewarm reaction to the insurrectionists who stormed the Capitol on January 6. 
As with all such memoirs, Grisham's book is simultaneously being applauded and ripped to shreds, depending on the reader. One of the harshest critics, surprisingly, is Stephanie Winston Wolkoff, a former friend of Melania Trump and author of the book "Melania and Me." In an essay for Air Mail, Wolkoff calls Grisham a "destroyer" who "seems to show no genuine remorse for the destruction that she caused."
Stephanie Winston Wolkoff says Stephanie Grisham shouldn't be taken seriously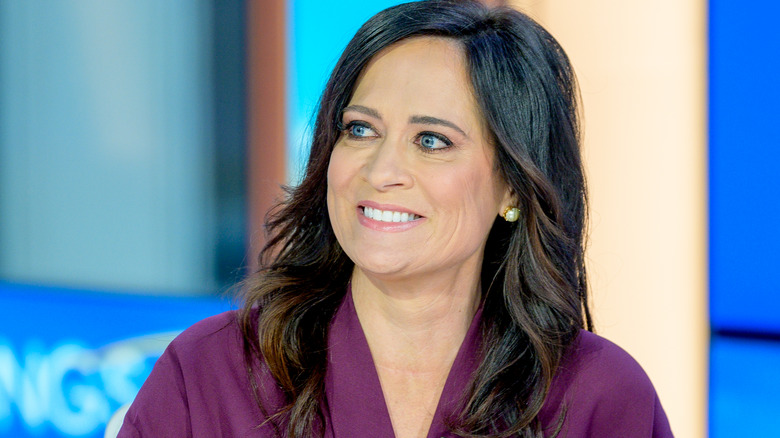 Roy Rochlin/Getty Images
Wolkoff pulls no punches herself as she calls Grisham "a female Machiavelli" who worked her way into the Trumps' trust and then saw to it that Wolkoff's own relationship with them was ruined. Wolkoff was the planner for the president's 2017 inauguration, and along the way, some $107 million in funds for the event was mishandled. She claims Grisham publicly placed the blame for the scandal on Wolkoff because she felt "threatened" by the close relationship between her and the first lady. "The aftermath was devastating," Wolkoff writes. "My relationship with Melania bankrupted me to my core, stripping me of my dignity, my reputation, and, almost, my life."
Grisham is painted as unfit for the high-level positions she held; Wolkoff says her fangirl-speak (she calls Melania "my girl" and Vladimir Putin "handsome" because of his power) makes it hard to take Grisham seriously.  Especially biting is Wolkoff's criticism of Grisham's work with Melania. In her memoir, Grisham repeatedly mentions that she wrote many of the first lady's speeches. "Did she ever stop to think that was literally her job?" Wolkoff says. Then there was the infamous "I REALLY DON'T CARE, DO U?" jacket incident that got Melania criticized for seeming callous. Grisham writes that she was too preoccupied with other things to think about the message the coat was sending. Wolkoff retorts, "Frankly, what was she thinking about?"
At this writing, Grisham hasn't responded to Wolkoff's scathing essay. Perhaps in her next memoir.