Why Madonna's Recent Tonight Show Appearance Has Twitter In A Tizzy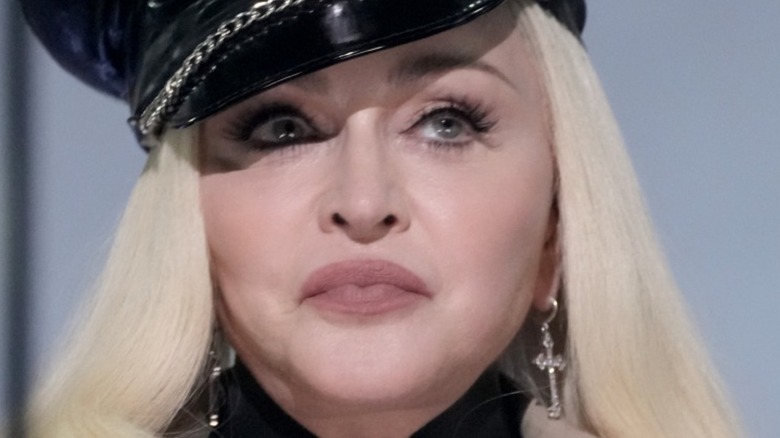 Jeff Kravitz/mtv Vmas 2021/Getty Images
We may receive a commission on purchases made from links.
Madonna has always been about controversy. She was among the first to popularize underwear worn as outerwear, and in the '90s, she came out with "Sex," a coffee table book where the title (and photos) leave nothing to the imagination. She's never been even remotely "like a virgin" (despite her song), and aging gracefully is so last century and Madonna's not having any of it. She's currently dating a dude 36 years her junior, after all.
So, on a recent "The Tonight Show" appearance she made to promote her concert film "Madame X," Madonna did something that was very Madonna-like — aka flashing her undies like it's still 1985. At one point in the interview, the 63-year-old singer decided to crawl on top of Jimmy Fallon's desk. While Fallon was not down for any potential peep show and tried to cover her up with his jacket, the singer just had to have the last word — or rather, she let her butt do all the talking. 
Earlier, Madonna had told Fallon that "artists are here to disturb the peace," but the artistic statement she made was something that's in the repertoire of any frat boy: A full moon. While you'd expect this to be the moon that launched a million memes, Twitter was uncharacteristically lacking in sarcasm when it came to commenting.
Madonna's mooning drew mixed reviews
Commenters on "The Tonight Show" clip were mostly positive in their reactions. Heart emojis were out in full force, and Madonna fans showered her with accolades like "eternal legend" and "the real Queen of Pop." Even the worst diss was pretty mild: "She is pretty, but I think she is old and some fat."
Perhaps some of the harshest criticism may have come from the press. The British tabloid Daily Mail Online re-tweeted "The Tonight Show" clip with the caption: "Madonna, 63, leaves 'Tonight Show' viewers cringing as she flashes her bottom and gyrates on Jimmy Fallon's desk." One self-described misanthrope (that's their Twitter handle, at any rate) was prompt to defend Madge, saying, "I'm not even a fan [but] I hope people stop putting her down for everything she does just because she older." Others commenting on the RT were more dismissive, dropping tweets like, "As you get older, it seems better to be more cultured," and, "Where are her kids to pick her up and take her home?" (via Twitter). 
One Twitter user seemed to understand 2021's version of the "Material Girl," though. As they said, "She and all of us know that she's long past her best ... but so what? ... apparently she enjoys life with a handsome boyfriend of 27 years of age, so, some men still appreciate her body! ... (and money!)."