The Real Reason Alexandra Ocasio-Cortez's Tax The Rich Sweatshirt Caused A Stir On Twitter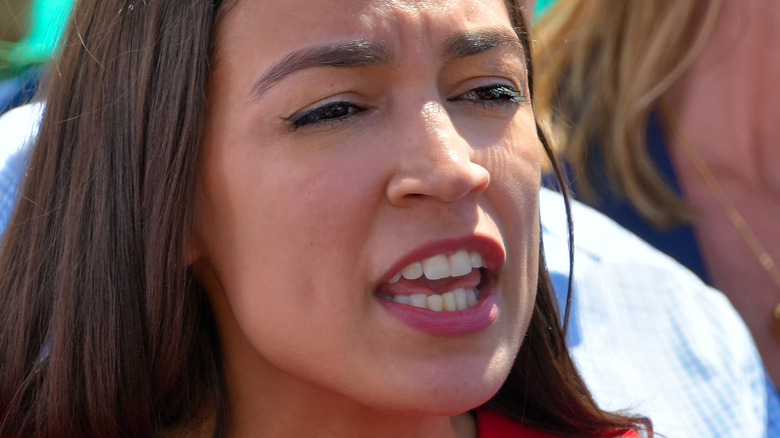 Grossinger/Shutterstock
Democratic New York representative Alexandra Ocasio-Cortez, more commonly known as AOC, is no stranger to being a hot topic when it comes to American politics. In fact, the 31-year-old congresswoman seems to be one of the most heavily scrutinized figures on the American political stage. 
After her astonishing primary victory over incumbent Joe Crowley in 2018, she was relentlessly criticized for a video from her college days that featured her dancing on a rooftop (via CNN). She was even attacked by some of her colleagues in Congress for holding a job as a bartender before she was elected into office (via Newsweek).
In more recent controversies, AOC made a stir at the Met Gala in a white gown that read "tax the rich" in large red letters (via Vogue). The slogan is a popular one and represents policies central to the congresswoman's platform. In fact, the very same slogan sparked debate in December of 2020, when Ocasio-Cortez had it printed on a sweatshirt and sold it on her website for $58 (via Refinery29).
Some thought the sweatshirt's price was hypocritical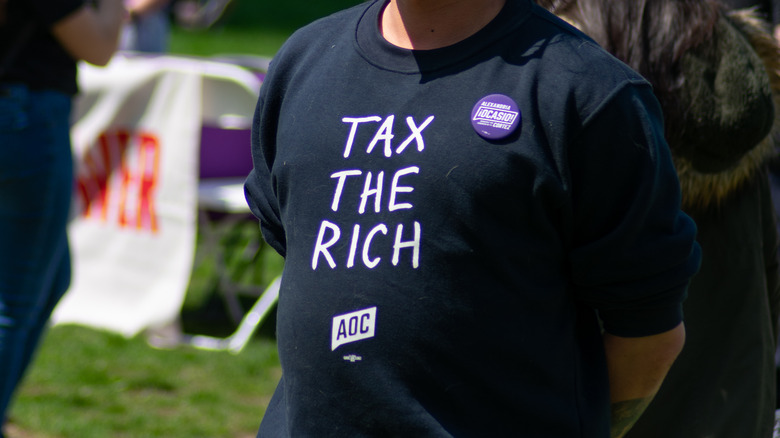 James Andrews1/Shutterstock
In 2020, Alexandra Ocasio-Cortez released a collection of campaign merchandise on her website, including a Green New Deal cap, a shirt that says "Drink Water & Don't Be Racist," and the most controversial item in the bunch: a crewneck sweatshirt that reads "tax the rich," which many thought to be hypocritical (via Refinery 29). One tweet in response to the sweatshirt read "nothing says I fight for the little guy like charging $65 for a sweatshirt" while another post said, "at $58.00 for a sweatshirt, you're not taxing the rich, you're overcharging the stupid."
AOC's republican colleagues seemed to hold a similar view of the sweatshirt, particularly right-wing pundit and podcast host Ben Shapiro. After the collection was released, Shapiro tweeted, "Only the rich can afford this idiotic sweatshirt." Fox News contributors Sara Carter and Lisa Boothe were among a score of others criticizing AOC, and Christian conservative satire site The Babylon Bee tweeted an article with the headline "AOC Now Selling 'Tax the Rich' Caviar For Just $10,000 A Can."
But AOC's sweatshirt had a good reason for its high price point.
There's a reason for the price tag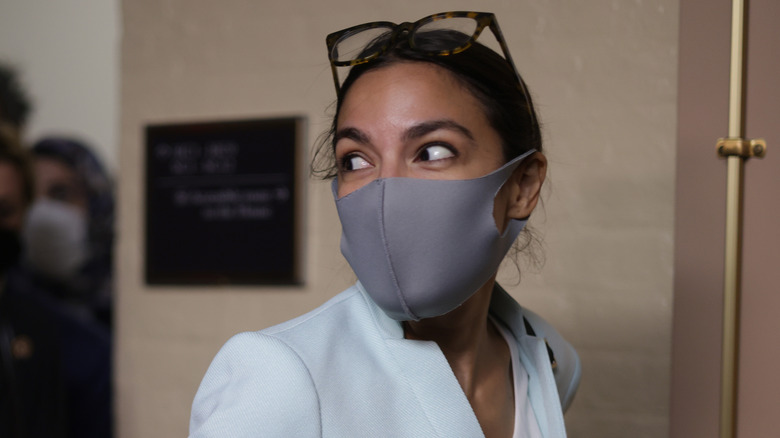 Alex Wong/Getty Images
Alexandra Ocasio-Cortez is never one to back down from a fight, and the "tax the rich" sweatshirt was no exception. The congresswoman fought back against the criticism with a tweet explaining the price tag, saying, "Republicans are freaking out bc we don't use slave-wage labor for merch that funds grassroots organizing. But what's the difference between Trump's merch and ours? Ours is made in the US." It's true, according to AOC's website, all of her campaign merchandise is made in the USA and union printed.
According to a Twitter thread from Canadian CEO and former mass-market apparel designer Steve Punwasi, the prices on AOC's website are "what it costs to pay everyone a decent wage along the way." The thread goes on to compare costs in different locations, saying that if AOC's merchandise was manufactured in a factory in Vietnam that pays livable wages with safe conditions, the sweatshirt would cost around $35. If she were to use a sweatshop with dangerous conditions, then it would cost closer to $13. 
While the sweatshirt does come with a hefty price tag, the reason is that it complies with AOC's mission of paying livable wages, maintaining safe workplace environments, and supporting American workers.