Why Jenna Bush Hager Believes The White House Is Haunted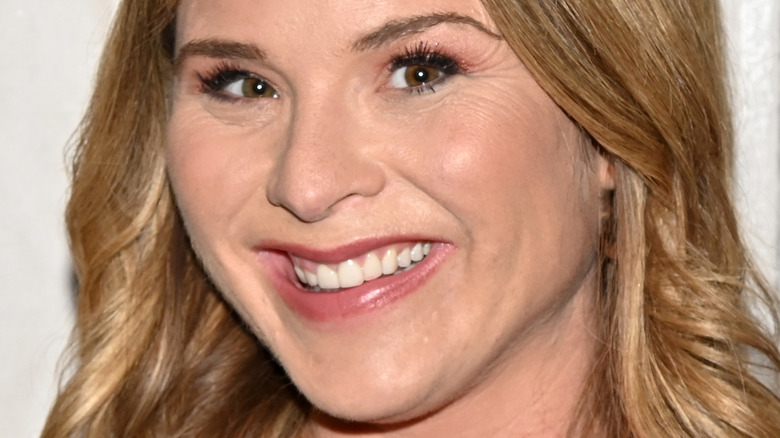 Theo Wargo/Getty Images
Although Jenna Bush Hager and her twin sister, Barbara, were college students by the time their father, George W. Bush, was elected president and therefore didn't live in the White House full time, they did spend school breaks and vacations with their parents in Washington, D.C. It turns out they had some interesting experiences in the presidential home known as "The People's House."
Since her college days, Jenna has become a well-known TV personality as host of NBC's "Today with Hoda & Jenna." Jenna loves to tell stories of her time in the White House as a first daughter both on her own show and even as a guest on other shows. One such story in particular has gotten pushback from her mother, Laura, although Jenna insists what she and her sister saw and heard were absolutely true — and a bit frightening. So frightening, that the Bush twins adamantly believe that the White House is haunted.
Jenna Bush Hager and her sister found friendly White House ghosts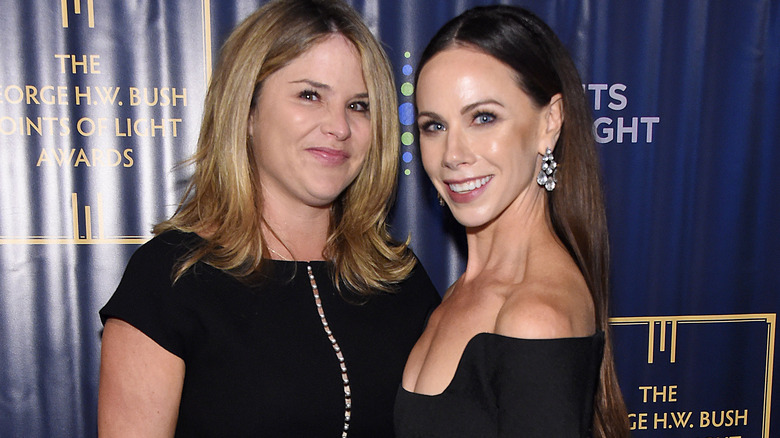 Jamie Mccarthy/Getty Images
In October 2020, Jenna Bush Hager appeared virtually on an episode of "The Kelly Clarkson Show" and relayed some strange occurrences that happened to her and her sister when they were staying in the White House and made them believe the historical house is haunted. However, these were friendly ghosts — the kind that Clarkson would have even liked, apparently. 
"You would have liked these ghosts because they were very musical," Jenna said. "They were musical and came with no harm. They were kind, friendly, compassionate ghosts." Jenna then relayed the story to Clarkson about the night she and Barbara heard their friendly White House ghosts.
"So, Barbara and I were going to sleep. Our rooms were right next to each other, and it was in college where people would call late," she said. "So, my phone rang, and I woke up, and all of a sudden we heard like 1920s piano music coming out of our fireplace. And I was like, surely that's like the cat or something ... but it was the middle of the night and you could feel the music out of the fireplace." While Jenna admitted her and her sister were scared, they came to the conclusion that the ghosts came in peace.
Laura Bush doesn't believe Jenna Bush Hager's ghost stories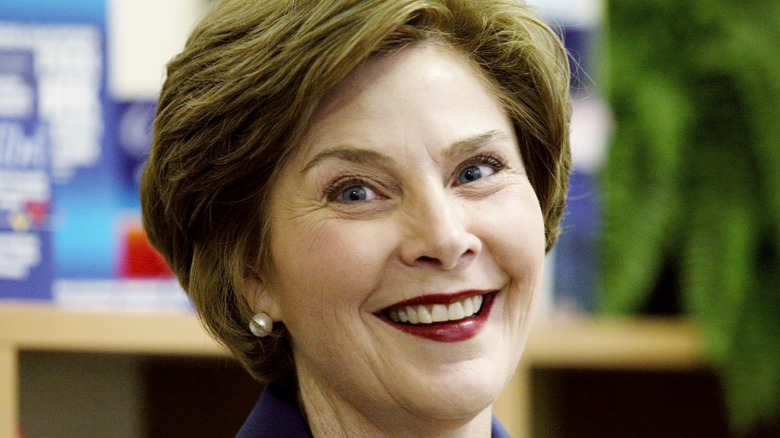 Valentina Petrov/Shutterstock
Soon after Jenna Bush Hager made her virtual "Kelly Clarkson Show" appearance, her mother, Laura Bush, did the same and pushed back on her daughter's haunted White House story. Clarkson asked the former first lady if she ever had a ghostly experience during the eight years Geoge W. Bush was president and Laura said she absolutely did not.
"I think Barbara and Jenna were the ones that felt that it was haunted and pretended like they heard voices," Laura said. "It was probably just the Secret Service talking down the hall in another room that they heard. But we didn't think it was haunted. We loved living there. It's a magnificent house."
Jenna couldn't help but dispute her mother on her own show during a talk with Hoda Kotb, telling her co-host that Laura was simply wrong. "I really did hear it and we can call my sister on speakerphone if people disagree. I am happy to do that," Jenna said. While they didn't call her sister, Barbara, during the segment, Jenna did relay the time she told a White House worker named Buddy what she and her twin experienced. His response was ominous. "I said, 'Oh Buddy, you wouldn't believe what Barbara and I heard last night' and he goes, 'Oh Jenna, you wouldn't believe what I've seen in these walls.'" Yikes!