The Heartwarming Reason Charles And Camilla Posted Adorable Dog Photos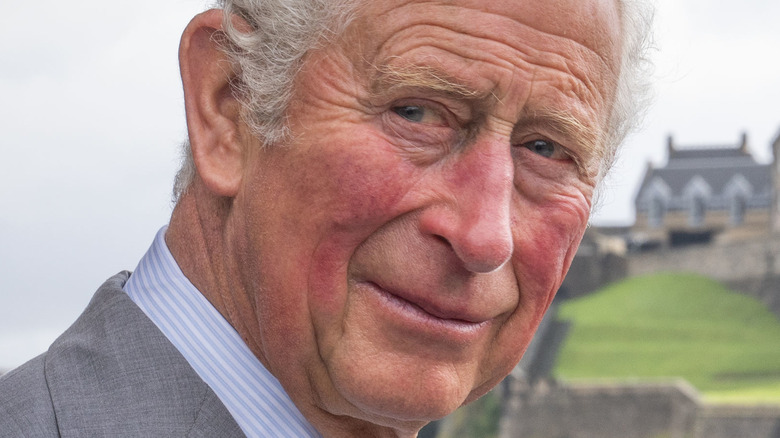 Wpa Pool/Getty Images
For fans of the royal family looking for a cute break from the Prince Andrew scandal, Prince Charles and wife Camilla Parker Bowles posted some seriously adorable dog photos that are the perfect relief. In a touching Instagram post, the two shared a series of photos of their adorable rescue dogs with an impassioned message about the importance of rescuing animals. 
The post, shared on Friday, featured three photos of the two dogs in the couple's yard modeling blue bandanas. The final photo shows the two dogs with their owners, all four seeming to smile as a family. The royals rounded out their post with a caption that reads, "Bluebell and Beth, The Duchess of Cornwall's rescue dogs, are proud to show off their Wear Blue for Rescue bandanas as they support @battersea's new campaign." The caption also expressed Camilla's commitment to rescuing animals. "The rescue movement celebrates all the wonderful pets that just need a second chance."
Charles and Camilla's post also included details about where the duchess rescued Bluebell and Beth: Battersea's Dog & Cat Home. According to the organization's website, Battersea's has helped more than three million animals find new homes since opening its doors in 1860. For her part, Camilla has been involved with the home since 2017 (per Pure Wow). 
Prince Charles and Camilla's sprawling family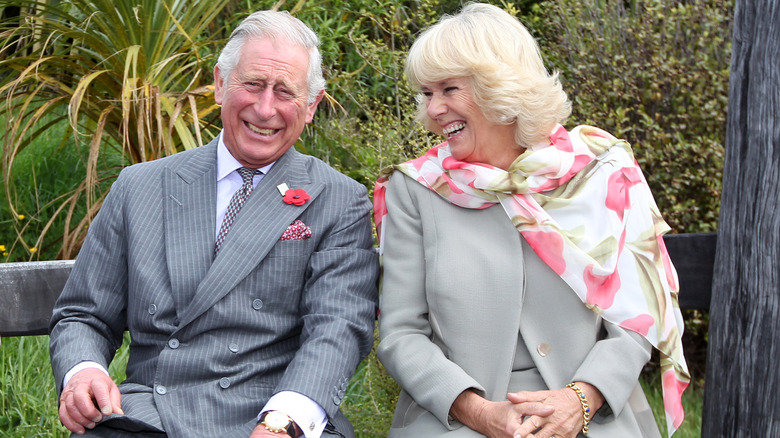 Rob Jefferies/Getty Images
The two dogs are just a small part of Prince Charles and Camilla Parker Bowles' blended family. While they don't have any biological children together, both brought children into the relationship from previous marriages. Prince Charles has two sons, Prince William and Prince Harry, from his marriage to Prince Diana. And Camilla, who was married to Andrew Parker Bowles from 1973 to 1996 (per Insider), has two children also: Laura Lopes and Tom Parker Bowles. Interestingly, Camilla actually asked Charles to be Tom's godfather before he eventually becoming Tom's stepfather, (per Good Housekeeping). 
While Camilla's children make significantly fewer public appearances than their step-brothers, they are seen from time to time and appear to have a good relationship with Charles. Speaking with The Times, Tom said that he is affectionate towards Charles, calling him "sweet and gentle" and "ahead of his time." In the same interview, Tom shared the sweet nicknames his children have for Charles and Camilla: "Umpa" and "Gaga," respectively.  He did not, however, opt to comment on the schism in the family concerning Prince Harry and Meghan Markle. "I wasn't around," he said. "What can I say? Families are never easy but they'll work it out in the end. I stay out of that. That's nothing to do with me."
With such a sprawling family tree, and the inclusion of two sweet pups, Charles and Camilla definitely have their hands full.