Donald Trump Has Strong Words For Mitch McConnell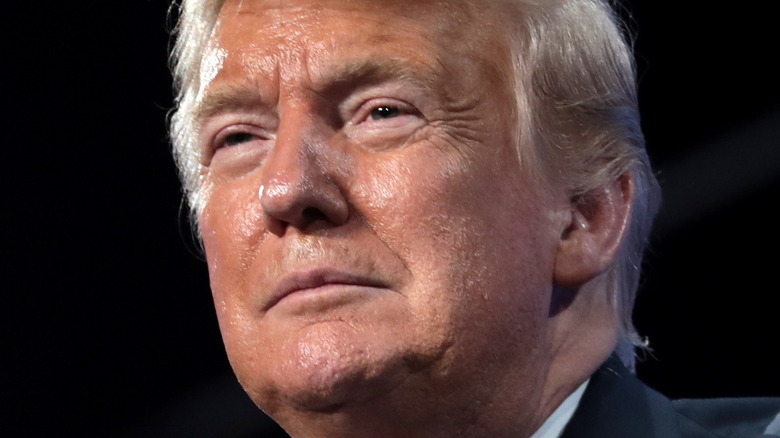 Nuno21/Shutterstock
Donald Trump has gained a reputation for not holding back when he has criticism for his political peers, regardless of which side of the political spectrum they may fall. And at a recent rally in Iowa, the former POTUS did just that. In the context of failing to challenge the 2020 presidential election, Trump had strong words for Senate Majority Leader Mitch McConnell. Trump told attendees that MCConnell didn't "have the courage" to challenge the outcome of the election.
The campaign-style rally was held at the Iowa State Fairgrounds in Des Moines, Iowa, and Trump took the opportunity to tell those in attendance how disappointed he was in McConnell's reaction to the election's outcome. "Mitch McConnell should have challenged that election because even back then, we had plenty of material to challenge that election. He should have challenged the election," Trump said, per Yahoo!. "[Senate Majority Leader Chuck] Schumer would have challenged the election. But Mitch McConnell didn't have the courage to challenge the election."
Trump went on to attribute McConnell's popularity among members of the Republican Party to his fundraising efforts, as opposed to political power.
"He's only a leader because he raises a lot of money and he gives it to senators, that's the only thing he's got. That's his only form of leadership," Trump said. 
Donald Trump and Mitch McConnell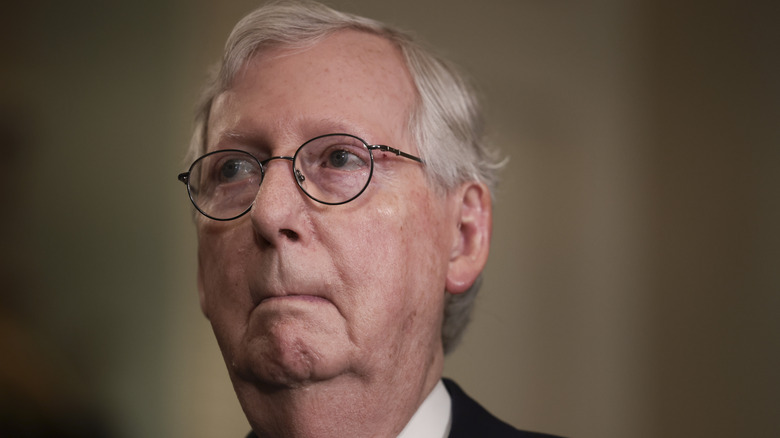 Anna Moneymaker/Getty Images
Donald Trump's relationship with Mitch McConnell has been turning progressively sour since Trump's 2020 loss, but it wasn't always that way. The relationship was "mutually beneficial" during Trump's presidency, according to David Andersen, assistant professor in U.S. politics at Durham University. Speaking with Newsweek, Andersen explained how they "played to one another's strengths." "The relationship between McConnell and Trump was absolutely mutually beneficial and played to each other's strengths," he said. "For four years Trump stayed in the spotlight and McConnell governed. Trump took the credit and McConnell took pride in accomplishment. McConnell provided the opportunity for Trump to brag about accomplishing things, without Trump actually having to be the force behind those actions."
But, all that has changed since Trump left the White House. When McConnell appeared to show his support for Joe Biden following his 2020 win, Trump was less than pleased and McConnell also pointed his finger at Trump during the riots at the White House on January 6, per Yahoo!. Trump has continued to push for McConnell's removal from the Republican Party, openly expressing his displeasure with McConnell's performance. 
Despite the rising tensions between the two, McConnell has stated that he will continue to support Trump as their party's nomination in the 2024 election, per The New York Times. It is unclear if Trump's comments at the Iowa rally will change that at all, but suffice it to say the two are still on the outs.