Why Florida Police Say A Lot About Brian Laundrie's Case Just Doesn't Make Sense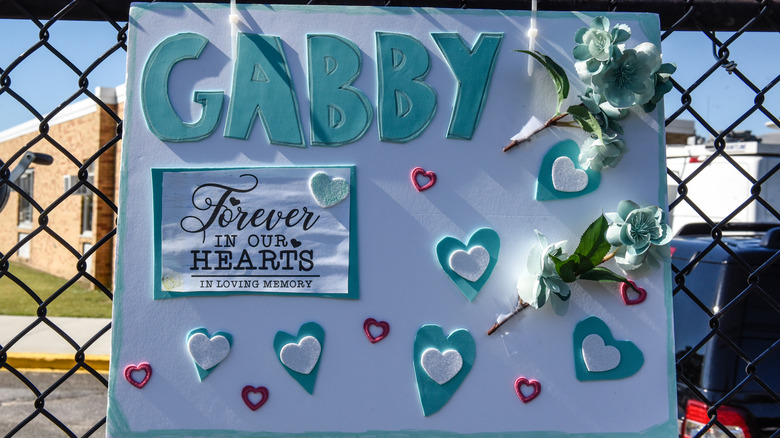 Stephanie Keith/Getty Images
Since mid-August, America has stood at frightened attention over the case of missing 22-year-old Gabby Petito. In June, Petito began a cross-country road trip to the West Coast with her boyfriend Brian Laundrie, documenting the stops along their route regularly (via CNN). On September 1, Laundrie arrived at the couple's home in North Port, Florida, with no sign of Petito. Petito's family had last been in contact with her in that last week of August; Petito and her mother had Facetimed on August 2, and consistently texted through August 27, until the last text that was sent from Petito's phone on August 30, which read, "No service in Yosemite."
It has since been revealed that Laundrie and Petitio had an encounter with police in Moab, Utah due to an argument they had been having at a gas station, after which police recommended that the two separate for the night. A similar altercation between the two, in which Petito was reportedly "in tears" and Laundrie was "visibly angry" was witnessed in Jackson, Wyoming while they were leaving a restaurant.
After a cross-country search, human remains were found in the Bridger-Teton National Forest in Wyoming, and were identified as Petito by a coroner on September 22 (via NBC). Brian Laundrie has been named a person of interest in Petito's case, which has shown to be one full of "oddness," according to North Port police (via New York Post).
Brian Laundrie is still missing
In the weeks after Brian Laundrie arrived at his home in North Port, Florida without Gabby Petito, Laundrie's family refused to comply with the investigation or communicate at all with Petito's family (via CNN). After the initial report of Petito's disappearance, North Port police were addressed by an attorney, not the Laundrie family themselves. In fact, the Laundrie family only agreed to aid in the investigation after a week of pleas from Petito's family, including a heart-wrenching note from Petito's family that their attorney read at a press conference.
During a conversation with police in their home on September 17, the Laundrie family revealed that they had not Brian since three days prior on September 14. The Laundries told authorities that their son had gone hiking in the 25,000 acre wildlife refuge called Carlton Reserve, which has since been searched multiple times with no sign of Laundrie (via NBC).
The "oddness" in the investigation here is that the Laundrie family can't seem to keep their story straight. According to the New York Post, Laundrie's parents initially told police that their son had last been seen on September 14, though they have since retracted that statement and said that Laundrie had left the house on September 13.