How Mitch McConnell Got His Big Break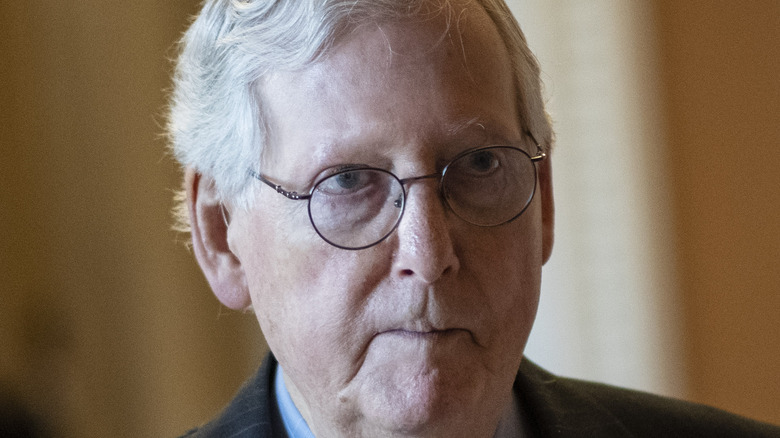 Drew Angerer/Getty Images
In 2021, Mitch McConnell is a 79-year-old man who has been in Washington, D.C., and the Senate for decades. He's seen by many as the most powerful man in Congress despite his status as the minority leader of the Senate. 
Thanks to a rule known as the filibuster, he can often control what legislation gets passed by making sure his fellow Republican senators don't supply 10 votes to most bills because 60 votes are required to move any bill to a vote (via the Brennan Center). The Senate is split with 50 Democrats and 50 Republicans, with a Democratic vice president as the tie vote.
McConnell had to work long and hard in Washington to obtain such power, and he started out small, as many lifelong politicians do. In fact, he started out more moderate than he is now, supporting Martin Luther King Jr.'s march on Washington in the 1960s. McConnell was even once in favor of abortion rights and union rights, according to U.S. News & World Report.
Mitch McConnell got his big break on Capitol Hill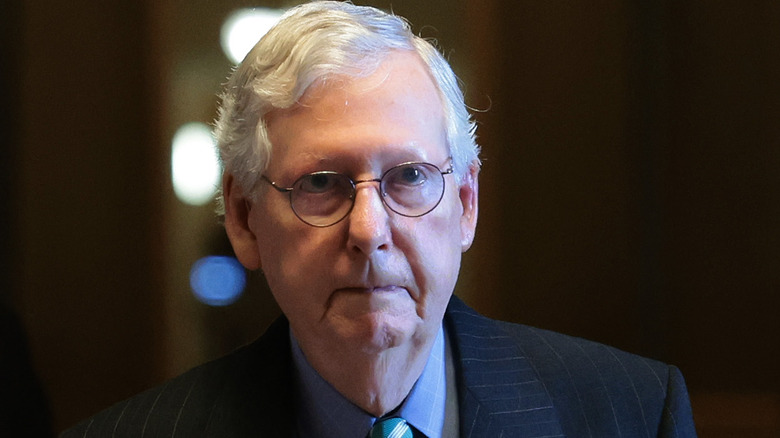 Win Mcnamee/Getty Images
It was still the mid-1960s when Mitch McConnell got his big break in politics as an intern for two Kentucky members of Congress: Senator John Sherman Cooper and Congressman Gene Snyder. McConnell was pursuing his law degree at the time, at the University of Kentucky College of Law. By the time he graduated, he was back on the Hill as the chief legislative assistant for Senator Marlow Cook (via Biography).
All of that work in the halls of Congress led McConnell to a bigger job in the Justice Department when he became a deputy assistant attorney general in the 1970s under Republican President Gerald Ford. After that stint ended, McConnell decided to run for office for the first time and became a judge-executive for Jefferson County in his native Kentucky in 1977. The next time he ran for office, in 1984, was the race that would change his career and the course of his life (via Biography).
Mitch McConnell has spent most of his adult life as a man of Washingtson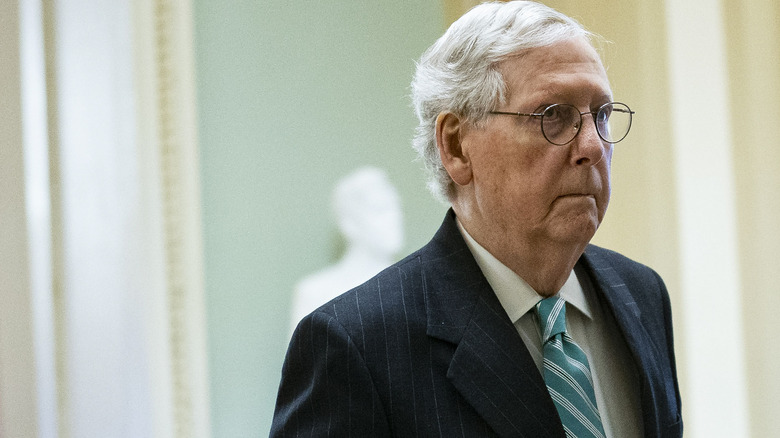 Bloomberg/Getty Images
When Mitch McConnell won the Senate seat he holds (as of this writing) back in 1984, he made history as the only Republican to unseat a Democrat that year and also as the first Republican to win statewide office in Kentucky since 1968, via Biography. In 2009, he became Kentucky's longest-serving senator, according to U.S. News & World Report.
In 2006, McConnell became the leader of the Republican party in the Senate, but his real dream didn't come true for eight more years (via CNN). While he wielded power through the first six years of Barack Obama's presidency by using the filibuster to block legislation, he never had the opportunity to actually decide what bills would come to the floor until 2015, when the Republicans flipped the Senate and McConnell became majority leader. 
He had to give up that role in January 2021, when two previously Republican Senate seats in Georgia went to Democrats (via Slate).