The Simple, Nutritious Meal That's Going Viral On TikTok Right Now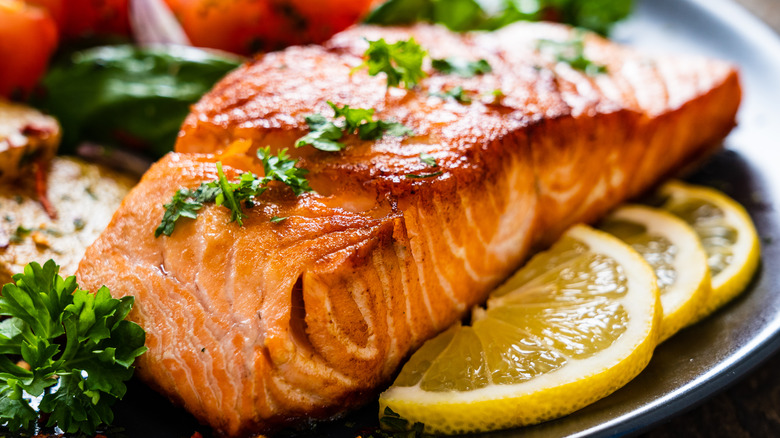 Jacek Chabraszewski/Shutterstock
Recipes that go viral on TikTok aren't usually intimidating. They tend to feature simple ingredients, fast prep times, and require minimal culinary skills. You probably remember the baked feta pasta dish that took over every kitchen in the first half of this year (via Food Network) or the nature's cereal (coconut water, ice and berries) trend that made its way into Lizzo's kitchen (via YouTube). For the last few weeks now, there's been another quick and easy TikTok food trend that everyone is talking about: Emily Mariko's salmon and rice recipe.
Mariko, who now has 4.8 million followers on TikTok, posts produce hauls, eating vlogs, and seemingly simple recipes — accompanied by soothing instructions and an organized kitchen. On her YouTube channel, Mariko posts her workouts, outfits, as well as a series on "Turning 30," where she gets vulnerable with her 365,000 subscribers. However, many recognize Mariko for a salmon dish that went viral recently, and catapulted the popularity of this Bay Area, California, content creator.
Emily Mariko makes leftover salmon a delicious meal
In her TikTok video captioned, "Best lunch of the week!" Emily Mariko combines leftover salmon with rice. The salmon fillet is shredded and broken down before it's added to a bowl of white rice. She then adds an ice cube, which helps steam the rice (via Insider), to the plate and then covers it with a sheet of parchment paper before microwaving it. Once the dish is heated, she drizzles Kewpie mayo, soy sauce, and sriracha on top (via Independent). She mixes all the sauces into the salmon and rice and then finishes it with slices of avocado and kimchi. Finally, she grabs the mixture with chopsticks and nori (seaweed) sheets.
Her original video has amassed more than 50 million views and even has a hashtag dedicated to it – #salmonrice, which now has more than 300 million views. Most of the #salmonrice videos are people posting their own versions of the dish, including some adding cucumbers to the mix (via TikTok) and others creating delicious vegan versions (via TikTok). The beauty of the simple recipe is that the add-ons and variations are limited only by your taste buds — and leftovers.