Where You Can Buy Alexandria Ocasio-Cortez's Famous Gold Hoops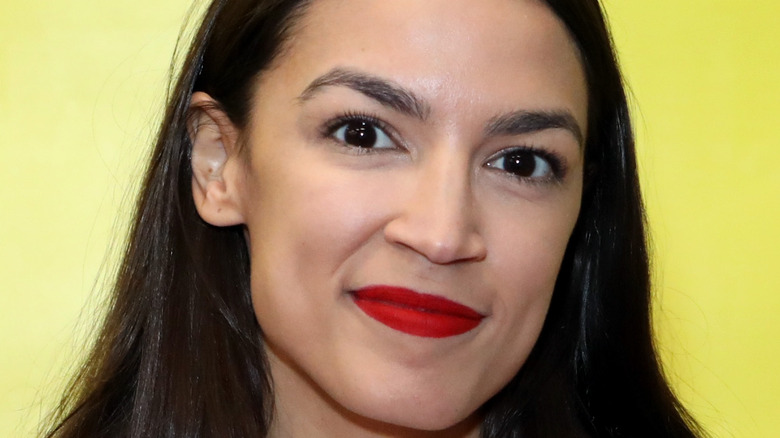 Samantha Burkardt/Getty Images
Alexandria Ocasio-Cortez, more commonly known by the super-cool moniker AOC, broke boundaries when she became a congresswoman in 2019. The Bronx bartender mounted a scrappy grassroots campaign to unseat the Democratic favorite in her district, and, after emerging victorious, she became the youngest woman to be elected to Congress (via Insider). Ocasio-Cortez is a huge inspiration to women and girls all over the country — and, indeed, the world — who dream of making a difference in their communities.
Her rise has been truly remarkable, but watching AOC confidently and compellingly deliver speeches in Congress makes it clear she belongs there. As it happens, Ocasio-Cortez was an activist even without realizing it. "I felt like I was just saying things that were very common sense," she told Insider. "I would just say, 'Hey, kids in the Bronx should have a good education.' And they'd be, like, 'Oh, she's an activist.'" 
Aside from being true to her core values, AOC continues to dress authentically, too. To do so in style, Ocasio-Cortez typically ensures she's wearing her trusty gold hoop earrings. 
Alexandria Ocasio-Cortez's style solidifies her incredible reach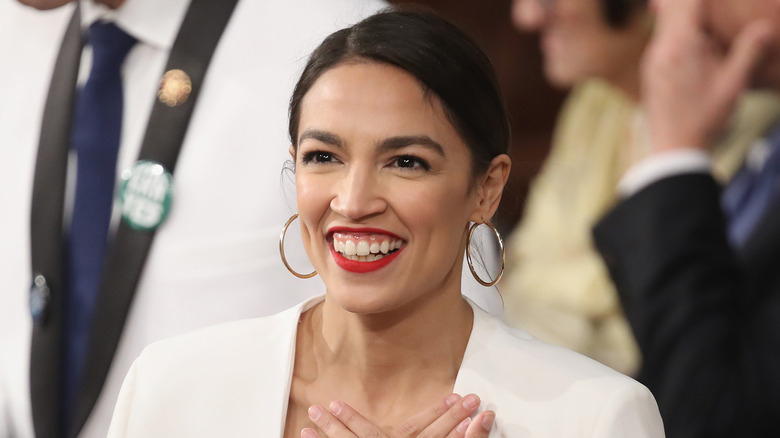 Win Mcnamee/Getty Images
As Yahoo! notes, Alexandria Ocasio-Cortez donned a pair of classic gold hoop earrings for her swearing-in ceremony and again for former President Donald Trump's State of the Union address, in 2019. Young women, and particularly Latinas, gushed over her choice of accessories (via Glamour), leading AOC to reveal exactly where she purchased them on her Instagram Stories.
The hoops in question are from Stars Jewelry, which is located in the Bronx, naturally. Ocasio-Cortez urged followers to head there if they wanted to buy a pair for themselves in order to support local business. AOC typically pairs her gold hoops with a slick of red lipstick. 
She was inspired to do so by Supreme Court Justice Sonia Sotomayor, who was the first Latina to sit on the bench. Sotomayor is also, much like AOC, a Bronx native from a Puerto Rican family and proudly bucked convention with her red nail polish.
According to Ocasio-Cortez, her style demonstrates how you don't have to dress a certain way to be successful. In fact, she's become something of a style icon, with Insider noting that her unique approach solidifies AOC's incredible reach. Vanity Fair even offered nine power looks, inspired by her, to get that boss lady feel. 
Anna Wintour herself championed the congresswoman in an interview with Vogue, for challenging "the conventional wisdom of what a woman in politics should be, or how she should look." You don't get much higher approval in the fashion world than that.