The Truth About Trunk-Or-Treat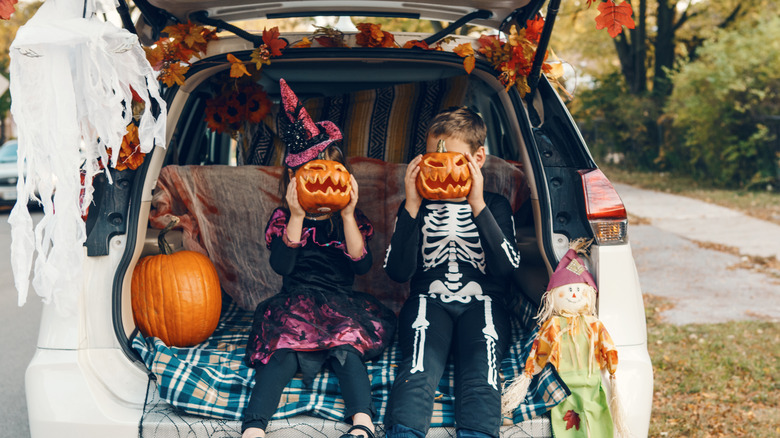 Anna Kraynova/Shutterstock
Halloween is one of the most exciting holidays, especially when you are a kid. Getting dressed up in the perfect Halloween costume and walking door-to-door in your neighborhood begging strangers for candy is one of our most beloved traditions.
This year's festivities are especially exciting as we spent 2020 locked inside. According to CBS News, Dr. Anthony Fauci gave a thumbs up for this year's celebration, meaning that kids will be free to go trick-or-treating and all feels right in the world again!
If you're looking for a change of scenery this Halloween, you might have considered trunk-or-treating. Trunk-or-treating is like trick-or-treating, but from the back of a car (per Holidappy). This might sound weird, but it actually seems pretty cool. Instead of decking out your house with the best Halloween decorations Target has to offer, you take the show on the road. Literally, you decorate the trunk of your car, park in a parking lot, and hand out candy to kids.
Trunk-or-treating has become a popular trend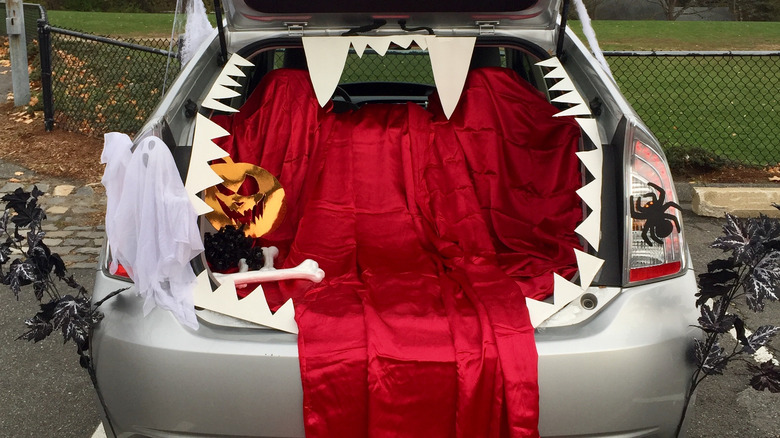 Jaime DeCaro/Shutterstock
So, how exactly do you coordinate a trunk-or-treat venture? According to Delish, it's a lot less random than it sounds. Usually, a group or parents or an organization (a church, a school, etc.) will coordinate a trunk-or-treat gathering. These usually occur in a parking lot and you will likely have to claim your spot in advance.
If you like tailgating at sports games, you'll likely enjoy trunk-or-treating. It's pretty much the same concept (per Good Housekeeping). However, not everyone is on the same page. A blogger under the name Free-Range Kids penned, "The problem is that Halloween is ABOUT kids walking around the neighborhood, especially when they get old enough to go out with just their friends. Think about it: They dress up like grown-ups. They take to the streets. They encounter the scariest possible locals (witches, goblins) at the scariest possible time: night. The whole thing is dress rehearsal — literally! — for adulthood. Trunk-or-treat takes all that away."
Whether you are on board with the trend or not, it is becoming popular.