The Queen Was Pretty In Pink At Parliament But It Was This Accessory That Has Fans Talking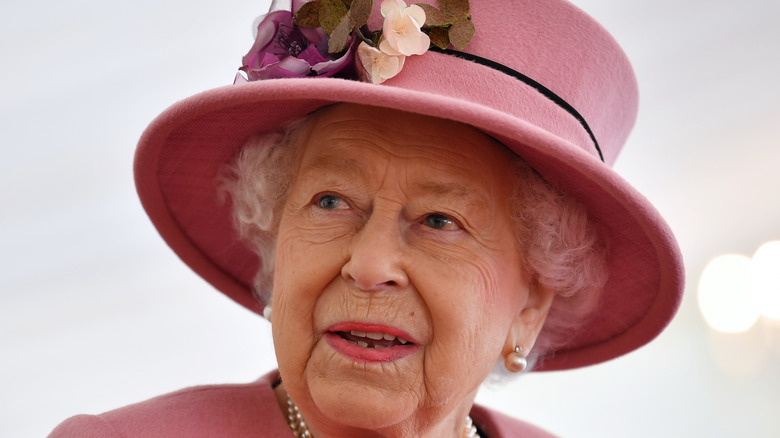 Wpa Pool/Getty Images
For the second time in the course of a week, Queen Elizabeth II surprised all when she appeared in public in a way she's rarely appeared in public before. The 95-year-old Queen has been making public appearances as Great Britain's reigning monarch for 70 years, ever since the crown was thrust upon her after the premature death of her father, King George VI, per History. British citizens are used to seeing her in her signature suits, hats, and hand purses as she has aged from young Queen to great-grandmother over the decades.
However, when she arrived to give a speech at the opening of the Welsh parliament on October 14, she was sporting an accessory that she's only had twice before and the second time was just days earlier when she attended a service for the Royal British Legion at Westminster Abbey (via The Daily Mail). While a reason for the accessory was given at the first event, no reason seems to have been given for this second spotting on the Queen with something she's rarely needed before.
Queen Elizabeth once again steps out with a walking stick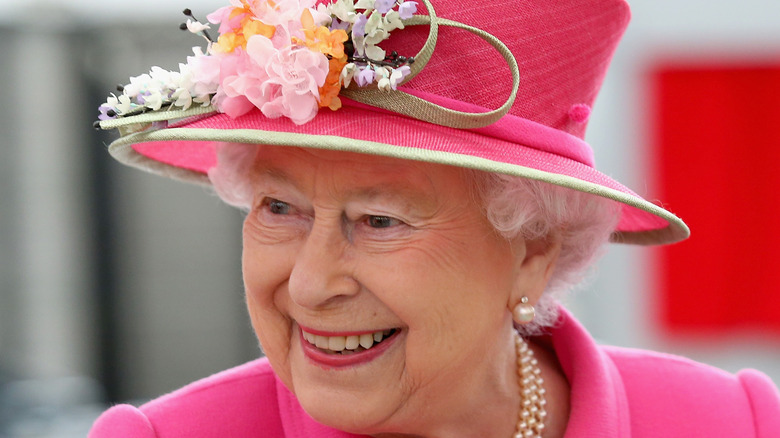 Chris Jackson/Getty Images
When Queen Elizabeth, Prince Charles, and the Duchess of Cornwall Camilla Parker-Bowles made an official appearance at the Welsh parliament, the Queen was dressed all pretty in pink, but she once again had a walking stick with her (via The Daily Mail). When she was spotted with a walking stick at Westminster Abbey on October 12, The Daily Mail reported that the official word was she was using it for "comfort." There was no such explanation for using the walking stick this time. The last time the Queen was seen with a walking stick in public was after she had knee surgery in late 2003.
There was one accessory both the Queen and the Duchess of Cornwall were missing when they were inside the Welsh parliament, known as the Senedd. Neither woman was wearing a mask, while Prince Charles was. Wales Online reported that the Queen was not wearing a mask when she attended the opening of the Scottish parliament on October 2. The outlet asked ahead of time whether she would wear one at the Welsh event and was told: "Having worked closely with the palace, all arrangements for this event comply with current Welsh Government Covid regulations and guidance."