How Candis And Andy Meredith's Show Home Work Really Got Started - Exclusive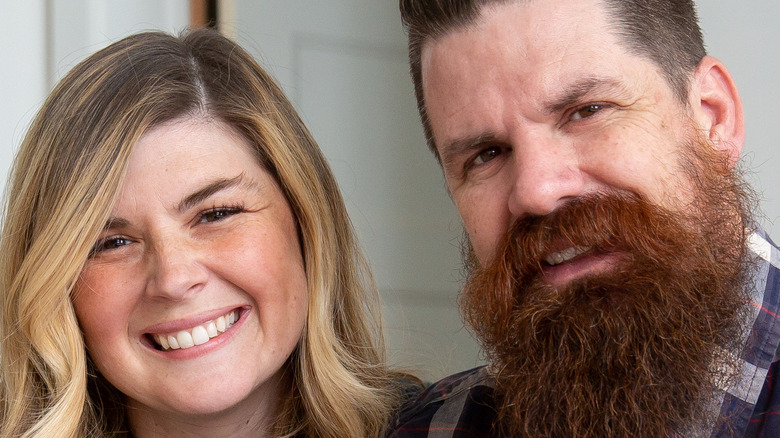 courtesy of Magnolia Network
Home improvement shows (and most TV shows, for that matter) are built around interesting people solving interesting problems — whether it's struggling to work with a partner or devising memorable ways to make unlovable spaces special. But coming up with new and original concepts for shows is harder than it looks: Will the show capture the imagination of its target audience? Will it be memorable enough to stand out? And will it even be doable?
As veteran producers and leads of several home renovation shows, Candis and Andy Meredith are familiar with this challenge, per Magnolia. But when the Merediths' real-life need for a bigger home for their active family coincided with an irresistible opportunity — a historic century-old schoolhouse for sale and in need of skilled, loving care — they knew they had the makings of a memorable show. For them, the project ticked all the right boxes: It offered opportunities to share their construction and design expertise as well as their passion for history and family. And, if all went according to plan, it would be a wonderful place to live. In an exclusive interview with The List, the Merediths share how the show came to be.
Their big family inspired their big project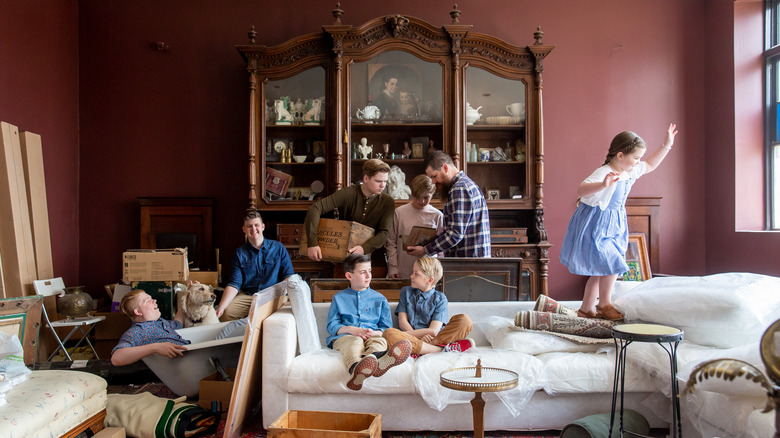 courtesy of Magnolia Network
According to Southdown Homes, the average single-family home for a household of four is 2400 square feet. But average solutions for average-sized families weren't going to cut it for the Merediths. "So he had three boys, and I had three boys," Candis Meredith explained. "So we had this giant Brady Bunch of six boys. Then we had a baby girl together, and we were living in the most adorable little cottage, more or less. And we knew we needed someplace bigger."
So when they spotted an elegant — but timeworn — abandoned schoolhouse on the market, they immediately saw its potential. It was a rare structure big enough to comfortably accommodate a family of nine. As serious history buffs, they loved the idea of raising their family in a building in which several previous generations of children had made friends and memories. And from their professional perspective as builders and designers, it presented a challenging and interesting project. "And then we found the school, and it was like, you know when things kind of just all come together, and there's this big building that needs love," Candis Meredith said.
Joanna Gaines helped them get the show started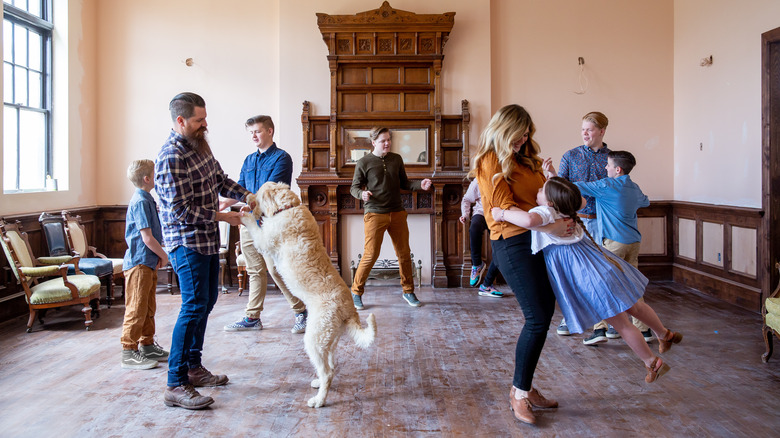 courtesy of Magnolia Network
The Merediths are no strangers to home renovation or TV production. "When we were first married, we actually did a short series on HGTV. So we had done a renovation on TV before," Andy Meredith explained. "After that, we left that world and we started our own production company and our own digital company, where we were producing home renovation series on our own. And we did that for several years."
So when they encountered the old schoolhouse, they not only saw a future home, but a unique opportunity to combine their family life and work life. Renovating the schoolhouse would not only give their big, active family a spacious home that was uniquely theirs, it could also provide a wealth of high-quality content for fans of home improvement programs. As Candis Meredith explained, "We have this big family, and we were doing content. We're like, 'Oh, wouldn't this be the best show?'"
They weren't the only ones who thought so: Interior design guru Joanna Gaines also took notice when they first floated the idea. "And I swear, the second we kind of put that out there, Joanna Gaines called us and said, 'You guys want to do this show?'" Candi Meredith recalled.
Watch all episodes of Magnolia Network's original series "Home Work" now streaming exclusively on discovery+ and the Magnolia app.