Donald Trump Just Made This Surprising Plea To His Republican Followers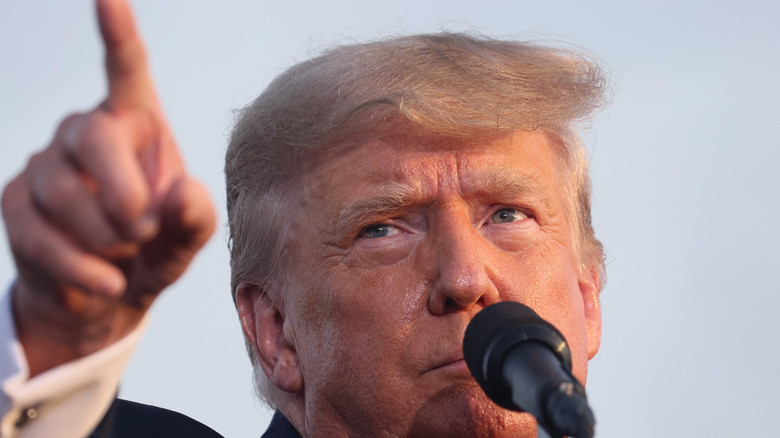 Scott Olson/Getty Images
We may be just over a year away from the mid-term elections of 2022, but after spending the last few months endorsing candidates up and down the ballot, former President Donald Trump thinks its time he lets his supporters know what he really thinks about the upcoming polls. 
In a statement released late Wednesday, Trump urged his supporters to give the Mid-term elections a hard pass, saying: "If we don't solve the Presidential Election Fraud of 2020 (which we have thoroughly and conclusively documented), Republicans will not be voting in '22 or '24. It is the single most important thing for Republicans to do" (via Twitter).
The November 2020 elections might have happened a year ago, but Trump still appears unable to let go of the narrative that he was cheated and that he had won the elections, despite numerous audits, counts, and court cases that show otherwise. During a recent rally in Iowa, Trump was even heard telling his supporters that "the single biggest issue, the issue that gets the most pull, the most respect, the biggest cheers is talking about the election fraud of the 2020 presidential election" (via Yahoo). 
Boycott call confuses, elates social media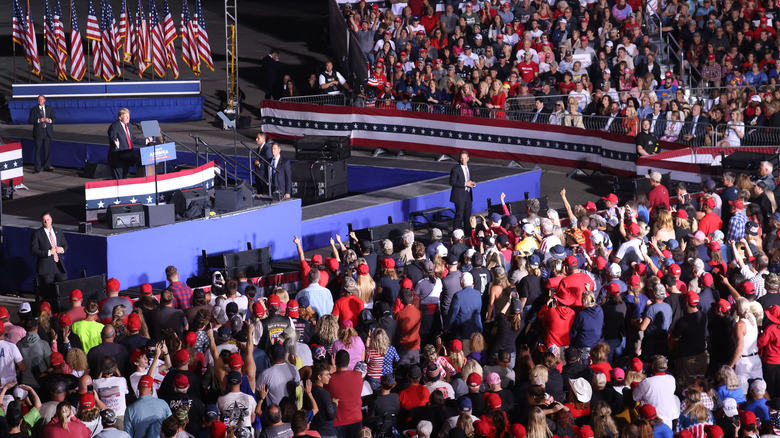 Scott Olson/Getty Images
Trump's early call for a boycott is both confusing and elating his critics on social media, many of whom are now encouraging supporters to listen to the former president. "Forget the audits," urged one Democratic supporter via Twitter. "You can spite America by NOT voting in the 2022 [and] 2024 elections ... DON'T VOTE. That'll show them." 
But Trump's call is likely to trigger a crisis within the GOP, especially since it is looking to retake the House, and win a majority in the Senate, and it would be safe to say that a GOP would be difficult to pull off if there is low Republican voter turnout.
Politico reporter Ursula Perano used social media to point out that was difficult to predict what impact Trump's threat would have, "but for Republican candidates in swing districts/states who may not comply, Trump telling his base to stay home from those elections could be noteworthy." Last year, high-profile Trump supporters called for a boycott of key Senate runoff races in Georgia, and the state's two seats eventually went to Democrats Raphael Warnock and Jon Ossoff (via The Daily Beast).
Ignoring Trump won't be easy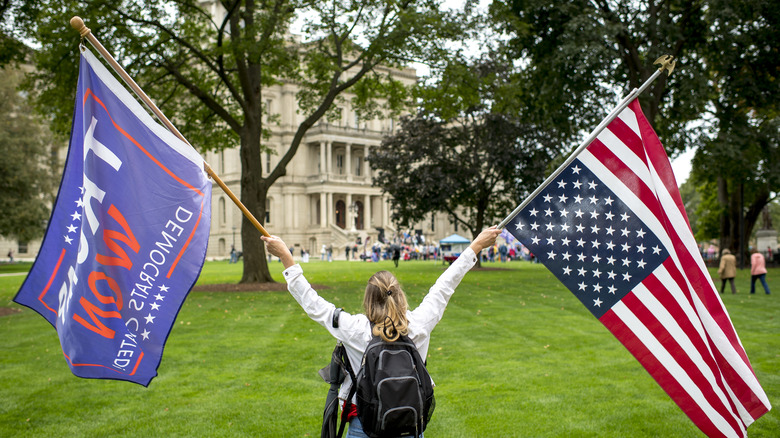 Nic Antaya/Getty Images
Frustrated GOP officials are already trying to counter Trump's call with pleas of their own. Georgia Lt. Governor Geoff Duncan tweeted Trump's statement with the comment: "The statement below is another painful reminder that his pride is more important than his party. We can't afford (literally) 4 more years of failed leadership from Joe Biden! Please show up to vote Republicans in '22 and '24 our future depends on it."
But asking Trump supporters to turn their backs on a call to boycott from the former president may be a tough ask. He may have been out of office since January, but a new poll conducted by the Pew Research Center shows that two thirds of GOP respondents, as well as GOP-aligned Independents, still support Donald Trump and want him to continue playing a major role in the party. 75 percent of those who support him call themselves conservative Republicans, while 51 percent of those who believe in Donald Trump say they are moderate or liberal members of the GOP. Most of the respondents also say that any criticism directed Donald Trump's way should not be tolerated, and those that openly criticize him should not hold elective office. The Pew survey involved 10,000 respondents (via USA Today).