The Truth About Mae Whitman And Robbie Amell's Relationship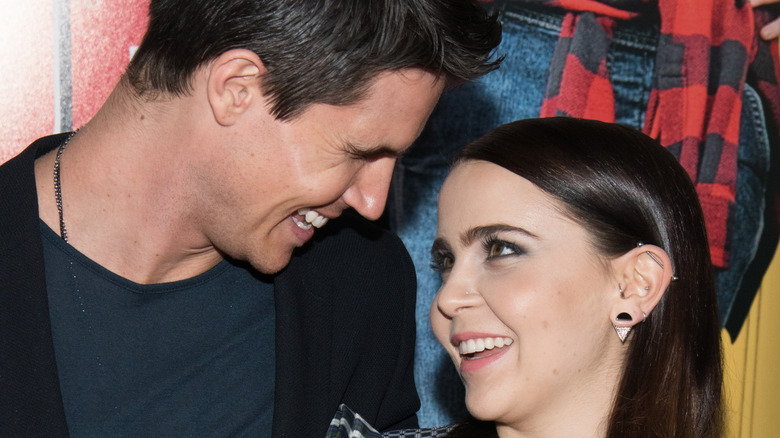 Dave Kotinsky/Getty Images
When "The DUFF" premiered in 2015, it was immediately likened to teen comedies of its forebears, especially those in John Hughes's oeuvre – "Pretty in Pink" in particular (via Graffiti Magazine). The film, based on the novel of the same name, follows Bianca (played by Mae Whitman), a teenage girl who discovers she's "The DUFF" of her friend group, "DUFF" being short for "Designated Ugly Fat Friend." Devastated by this news, Bianca pushes her two "hotter" best friends away and enlists the cool, popular boy next door (portrayed by Robbie Amell) to help her escape this fate.
Although Whitman has been acting ever since she was a little kid — most memorably in films like "When a Man Loves a Woman" and "One Fine Day" — she still experienced the ups and downs of high school like anyone else (via The Sydney Morning Herald).
"I was not the pretty girl or the popular girl in school and I felt that terror rise up again when I walked into the high school halls, because it had been a tough time for me," Whitman told the publication. "But I was glad I could bring my own experience to the movie, because now I can look back with perspective and understand that lots of people don't fit in at that age."
Despite their differences in social status, Whitman and Amell's characters in the film (spoiler alert!) fall for each other, and the actors' chemistry was key to the film's success.
The adorable friendship between Mae Whitman and Robbie Amell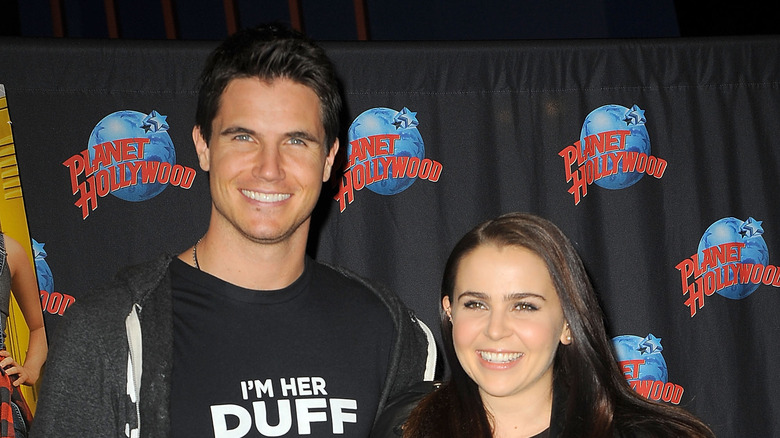 Chance Yeh/Getty Images
Although sparks flew between Mae Whitman and Robbie Amell on-screen, it was because the two shared a close friendship — and nothing more than that, particularly because Amell was engaged at the time and is now married to actress Italia Ricci (via Bustle, Brides). 
"I was actually super nervous to chemistry read with Mae," Amell told Hollywood Life. "I was intimidated. She's done so much work with so many unbelievable people. I figured if I could make her laugh I've got a shot. ... I told her a really inappropriate, alternate joke and got her to crack up. From that point on we've just been really good friends." 
From there, the two were able to take that energy and translate it into the film. "We just got to kinda do that for five weeks, just try and make each other laugh and make it feel like these two people could actually have a relationship," Amell said (via ScreenRant).
Even once filming was over, Whitman expressed her appreciation for Amell on Instagram, posting a photo with her costar and writing, "a quick note to say thank you to this guy — my best friend and partner for all things Duff — for being such a gentleman and a scholar — but mostly for letting me touch his abs at photo shoots." Next to another snap of the two, Whitman wrote, "Love me some Robbie Amell" (via Instagram). Hopefully this means a "DUFF" reunion is coming sooner rather than later!