The My Little Pony: A New Generation Song That Makes Us Love Vanessa Hudgens Even More
This content was paid for by Netflix and created by The List.
Vanessa Hudgens got her first big break in show business by dazzling audiences with her acting skills and musical prowess in equal measure. And in "My Little Pony: A New Generation," she once again delivers on each front as the little pony that could, Sunny Starscout. Hudgens stars in the adorable animated film as the voice of the young Earth Pony who has, unlike almost everyone she knows, grown up to believe that all the ponies of Equestria are meant to live in harmony — Pegasi, Unicorns, and Earth Ponies alike.
Even as the tiny world around her in Maretime Bay grows ever more divisive and fearful of others, Sunny refuses to believe that unity among ponykind can't exist, and she's determined to spread her message as far and wide as possible, no matter how much trouble she might get into in the process. That sense of activism and optimism comes naturally to Sunny. Her beloved father was also an ardent believer in the cause of reunifying ponykind. So throughout the film, audiences get to watch as Sunny takes center stage to spread her message of joy and magic throughout all of Equestria — with some new and old friends joining her side along the way, of course.
Sunny's mission to encourage love and understanding in her town does involve her breaking into song from time to time throughout the film, which gives Hudgens a chance to show off both of the talents that have made her such a standout performer for almost two decades in Hollywood. So here's a look at the "My Little Pony: A New Generation" song that makes us love Vanessa Hudgens even more.
Born to sing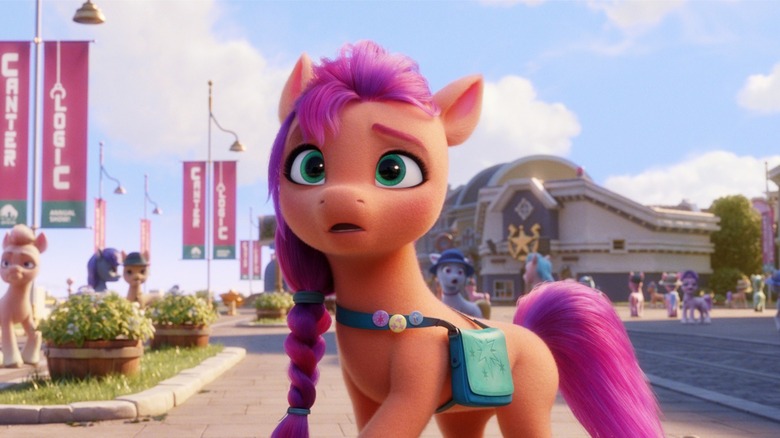 Hasbro/Netflix
Vanessa Hudgens, who hails from Salinas, California, has been a part of the musical theater world since she was just a tiny tyke of 8 years old, starring in local productions of some of the most famous musicals ever, including "Evita" and "The Wizard of Oz." She transitioned to screen acting in the early aughts with guest roles in series like "Still Standing" before making her feature film debut in Catherine Hardwicke's game-changing 2003 teen drama, "Thirteen," followed by a memorable role in the action-adventure comedy "Thunderbirds." 
Hudgens really hit the mainstream in 2006 when she starred as Gabriella Montez in the Disney Channel hit film "High School Musical," in which both her vocals and acting skills made her a bona fide star. Hudgens' career went into supersonic mode after that, and in addition to starring in the "High School Musical" sequels, she also landed prominent roles in series like "Powerless" and films like "Sucker Punch," "Journey 2: The Mysterious Island," "The Princess Switch" and "Polar." All the while, her career as a singer continued to impress audiences, with both her recordings and her stage work in Broadway's "Gigi" and television productions like "Grease" and "Rent." Fans can also catch her in Lin-Manuel Miranda's upcoming feature adaptation of "Tick, Tick ... Boom!"
Put simply, Hudgens has been a multi-talented force of the industry ever since the beginning of her fame in Hollywood, and that also proves to be an essential component of why her character Sunny Starscout is such a lovable little creature in "My Little Pony: A New Generation."
Tap those hooves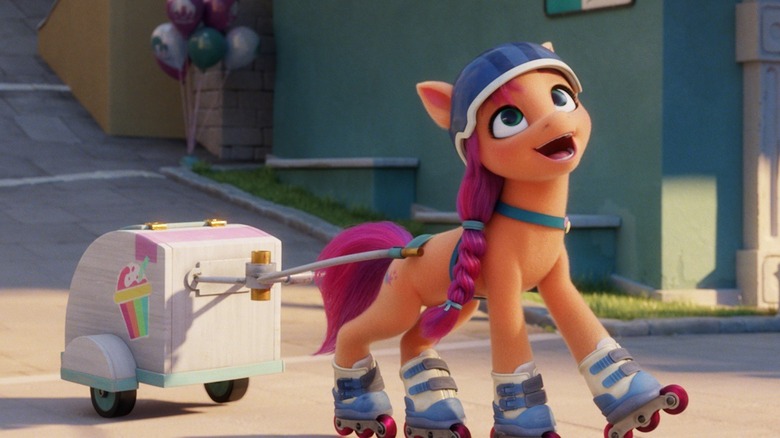 Hasbro/Netflix
"My Little Pony: A New Generation" has plenty of excellent musical numbers to get audiences dancing along with the action, but the song "Gonna Be My Day" truly sets the tone for what we can expect from Sunny Starscout throughout the entire film.
This song just so happens to be the first one we hear in the movie, as Sunny turns her own promise into a melody after telling her late father's photo that "today's the day" to get their message out to the public. As the lyrics of this invigorating bop set in, we see that Sunny has strapped on her skates and is heading into town with a smile, hoping to infiltrate the Canterlogic product showcase and fight the fearmongering that's kept her from ever seeing a Pegasus or Unicorn up until now.
The song is lively and upbeat but also quite prescient about the power of prejudices and fear, which are so prolific in Maretime Bay. And whenever our hero gets to the chorus and performs the song's eponymous line, Sunny makes it completely clear that she won't be easily stopped from getting her good word out at this event, even if it is her own childhood friend Hitch (James Marsden) standing in her way.
In addition to showing off the tenacity and spark of this character, the song also displays Hudgens' strengths as a vocal performer, with her perfect pitch and impressive range on full display throughout the bubbly number.