The Actual Lip Color Lady Gaga Wore In American Horror Story: Hotel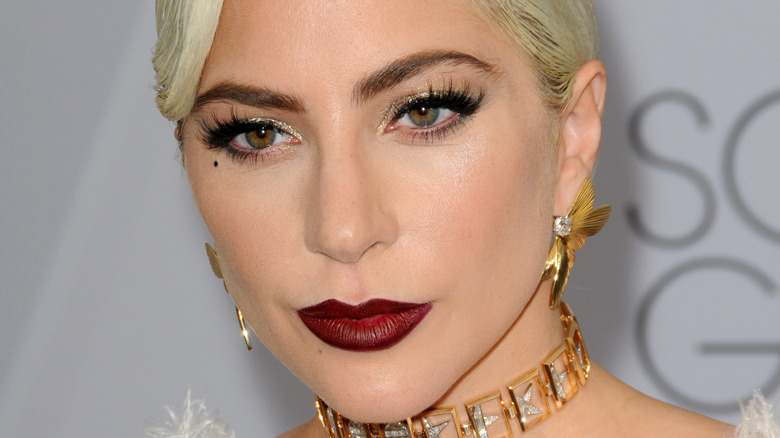 Kathy Hutchins/Shutterstock
Lady Gaga's role as The Countess on "American Horror Story: Hotel" was iconic. And according to an interview she did with Variety, getting into character wasn't as easy as everyone thought it would be for the star. "I find it funny that people wonder if that's just the way that I really am, so this was very easy for me to just kind of walk in here with my blonde hair on and just be a b**** and be rude to everyone," Gaga said. " ... The truth is that it's actually very challenging to be sincere when you have all of that on. It's not comfortable. It's never been comfortable for me."
Regardless of how difficult it was to get into character, Gaga's role was a lot of fun for fans to watch. Though she hasn't returned to the "American Horror Story" franchise since its sixth season, her performance was so memorable people continue to talk about it.
And if you're looking for a creative Halloween costume, dressing up as Gaga's blood-sucking Countess character can be a great idea. It's a rather simple look to pull together, even down to her signature red lipsticks worn during filming.
Lady Gaga's signature red AHS lip can be purchased online
Makeup artist Brittany Cale — the queen of figuring out what lipstick celebrities are wearing during various film and television roles — has done it again. She was able to figure out (and share with fans on TikTok) that Lady Gaga's famous bright red pout was brought to us by Bésame Cosmetics (a favorite of the "American Horror Story" beauty team). She believed Gaga was wearing their shades Bésame Red ($28) and Merlot (which unfortunately seems to be out of stock on multiple websites).
According to InStyle Magazine, who spoke to Gaga's makeup artist, it looks like Cale was correct when it came to the brand, but perhaps not the exact shade. Sarah Tanno gave the magazine a full rundown of how she created the look behind the Countess. She used everything from Anastasia Beverly Hills products on her eyebrows to Giorgio Armani's Maestro Fusion Foundation on her face. When it came time to talk about how she gave the Countess her bright red lips, she said she used MAC's Lip Pencil in Cherry ($19) around the lips before applying Bésame's Lipstick in Red Hot Red.
Whether you're looking to channel the Countess for Halloween or simply want to add her signature lipstick to your makeup collection, you can find the shade on the company's website for $28.