Did Queen Elizabeth Really Have This Bold Opinion Of World Leaders?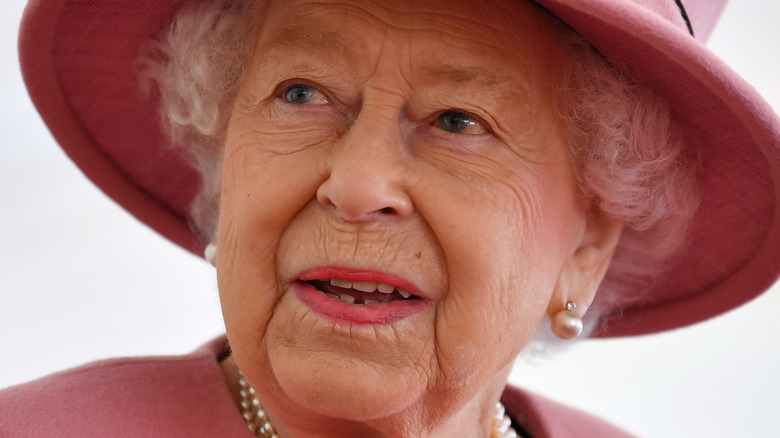 Wpa Pool/Getty Images
Still healthy, active, and formidable at 95, Queen Elizabeth II is the longest-reigning monarch in British history. (Quite a feat, considering the monarchy dates back some 1,200 years, per Historic UK.) Having lived through a number of major wars, terrorist acts, economic downturns, personal tragedies, and family scandals, she's not easily intimidated. She also has little patience for slackers, as she demonstrated recently.
As part of her royal duties, the queen attended the opening of the Welsh Parliament, accompanied by daughter-in-law Camilla, Duchess of Cornwall. There, she was overheard making remarks about the upcoming COP26 United Nations Climate Change Conference, a two-week event in which world leaders will discuss plans for reducing emissions and protecting fragile ecosystems (via COP26). The livestream of the parliamentary ceremony happened to pick up snippets of conversation between the queen, Camilla, and the Welsh parliament officer, reports The Washington Post. 
Elizabeth was overheard saying, "Extraordinary, isn't it? I've been hearing all about COP. Still don't know who is coming . . . We only know about people who are not coming . . . It's really irritating when they talk, but they don't do." Elin Jones, the parliamentary officer, agreed with the monarch's frank statement: "Exactly. It's a time for doing."
Queen Elizabeth usually keeps her opinions private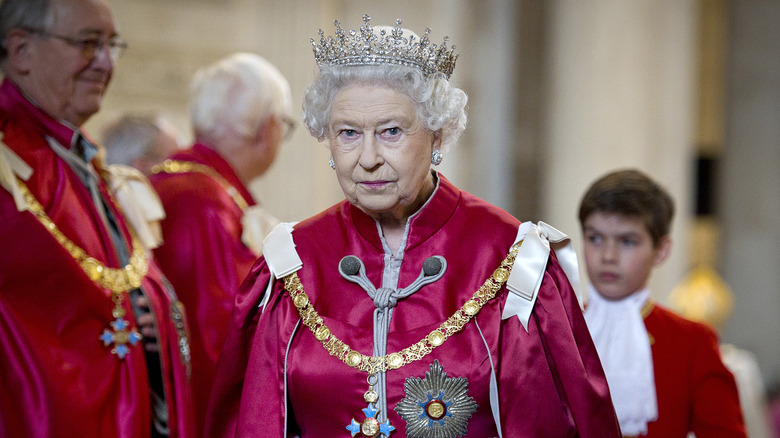 Wpa Pool/Getty Images
Elin Jones went on to reference Prince William's recent criticism of commercial space travel. Following William Shatner's voyage on Jeff Bezos' Blue Origin ship, the prince remarked that there should be more global focus on sustaining Earth "rather than giving up and heading out into space to try and think of solutions for the future." Queen Elizabeth II was visibly pleased by hearing her grandson being complimented.
Elizabeth's overheard remarks were an unusual display of outspokenness from the queen. "As Head of State, the Queen has to remain strictly neutral with respect to political matters," states the Royal Family's website. After decades on the throne, she's so skilled at staying mum that some have dubbed her "Elizabeth the Silent," via The Independent. When she does let an opinion slip publicly, it gets lots of attention. For instance, in 2016, the queen was overheard at a Buckingham Palace garden party telling a Metropolitan Police commander, "Oh, bad luck," in reference to the officer's recent stint overseeing security for China's president Xi Jinping (via The Irish Times). 
Perhaps the most famous example of the queen breaking from neutrality was dramatized on "The Crown." In 1986, the British commonwealth nations all voted to impose economic sanctions against South Africa in protest over its apartheid policies. British prime minister Margaret Thatcher was the lone holdout, and a palace source let slip to the Sunday Times that the queen was displeased with Thatcher's stance (via Elle). Of course, the monarch reportedly apologized to the PM afterward.