Is Donald Trump Really Selling This Luxury Hotel?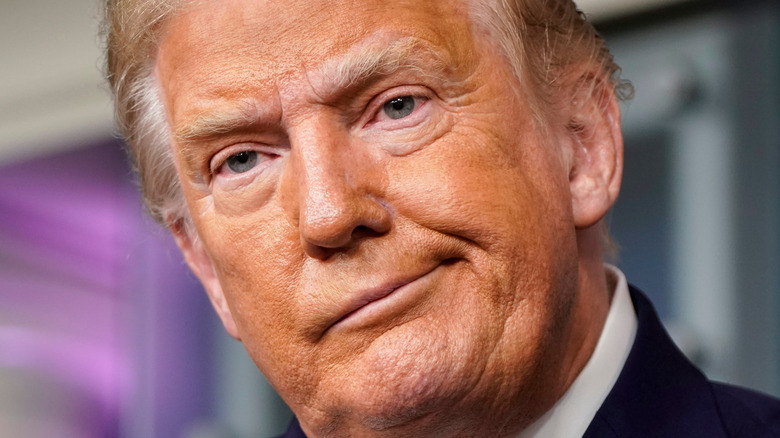 Naresh777/Shutterstock
Former president Donald Trump's company is reportedly in advanced talks to sell the rights to the organization's luxury Washington, D.C. hotel in a deal that is believed to be worth more than $370 million, according to sources close to the matter (via The Wall Street Journal). The Miami-based investment firm CGI Merchant Group is in talks to acquire the lease on the Trump International Hotel Washington, D.C., which boasts some of the largest hotel rooms in the United States capital and is situated just a stone's throw away from Trump's former residence, the White House. 
According to CNN, CGI Merchant Group and the Trump organization have yet to comment on the reported acquisition. In a statement, Hilton, who have been rumored to be taking over the hotel following the acquisition, declined to confirm any reports. 
"Hilton is committed to growing its presence globally," Hilton's Meg Ryan said in a statement. "We are always focused on meeting our guests' needs in the destinations where they want to travel — with the right hotel in the right place at the right time. We continue to recognize the opportunity for growth in the nation's capital. However, we have nothing to confirm at this time," she added.
Donald Trump's businesses have been hit hard in recent months
Kevin Dietsch/Getty Images
The Trump hotel in question is located within the historic 122-year-old Old Post Office building on Pennsylvania Avenue, as noted by Axios. The former president leased the building from the United States government back in 2013 prior to his run for presidency, and news that the Trump Organization plans to sell off the hotel has led some to believe that Trump is planning on running for president for the second time in 2024. As The Washington Post reported in September 2021, Trump's many businesses, including his hotels and golf resorts, have been hit hard by the coronavirus pandemic and political backlash.
Speaking to The Guardian in March 2021, the Washington-based author and journalist, Sally Quinn, said the Trump International Hotel Washington, D.C. "used to be the hub of Trump World but I can't imagine who goes there now." She continued, "I can't imagine most people staying there when they come. I don't know anybody who goes there or has gone there."