How Quarantine Impacted Zooey Deschanel And Jonathan Scott's Relationship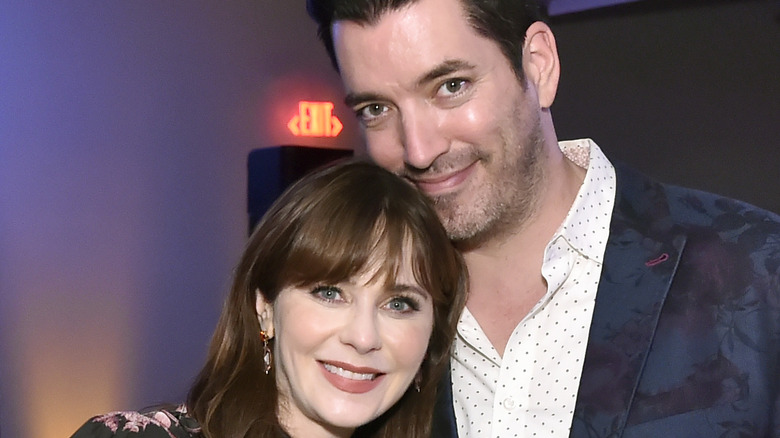 Stefanie Keenan/Getty Images
It came as something of a surprise to fans when Zooey Deschanel (best known for her roles in "New Girl" and "500 Days of Summer") announced that she was dating Jonathan Scott, one brother of the "Property Brothers," who, through their show, find and help fix folks' dream homes (via Us Weekly).
Deschanel was previously wed to Death Cab for Cutie frontman Ben Gibbard, and then Jacob Penchenik, with whom she shares her two children, Elsie Otter and Charlie Wolf. Deschanel and Penchenik announced their split in September 2019, saying in part, "After much discussion and a long period of contemplation we have decided we are better off as friends, business partners and co-parents rather than life partners" (via 9Honey).
Not long after that, Deschanel and Scott were ready to let the world know about their love, having met while filming a special siblings episode of "Carpool Karaoke."
"It's definitely special for me because I am the guy who raises the bar in what I'm looking for in a partner," Scott told Us Weekly of their meet cute. "I was caught a little off guard".
Two years later, Scott and Deschanel are still going strong. "2 years and still my favorite," Deschanel captioned a sweet photo on Instagram of the couple on their anniversary in August. 
Quarantine brought them closer together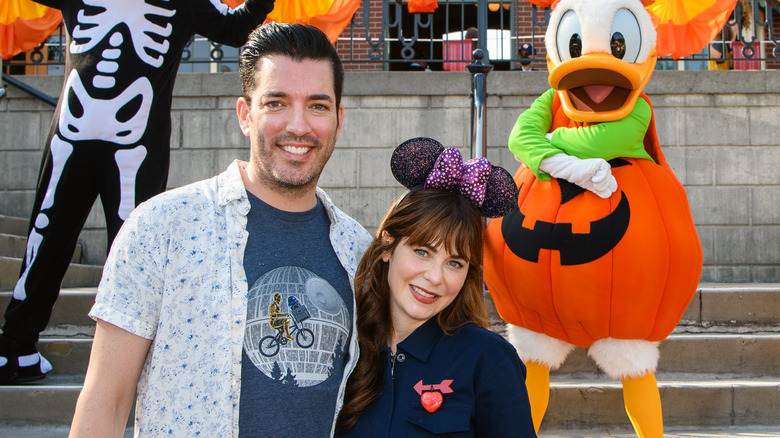 Handout/Getty Images
Because Zooey Deschanel and Jonathan Scott have been together for two years, that means that much of their relationship blossomed during the pandemic. And while quarantining and COVID drove many couples apart, Deschanel and Scott found that it bonded them. "When COVID first started I was like, 'OK, we have trampoline time and movie time,'" Deschanel told People.
Scott agreed with Deschanel's assessment of the situation, adding, "Look at it this way, I'm stuck with someone who I'm madly in love with who's an amazing chef." Apparently, Deschanel makes an incredible risotto cake that Scott is a fan of. "I don't know where this has been my whole life but it is amazing," Scott shared.
But even deeper than Scott's love for Deschanel's risotto cake, is his love of Deschanel. "I discovered having been in other relationships in the past, this was the very first time I noticed that all of the love and effort and the things I was doing were being reciprocated," he said. "And I was like 'What?' So I think I'll hold onto this one"
Deschanel hasn't just won over Scott, but she's won over his father, too. "The first time she met my parents via Zoom, she found out what my dad's favorite song was, which is 'Danny Boy' because my dad is Scottish," Scott said. "And she sang it on Zoom and I could see the tears welling up in my dad's eyes ... and I knew she was in."