Inside Joe Biden's Tribute To Colin Powell
stocklight/Shutterstock
Tributes to Colin Powell have flooded in since it was announced on October 18 that the former Secretary of State died at age 84. According to USA Today, President Joe Biden has ordered that all American flags on public properties be flown at half-staff in honor of Powell, who was a retired four-star general when he joined the Reagan administration as national security advisor — the first Black person to do so, according to The New York Times. Powell also served in the administrations of George H.W. Bush and George W. Bush, becoming the first Black person to be chairman of Joint Chiefs of Staff and secretary of state, respectively. But later, he went on to cross party lines by endorsing the presidential bids of Barack Obama, Hillary Clinton, and Biden.
In a video filmed for the 2020 Democratic National Convention, Powell praised Biden's values and dedication to taking care of America's troops. "The values I learned growing up in the South Bronx and serving in uniform were the same values that Joe Biden's parents instilled in him in Scranton, Pennsylvania," Powell said (via CNN). "I support Joe Biden for the presidency of the United States because those values still define him, and we need to restore those values to the White House."
Although Biden and Powell didn't always agree on policy decisions, the pair shared mutual respect, and Biden described Powell as "a dear friend and patriot," according to The Washington Post. Here's how the president is honoring Powell after his death.
Joe Biden praised Colin Powell's leadership and character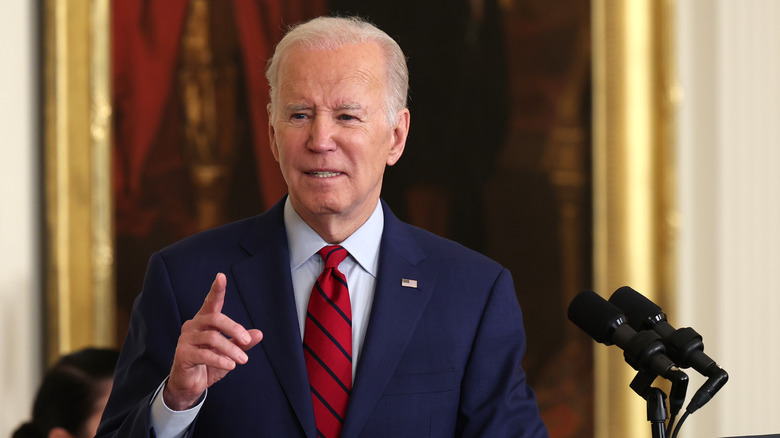 Win Mcnamee/Getty Images
In an official statement released by The White House, President Joe Biden remembered Colin Powell for his "unmatched honor and dignity." He went on to describe Powell as a trailblazer who "repeatedly [broke] racial barriers." Recalling his working relationship with Powell in Washington, Biden noted, "Over our many years working together — even in disagreement — Colin was always someone who gave you his best and treated you with respect."
After recounting Powell's many accomplishments, Biden ended the statement on a personal note. "Above all, Colin was my friend. Easy to share a laugh with. A trusted confidant in good and hard times," he wrote. "He could drive his Corvette Stingray like nobody's business — something I learned firsthand on the race track when I was vice president," adding that he would "miss being able to call on his wisdom in the future."
Both Republicans and Democrats paid tribute to Powell, with statements coming from former presidents George W. Bush and Barack Obama, vice president Kamala Harris, former vice president Dick Cheney, Senate Minority Leader Mitch McConnell, and Speaker of the House Nancy Pelosi, as well as a number of congresspeople.