A Breakdown Of Kate Middleton's Youthful Beauty Look At The Earthshot Prize Awards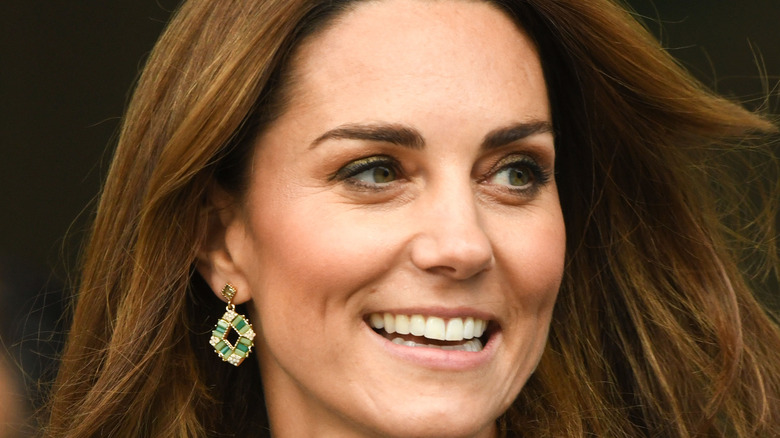 Bart Lenoir/Shutterstock
The Duchess of Cambridge, Kate Middleton, has always mastered the effortlessly elegant makeup look at most events she attended, but she especially outdid herself at the inaugural Earthshot Prize Awards. Prince William, the Duke of Cambridge, created the annual awards in an effort to recognize those that made concerted efforts to save our planet (via BBC). On October 17th, 2021 five winners were rewarded £1m at the London event.
BBC reported that the star-studded event featured guests such as Emma Watson and David Oyelowo. Ed Sheeran, Coldplay, and KSI performed at the event while powered by 60 cyclists in an effort to further send the environment message home. Yet, Middleton still managed to outshine the stars.
In the spirit of the sustainability message of the event, Middleton made a statement by repurposing a dress she previously wore in 2011 at a BAFTA black-tie event (via Harper's Bazaar). The Alexander Mcqueen lilac gown looked just as beautiful this second time around, now paired with a gold belt instead of the original silver. The dress looked just as ageless as Middleton, so what's the secret behind her youthful beauty at the event?
Beauty expert reveals how Kate Middleton's microbladed brows made her look younger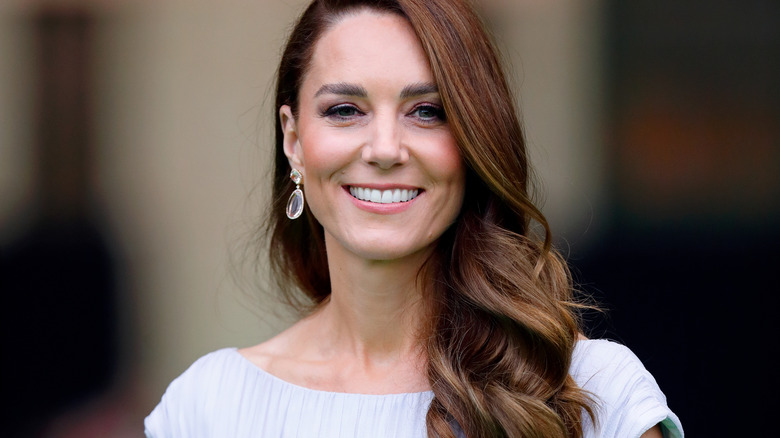 Max Mumby/indigo/Getty Images
The Duchess of Cambridge always opts for a fresh and simple makeup look, and this event was no exception, but a few minor details really elevated the look and made her look 10 years younger. Beauty expert Laura Kay spoke to the Daily Mail and offered her take on what made Kate Middleton look, "truly ethereal." Kay claims that Middleton went for her usual "go-to" smoky eye at the event, and yet she points out that, "Kate has given her latest look edge by incorporating subtle hints of sparkles and autumnal tones to her hair and makeup," which you can clearly notice by her rosy cheeks and sparkling lip gloss.
Kay, also points out that what especially makes this look stand out is that it appears that Middleton got her eyebrows microbladed, giving her, "high definition." Microblading has become a popular semi-permanent eyebrow treatment created to enhance your brows and make them appear more "full and bushy." Middleton stunning wavy hair really completed the look with beautiful autumnal toned lowlights. Along with her glistening lips, the Duchess' choice of a simple drop earring made sure she caught every flashing light.