Fall Movies That Are Perfect For People Who Don't Like Scary Movies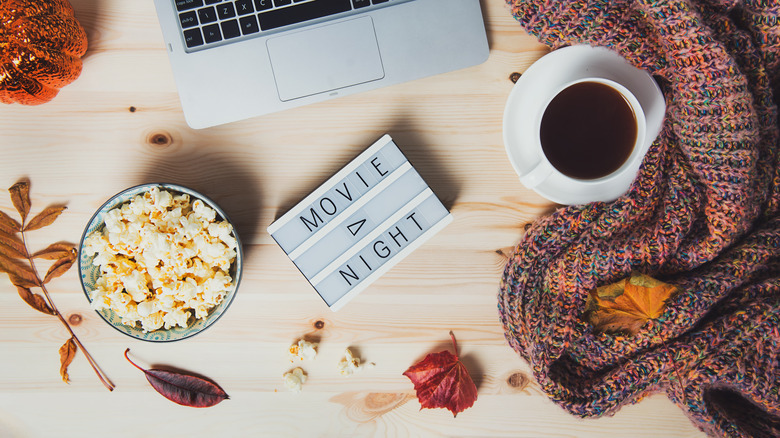 Okrasiuk/Shutterstock
Halloween is a time of year that conjures up candy, costumes, and, for many, creepy flicks. However, not everyone is a fan of the horror genre. Never fear, though: There are still plenty of films that capture the coziness and mystery of the fall season, so be sure to add the ones below to your must-watch list!
First up are suggestions from Mashable, which are all set in schools. When the leaves start changing and summer comes to an end, students and teachers head back to class, wearing their best jumpers and plaid.
That being said, "Good Will Hunting" and "Dead Poets Society," which both star Robin Williams, have autumnal colors, vibes, and clothes, while the "Harry Potter" film series combines the back-to-school season with magical witches. In particular, "Harry Potter and the Prisoner of Azkaban" is darker than the first two installments and features huge pumpkins in front of Hagrid's hut. And rom-com fans will even find some perfect picks in "When Harry Met Sally" and "You've Got Mail."
Fall-vibe movies with no jump scares
Thankfully, there are plenty of Halloween movies that are not scary at all, yet are still perfect to watch during the spooky season. These may take place during fall, have creepy settings, or center around not-so-ordinary characters.
There are animated classics from Tim Burton like "Frankenweenie" and "The Nightmare Before Christmas." There are comedies, such as "Zombieland" and "Beetlejuice." Then you have family-friendly options that focus on witches, with "Hocus Pocus" and "Halloweentown" being two of the top fan favorites. And there are even musicals to consider like "The Rocky Horror Picture Show" and "Little Shop of Horrors," as pointed out by Esquire.
Reddit is a great place to turn for movie suggestions, and one user asked for ideas "with that fall time atmosphere and setting." Some of the answers include "Sleepy Hollow," "The Wicker Man," and "Something Wicked This Way Comes," which would all be perfect to add to this season's watch list!